... or to be more precise:

'Spilling the beans on the cat's pyjamas: Popular expressions - what they mean and where we got them'
is the title of a book I'm currently reading.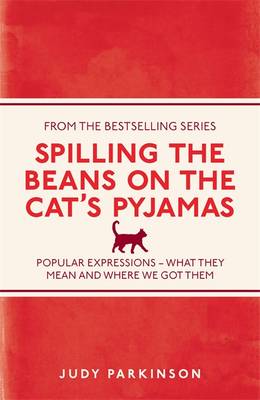 The title is self-explanatory.  Written by Judy Parkinson, author of
'I Before E (Except After C)',
this extract from the Foreword to the book gives an idea of what it's all about:
The English language has flourished over the centuries.  Some turns of phrase are 'as old as Methuselah' - our ever flexible language often revives phrases that we thought had 'bitten the dust' - and new words and expressions creep into the lexicon all the time.  There's a different 'flavour of the month' for each generation.

So 'strike while the iron's hot; if you want 'to bone up' on the origins of some of the curiosities of the English language, 'take a dekko' through these pages and you'll be 'in seventh heaven'.

This book is 'the bee's knees', 'the cat's whiskers' and 'the cat's pyjamas', all rolled into one, as it 'spills the beans' on the origins of all these expressions and many more.

I will 'make no bones' about it and I won't 'beat about the bush' (after all, don't forget I'm 'talking turkey' here):  this book contains some fascinating and remarkable stories about our best-loved and most colourful phrases.

The staples of our language - those familiar, well-worn expressions and clichés - originate from the most diverse sources.  From the high street to Homer, from advertising to America, from army to air force, from stage to screen ... it's an 'all-singing', all-dancing', round-the-world-trip through our language's history.

......... >>>
The pages of this book are filled with explanations and origins of these expressions that we use every day.
I'm going to take an example of one each day to post up here, starting with:
(I think the last suggestion given is the most likely one)
ALL TICKETY-BOO
There are many synonymous phrases for this enthusiastic statement that everything is 'fine and dandy'.

'Tickety-boo' may come from the word 'ticket', as in 'that's the ticket'.  In the nineteenth century, charities issued tickets to the poor that could be exchange for soup, clothing and coal.

Other sources suggest that the phrase has its origins with the British Army in India, and that it may be an Anglicized version of the Hindi phrase tikai babu, which means 'it's all right, sir'.