Oh no  
 - memories of recognizable scenes from everyday happenings in years long past ... Regular daily news I grew up with  
---
Political leaders across Ireland, Northern Ireland and Britain have spoken out in condemnation of the violence and destruction seen in Belfast last night.
For several days, violence has erupted in Northern Ireland, with multiple PSNI officers injured as youths, mainly from loyalist areas, hurled stones and petrol bombs and set vehicles alight.
The riots were allegedly sparked by a number of things including Brexit, the Northern Ireland Protocol and Irish Sea border, and the decision that no action will be taken against Sinn Féin members who allegedly broken Covid-19 restrictions by attending a large funeral last year.
Last night, a crowd of loyalist youths again gathered in the Shankill Road area and hijacked and petrol bombed a double-decker bus, and a photojournalist for the Belfast Telegraph was assaulted.
The Stormont Assembly is to be recalled this morning for an emergency meeting after the surge in violence seen across the North in recent days, with the PSNI stating that 41 of their officers had been injured in the violence.
Northern Ireland First Minister and leader of the DUP, Arlene Foster, last night shared a clip of the youths petrol bombing a bus and wrote "This is not protest. This is vandalism and attempted murder.
"These actions do not represent unionism or loyalism. They are an embarrassment to Northern Ireland", she said, claiming the riots took the focus off the "real law breakers" in Sinn Féin.
Deputy First Minister Michelle O'Neill, leader of Sinn Féin in the north, condemned the "disgraceful scenes of criminality" including a "potentially lethal" attack on a bus driver and the assault of a journalist. She called for "unequivocal condemnation" of the riots from all political leaders.
British Prime Minister Boris Johnson wrote that he was "deeply concerned" by the scenes of violence in Belfast, and said "The only way to resolve differences is through dialogue, not violence or criminality".
Taoiseach Micheál Martin "utterly" condemned the violent scenes, and said "Now is the time for the two Governments and leaders on all sides to work together to defuse tensions and restore calm".
TD Mary Lou McDonald, leader of Sinn Féin in the Republic, called for "a united voice for a halt to all violence and for the restoration of calm", saying "The attacks and intimidation must end."
The CEO of the Northern Ireland Translink, Chris Conway, issued an update on the bus driver whose vehicle was hijacked and set alight, and said he is "very shaken and being looked after by colleagues".
He thanked those "trying to support communities under these terrible conditions".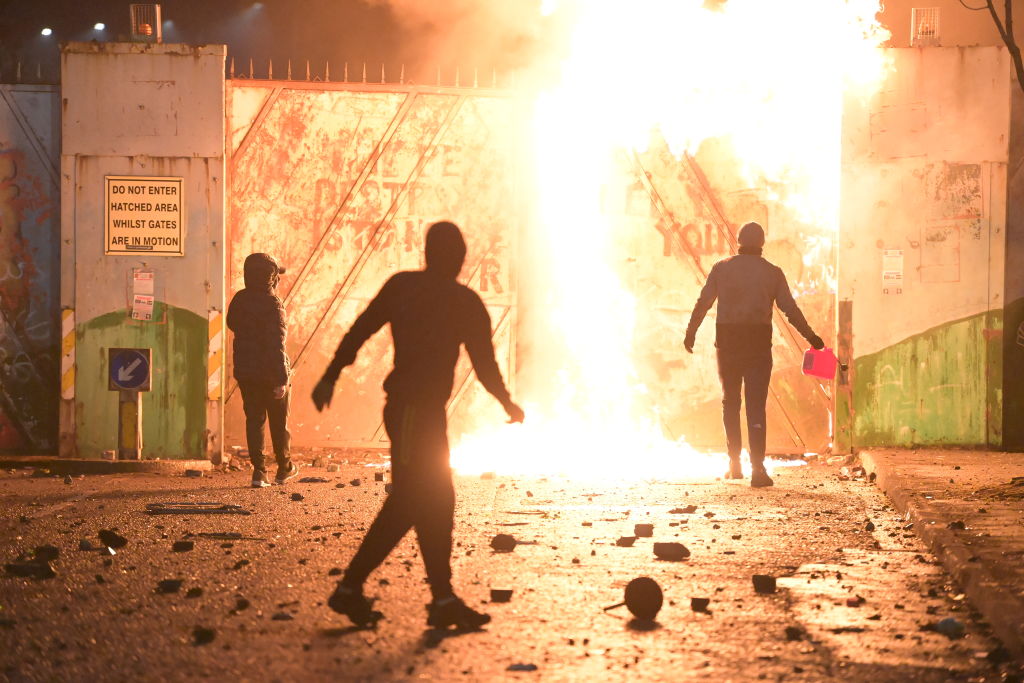 BELFAST, NORTHERN IRELAND - APRIL 07: Fire fed by petrol burns as youths clashed at the Peace Gate at the Springfield Road/Lanark Way interface on April 7, 2021 in Belfast, Northern Ireland. Violence broke out after a Loyalist protest, with youths attacking police officers and petrol-bombing a bus. (Photo by Charles McQuillan/Getty Images)
Videos circulating from Belfast last night showed groups of youths hurling petrol bombs at each other across the gates of the peace line between Shankill Road and Lanark Way, by a mural which reads 'There was never a good war, or a bad peace'.