Summary for Wednesday, 7th April


Carer Elle Taylor, 24, from Ammanford in Wales is the first person to receive the Moderna vaccine in the UK

The UK has ordered 17 million doses of Moderna - the third vaccine used

European medicines regulator the EMA is to hold a briefing this afternoon on the AstraZeneca vaccine relating to cases of blood clots

Health ministers from the 27 EU member nations are due to meet afterwards to discuss the findings

UK regulator MHRA is also expected to give an update on its investigation

A trial of the Oxford-AstraZeneca jab on children in the UK is being paused

Brazil records more than 4,000 Covid-related deaths in a days for first time

Driving lessons can resume in England and Wales from Monday, the transport secretary says

The US rules out a vaccination passport scheme for citizens

Hello and welcome to our coronavirus pandemic live coverage.
We will be bringing you updates from around the world throughout the day.
Headlines from across the UK
Here is what is happening in the across UK today.
What the papers are saying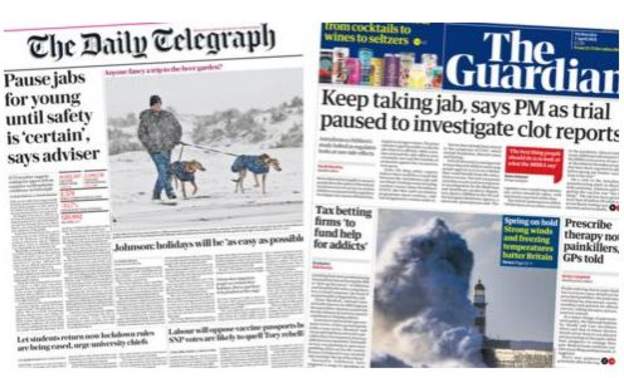 Wednesday's papers feature plenty of coverage of concerns about the safety of the Oxford-AstraZeneca coronavirus vaccine.
Read more
here
.
Latest across Europe


Hungary is reopening shops and resuming services this morning as Covid restrictions are eased, even though the hospitals are full and some 250 people are dying every day. Hungary has a relatively high vaccination rate so Prime Minister Viktor Orban says he feels a "moral imperative" to open up.

Turkey has declared a record 49,584 new cases in the past 24 hours and another 211 deaths. It too is moving ahead fast with its vaccination campaign with more than 10 million people receiving a first dose.

The EU's medicines agency EMA is expected to update its advice later today on the safety of the Oxford-AstraZeneca vaccine after reports of rare blood clots. The agency has consistently said benefits of the drug outweigh the risks.

One of the favourites to replace Angela Merkel as Germany's chancellor, Markus Söder, has backed a so-called "bridging lockdown" of two to three weeks until vaccinations help cut the rate of infection.The idea came from the leader of Merkel's CDU party, Armin Laschet, even though he's previously resisted calls for tougher measures. Infections in the past 24 hours are below 10,000, which is well down on a week ago. Germany's network of family doctors has begun taking part in the vaccination campaign.

An overnight curfew in Hanover in northern Germany has been lifted after a court declared it probably unlawful. The court said existing measures had not properly been enforced and a curfew should only be seen as a last resort.

Two Italian police were hurt yesterday in scuffles during a Rome protest by traders and restaurant owners calling for a reopening of businesses. Extremist groups reportedly infiltrated the protest.

Australian Prime Minister Scott Morrison has blamed the EU for the slow rollout of vaccinations. Italy blocked 250,000 Oxford-AstraZeneca doses last month but Morrison also says EU export controls have meant another 3.1 million doses are still to arrive. However, EU officials reportedly say it's the drug's producer and not them holding things up.

Today so far…
The Guardian


The European Medicines Agency will give a briefing at 1600 CET (1500 GMT) on the safety of the Oxford/AstraZeneca vaccine and its possible links to blood clots. Yesterday it denied it had already established a causal connection between the vaccine and a rare blood clotting syndrome.

The Castile and León region in Spain has suspended using AstraZeneca shots on people under 65 until it receives further clarification from the European Medicines Agency.

The Medicines and Healthcare products Regulatory Agency (MHRA) in the UK is also expected to issue an update .

The UK meanwhile is beginning to rollout a third vaccine – the Moderna shot – in Wales today. 24 year old unpaid carer Elle Taylor got the first jab at the West Wales General Hospital in Carmarthen.

Brazil's coronavirus catastrophe has deepened further after more than 4,000 daily deaths were reported for the first time. "It's a nuclear reactor that has set off a chain reaction and is out of control. It's a biological Fukushima," said Miguel Nicolelis, a Brazilian doctor and professor at Duke University in the US, who is closely tracking the virus.

One in three people who were severely ill with coronavirus were subsequently diagnosed with a neurological or psychiatric condition within six months of infection, a US study has found.

Poland is to extend its coronavirus restrictions until 18 April. Kindergartens, shopping centres, hotels, cinemas and theatres will remain closed. The health minister said that 90% of cases in Poland were the more infections B.1.1.7 variant.

The B.1.1.7 variant has been detected for the first time in Thailand, where at least ten cabinet ministers and dozens of lawmakers are self-isolating today after coming into contact with positive coronavirus cases.

Restrictions on exporting its Covid vaccines have left India's Serum Institute needing financial help from the government, its CEO said. Without the higher prices charged for vaccines going out of the country, it says it is unable to invest in increasing production.

It is World Health Day, and the director general of the World Health Organization, Dr Tedros Adhanom Ghebreyesus, has been hammering home on social media his message that global inequality has exacerbated the impact of the novel coronavirus, and that an inequitable distribution of vaccines could prolong the effects of the pandemic.