Several hurt in Remembrance Day 'bomb attack' at Saudi cemetery
Last month, a guard at the French consulate in Jeddah was stabbed and injured by a Saudi man
Several people have been hurt in a bomb attack at a Remembrance Day ceremony attended by foreign diplomats in the Saudi city of Jeddah, France says.
A French foreign ministry statement said an improvised explosive device blew up at a cemetery for non-Muslims, as officials from several consulates remembered the end of World War One.
It strongly condemned what it called the "cowardly, unjustifiable attack".
There was no immediate confirmation from the Saudi authorities.
On 29 October,
a guard at the French consulate in Jeddah was stabbed and injured by a Saudi man
on the same day that
three people were killed in a knife attack in the French city of Nice that was blamed on an "Islamist terrorist".
A Saudi-based French journalist, Clarence Rodriguez, tweeted photographs showing the aftermath of Wednesday's attack, including one appearing to show an injured person receiving treatment.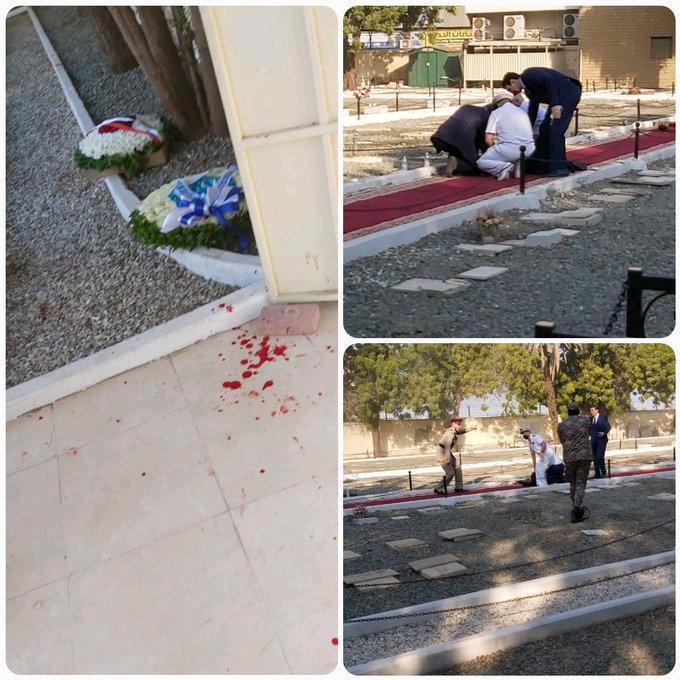 "Attempted attack this morning at the non-Muslim cemetery in Jeddah. During the
#11November
ceremony. In the presence of the consuls-general of France, [Ireland], [Britain]... and French expatriates," she wrote.
"There are wounded... [13] days after the knife attack at the consulate, France targeted once again!?"
She added that a Greek security officer in plainclothes was seriously wounded. He had just taken up his post at the Greek consulate.
A Greek diplomatic official told Reuters news agency that four people were slightly injured by the blast, one of them Greek.
The French foreign ministry said the consulates involved were calling on the Saudi authorities to "to shed as much light as they can on this attack, and to identify and hunt down the perpetrators".
The French consulate in Jeddah also urged French nationals in Saudi Arabia to exercise "maximum vigilance" following the attack, according to Reuters.