Summary for Thursday, 29th October
Welcome to our live coverage of the coronavirus pandemic in the UK and around the world.
Here is a quick round-up of some of the main headlines in the UK this Thursday morning:
We'll keep you updated with the latest developments throughout the day.
What are France and Germany doing?
The dreaded
return of national lockdown measures have been announced in France and Germany
. German Chancellor Angela Merkel and French President Emmanuel Macron said they were necessary to avoid being overwhelmed by a second wave of coronavirus infections.
But what restrictions have they imposed, and are they as strict as those seen during the first wave of the pandemic in the spring?
Macron said that from Friday no one will be allowed to leave home, except for essential work or medical reasons. Those leaving their home will need to fill out a form, as had been required in the initial lockdown in March. Social gatherings are banned.
But Macron made clear that public services and factories would remain open, adding that the economy "must not stop or collapse". The curbs will apply until 1 December and will be reassessed every two weeks.
In Germany, the measures coming into force on Monday are less severe than in France, but they include the closure of non-essential businesses, such as gyms and theatres.
Bars and restaurants will close except for takeaway, but schools and kindergartens will remain open. Social contacts will be limited to two households with a maximum of 10 people and tourism will be halted.
The partial lockdown will now begin on 2 November and last until 30 November.
"We have to act and we have to act now," Merkel said.
What's happening around the world?
Here are some of the stories making headlines around the world.
Nearly 100,000 catching virus every day - study
James Gallagher - Health and science correspondent, BBC News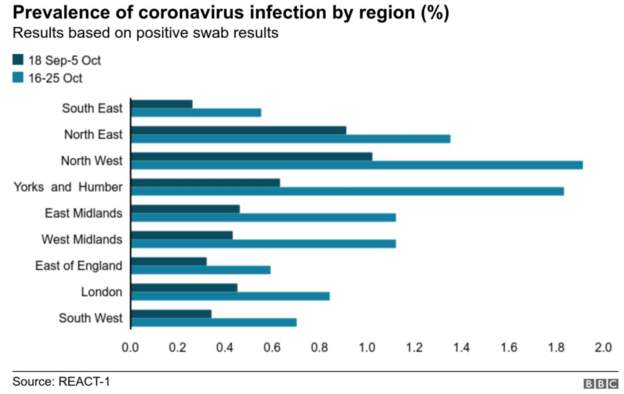 Our main story this morning is that a major analysis suggests nearly 100,000 people are catching coronavirus every day in England.
The study, by Imperial College London, says the pace of the epidemic is accelerating and estimates the number of people infected is now doubling every nine days.
The authors say we are at a "critical stage" and "something has to change".
Experts are warning that we are fast approaching the peak in infections seen in the spring.
The React-1 study is highly influential because it is the most up-to-date assessment of Covid-19 in the country, with the last swabs taken only on Sunday and nearly 86,000 volunteers taking part.
Read more about the study here.
'Not clear if England rules are working' - Jenrick
A minister has defended England's system of coronavirus restrictions, after an
Imperial College London study
- mentioned below - said current measures were not sufficient to control the virus.
Communities Secretary Robert Jenrick told BBC Breakfast imposing different rules in different areas "remains the right approach" because it takes "decisive action in those parts of the country where it is really needed".
He said the government wants to "try to avoid having a national blanket approach" to restrictions because full national lockdowns can have "scarring effects" and should therefore be a "last resort".
The Imperial College London study suggests "something has to change" in England's approach to the second wave - whether that be harsher restrictions, or people following current rules more strictly.
Jenrick said he was yet to read the study but, when asked if there was a problem with people's behaviour, he added: "It's not clear whether these restrictions are working or not… We will have to wait and see the true effectiveness of the moves to tier two and the moves to tier three."
He urged people to redouble efforts to stick to public health guidance like washing their hands and social distancing.
"That will make a difference across all of the country," he said.
First cases reported in remote Marshall Islands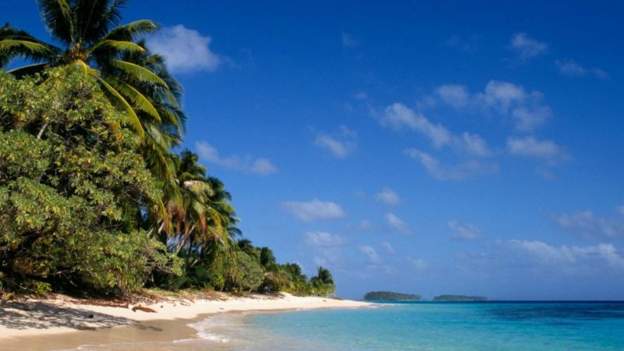 The Marshall Islands had long managed to keep the virus from its shores
Until yesterday, the Marshall Islands in the Pacific Ocean was one of the few places in the world spared from the pandemic.
However,
two workers at a US base have now tested positive after arriving from Hawaii
.
The local government stressed the two were "strictly border cases" discovered while the 35-year-old woman and 46-year-old man were in quarantine, with no threat of community transmission.
It called on people to "remain vigilant" and continue with basic precautions, but said there was no need for any lockdown measures.
With a population of 55,000 people, the Marshall Islands closed its borders in March to keep the virus out.
Most island nations in the Pacific closed their borders in the early days of the pandemic, amid concerns their weak healthcare systems would not be able to cope with an outbreak.