Summary for Saturday, 3rd October


President Trump is in hospital after being diagnosed with coronavirus

The White House said the move was out of an "abundance of caution" and his doctor said he was "doing very well"

Ex-adviser Kellyanne Conway, campaign manager Bill Stepien and two Republican senators - Mike Lee and Thom Tillis - all test positive

Joe Biden, who debated the now Covid-positive US president on Tuesday, has tested negative

First Lady Melania Trump also has the virus and is recuperating at the White House

Trump, 74, has been criticised for playing down severity of virus and often spurning masks and social distancing

In other news UK PM Boris Johnson said complacency was behind a spike in cases in the country

More than 34 million cases have been confirmed globally with around 1.02 million deaths, Johns Hopkins University says

Welcome to those of you waking up in the UK. Here's a round-up of the night's developments surrounding Donald Trump.


The president has been flown to hospital after testing positive for coronavirus

The White House said he was "fatigued but in good spirits" and was taken to hospital as a precaution

The presidential physician said Trump is not in need of supplemental oxygen and is being treated with remdesivir - an anti-viral medicine

Trump has tweeted twice since entering hospital

His first tweet was a video in which he thanked his supporters, while the second said he thought things were "going well"

There are growing numbers of officials close to the president who have tested positive

These include former presidential adviser Kellyanne Conway and two Republican senators - Mike Lee and Thom Tillis

Kim Jong-un sends letter to President Trump
Mr Kim sent the president a letter late on Friday wishing him well
North Korean leader Kim Jong-un has sent a letter to President Trump wishing him well, according to North Korean state media.
Mr Kim said he "sincerely hopes" the president and his wife will recover as soon as possible.
Mr Trump became the first serving US president to step into North Korea in 2019.
No transfer of power, White House says
White House communications director Alyssa Farah has said the president has not transferred his powers to Vice-President Mike Pence.
"The president is in charge," she said.
White House deputy press secretary Judd Deere added, "Absolutely not," when asked if there would be a transfer, CNN reports.
Trump thanks supporters in Twitter video
Donald Trump, who has now arrived at hospital, has posted a video on Twitter thanking people for their "tremendous support".
It is the first time the president has posted on the platform since announcing he and his wife Melania tested positive for coronavirus.
Former President Barack Obama sends Trump family best wishes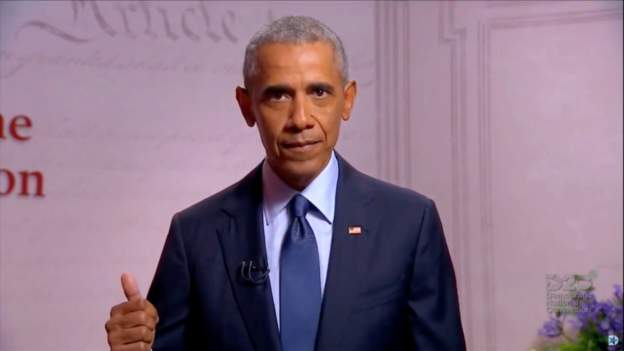 Speaking during a virtual fundraiser, Mr Obama sent Mr and Mrs Trump his best wishes
Former President Barack Obama has extended his best wishes to the president during a virtual fundraiser.
Speaking about Mr Trump and First Lady Melania, he said: "Michelle and I are hopeful that they and others who have been affected by Covid-19 around the country are getting the care that they need, that they are going to be on the path to a speedy recovery."
Mr Obama said it was important to remember even though there is a presidential campaign on, that "we're all Americans and we're all human beings and we want to make sure that everybody is healthy".
He was speaking during a virtual fundraiser with vice-presidential nominee Kamala Harris.
Her debate with Vice-President Mike Pence scheduled for Wednesday is still expected to go ahead..
Twitter to suspend users who wish death on Trump
Twitter has said it will suspend users who wish death upon the president.
"Content that wishes, hopes or expresses a desire for death, serious bodily harm or fatal disease against an individual is against our rules,"
Twitter said in a statement
to Vice's Motherboard site.
The social media giant referred to an "abusive behaviour" rule that's been in place since April.
On the other hand, Facebook's rules "distinguish between public figures and private individuals" and appear to allow people to wish death upon Trump so long as they do not tag him or "purposefully expose" him to "calls for death, serious disease, epidemic disease, or disability".
Brazilian President Bolsonaro wishes the president a 'rapid recovery'
Brazilian President Jair Bolsonaro has wished President Trump a "rapid recovery".
He shared the message on Facebook late on Friday.
"I wish for a rapid recovery for the president of the USA, Donald Trump, and the first lady Melania," he said.
"With faith in God, they will soon recover and the work of managing the country and his re-election campaign will not be affected."
Mr Bolsonaro contracted coronavirus earlier this year. His case was mild with a few symptoms.
Biden campaign pulling negative ads on Trump
James Clayton - North America technology reporter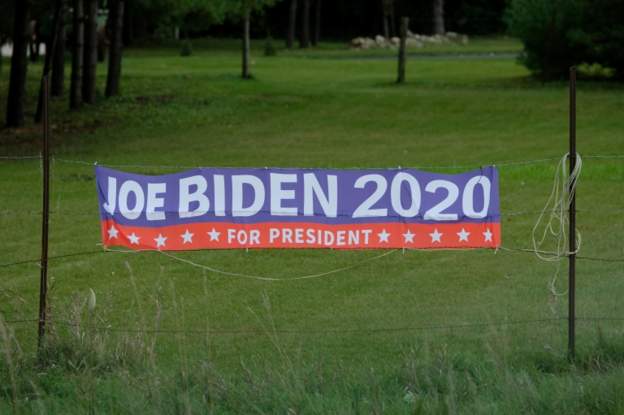 Joe Biden's campaign has said they will pull all negative adverts about President Trump.
Our US partner, CBS, said his team were "in the process" of pulling such adverts and it would be for a "to-be-determined time".
Biden removing negative ads from Facebook is a bit of a moment.
It's the surest sign yet that this election has now completely changed.
Some of the ads removed included claims that Trump has been "The worst President America has ever had".
Biden spent $42m [£32m] last week on advertising. Nearly $6m was spent on Facebook.
It's believed the decision was made this afternoon - before Trump's hospitalisation was announced.
It's likely we'll now see the entire advertising and campaigning strategy fundamentally shift.
Biden is going to have a walk a line between seeming caring and conciliatory whilst still getting his messaging out.
That's a difficult line to tread.
Trump campaign 'will not' take down negative Biden ads
A spokesman for the Trump campaign has said it will not be removing negative TV adverts about Joe Biden, the president's rival in next month's election.
It comes hours after Biden's campaign said they would pull all negative adverts about Trump after the president tested positive for Covid-19 and was hospitalised.
"Joe Biden used his speech in Michigan today to attack the President repeatedly on Social Security, the economy, and job creation," Tim Murtaugh told CNN.
"Now Biden wants credit for being magnanimous?"
Republican Senator Thom Tillis tests positive
Republican Senator Thom Tillis has tested positive for coronavirus.
Tillis, of North Carolina, is the latest high profile US politician to test positive for Covid-19.
He attended President Trump's announcement of his Supreme Court nominee Amy Coney Barrett on Saturday.
Who has Trump met this week and who's tested positive?
People who tested positive after attending Saturday's ceremony, circled from left to right: Senator Mike Lee, University of Notre Dame president John Jenkins, Melania Trump and President Donald Trump
President Donald Trump's coronavirus diagnosis comes after a busy week running his administration and campaigning ahead of the 3 November election, during which time he has interacted with many high-level officials.
The president announced positive test results for himself and his wife, Melania, in a tweet on Friday, at around 01:00 local time (5:00 GMT).
This followed a positive diagnosis for his close aide, Hope Hicks, who reportedly started feeling symptoms on Wednesday and tested positive the next day.
It takes five days on average from the moment a person is infected for symptoms to start showing, but it can be much longer, so the World Health Organization advises a 14-day isolation period.
The peak infectious period for the virus is the day before symptoms appear and the two days after, although a large proportion of people never show any symptoms at all. The White House says it has begun contact-tracing.
Here is a look at some of the people we know Trump has crossed paths with in the last week.
Bill and Hillary Clinton wish the Trumps a 'speedy recovery'
Hillary and Bill Clinton have wished President Trump and his wife a "speedy recovery" in separate tweets.
In 2016, Hillary was beaten by Trump in one of the most bitterly fought elections ever.
Hilary Clinton:

We wish the President and First Lady a speedy recovery, and hope for the safety of the White House staff, the Secret Service, and others putting their lives on the line. This pandemic has affected so many. We must continue to protect ourselves, our families, and communities.
Trump's former adviser Conway tests positive
Kellyanne Conway, a former adviser to President Trump, has tested positive for coronavirus.
Conway said her symptoms were mild.
She is latest person to have attended the announcement of the Supreme Court nomination of Amy Coney Barrett last Saturday to test positive.
She resigned from her post
as senior adviser to Trump in August, adding that she did so in order to focus on her children, giving them "less drama, more mama".
The announcement came hours after one of Conway's daughters, Claudia, 15, tweeted that her mother's job had "ruined [her] life"
Kellyanne Conway:

Tonight I tested positive for COVID-19. My symptoms are mild (light cough) and I'm feeling fine. I have begun a quarantine process in consultation with physicians. As always, my heart is with everyone affected by this global pandemic.
Two out of seven Republican senators test positive for Covid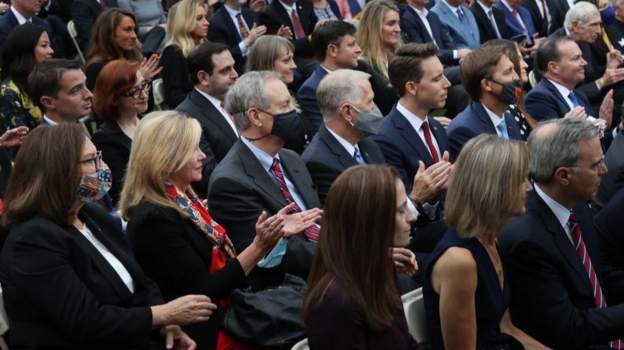 Seven Republican senators sat in a row at last Saturday's White House event to announce Amy Coney Barrett as President Trump's Supreme Court nominee.
Two of them have so far tested positive for Covid-19.
Senator Mike Lee of Utah (at the far end of the row, in the blue tie) was not wearing a mask. In a video shared on social media he can be seen hugging other guests after the ceremony.
A few seats down, in the middle of the photo wearing the grey mask, is North Carolina Senator Thom Tillis. He also revealed on Friday that he had contracted the virus.
It is unknown when they caught it. Both men said they were feeling well and showing no symptoms.
Kellyanne Conway, a former adviser to President Trump, has tested positive. She was sitting directly behind Melania Trump, who also tested positive.
The only other senator to provide the results of a new test by Friday evening was Senator Marsha Blackburn of Tennessee, sitting second from the left.
She did not wear a mask on this occasion - and she also travelled with Trump as one of his guests at this week's presidential debate. But she says her test came back negative.
It takes five days on average from the moment a person is infected for symptoms to start showing, but it can be much longer.
'Dangerous' to move forward with judge confirmation hearings
Peter Bowes - North America correspondent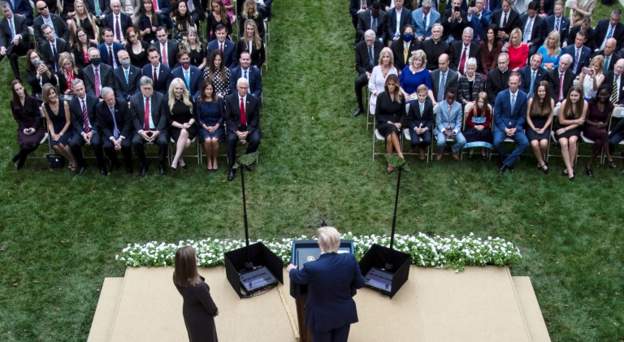 This is a crisis that's escalating by the hour.
With the news that another member of Trump's inner circle, Kellyanne Conway, has tested positive, along with two Republican senators, there's a growing realisation that a Covid cluster has penetrated the heart of US government.
Like Conway, Senators Mike Lee of Utah and Thom Tillis of North Carolina attended the White House event where the president announced his nomination of Amy Coney Barrett to the Supreme Court.
Four other attendees are also known to have tested positive.
Chuck Schumer, the Democratic leader in the Senate, has said it would be "irresponsible and dangerous" to move forward with the judge's confirmation hearings.
It would be another huge blow to the president if the proceedings were delayed, although the Senate leader Mitch McConnell has said they will continue with expanded use of remote hearings.
Trump campaign manager tests positive
Bill Stepien, Donald Trump's campaign manager, has become the latest official close to the president to test positive for Covid-19.
Stepien received his results on Friday evening and is experiencing "mild flu-like symptoms", Politico reports.
He will now reportedly work from home.