Summary for Friday, 7th August


Data suggests about one person in every 1,900 has had the virus in homes in England in the most recent week- with statisticians saying cases may be levelling off

But an increase in cases in the city of Preston has led to more local lockdown measures in north-west England

Beachgoers in the UK have been urged to maintain social distancing measures as temperatures soar across the country

More than a million cases have been confirmed in Africa, although the true extent of the pandemic there is not known

South Africa accounts for more than half of these cases, but there are concerns about a lack of data from Tanzania

Hong Kong chief executive Carrie Lam announces free Covid-19 tests for anyone in the city who wants one

UK Chancellor Rishi Sunak says the furlough scheme cannot continue indefinitely

India reaches two million cases in 20 days, much faster than the two countries with the highest number of cases, the US and Brazil

The Australian state of New South Wales announces new restrictions, with mandatory hotel quarantine for arrivals from neighbouring Victoria

Latest from the UK
If you're joining us from the UK, here are the latest stories you need to know about this morning:
Latest from across the globe
Good morning everyone joining us from around the world. Here is a global round-up of the top coronavirus stories:


Africa's coronavirus cases have passed the one million mark, according to Johns Hopkins University

South Africa - where testing has been widespread - accounts for more than half of all cases

However, experts say a lack of comprehensive testing across Africa means the true extent of the pandemic could be worse than reported

The Australian state of Victoria has reported another 450 cases in the past 24 hours

People who enter New South Wales from Victoria will have to go into mandatory hotel quarantine

More than two million Indians have now tested positive for Covid-19 , according to official figures

The country confirmed the last million cases in just 20 days, faster than the US or Brazil which have higher numbers

Brazilian President Jair Bolsonaro has sparked outrage in some circles once again, for telling Brazilians they should "get on with life". More than 98,000 people have lost their lives in the country

Coronavirus cases pass one million mark in Africa
"Aggressive and bold" action is needed as Africa's coronavirus cases pass the one million mark, according to the African Union (AU) body dealing with the pandemic.
It says South Africa - where testing has been widespread - accounts for more than half of all cases.
Tanzania's lack of data
meanwhile is a "concern" for the AU - it has not published figures for weeks.
Experts say a lack of comprehensive testing across Africa means the true extent of the pandemic is not known.
Figures collated by Johns Hopkins University in the US show that more than one million cases have been recorded in Africa.
In the continent overall, more than 21,000 people have died with Covid-19 and almost 674,000 people have recovered, the figures show.
The two countries with the highest numbers of cases are South Africa and Egypt. They accounted for 75% of all the new cases reported by mid-July.
Read more here.
Free Covid test for Hong Kongers who want one
Hong Kong's chief executive, Carrie Lam, has announced a free Covid-19 test for anyone in the city who wants one.
The mass testing will be done with help from three mainland Chinese firms, and will begin in around two weeks.
Ms Lam said Hong Kongers should not be suspicious about the mainland's support, as it was Hong Kong that asked for help.
After barely any cases in much of May and June, a surge of infections in July led to Hong Kong
reintroducing strict rules.
The rolling average of new daily cases has dipped since the start of the month, but is still at 100.
World's remotest Irish bar: 'We will survive Covid'
Owen Amos - BBC News, Singapore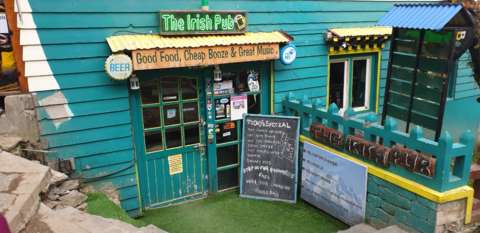 The Irish Bar in Namche Bazar, Nepal
It has been closed since April, you can't reach it by car, and the nearest airport is a two-day hike away – but the world's remotest Irish bar is optimistic business will pick up soon.
The Irish Pub in Namche Bazar, Nepal, is 3,450 metres above sea level, en route to Mount Everest.
It has been shut since 10 April, after the pandemic forced Nepal's government to close the mountains to climbers.
But owner Dawa Sherpa thinks the reopening of the Himalayas to tourists – and a new road to the area – mean better days are ahead.
Leave cancelled for doctors in Bosnian capital as cases surge
Authorities in the Bosnian capital, Sarajevo, have cancelled leave for all medical staff following a surge in Covid-19 cases in the city.
Those who are currently on holiday have been ordered to "return to work immediately".
More than 260 new cases were reported in Bosnia on Thursday, with more than a quarter of those in Sarajevo.
The city currently has more than 1,400 active cases, with an infection rate of more than 300 per 100,000.
A total of 384 people are reported to have died of Covid-19 in Bosnia.
How to stay cool in a face mask as hot UK weather forecast
It is going to be sweltering.
You don't really need the TV weather maps turning red to realise that much of the UK is going to be roasting in temperatures above 30C. But as you slip on your favourite summer top and shorts, you may break out in a hot sweat... as you realise you are also likely to be enduring part of your day in a face mask.
Keeping cool while wearing a facial covering might be more difficult, but we've gathered some tips.
Choose the right mask
Dr Adil Sheraz, who works at a London NHS hospital, says to choose a mask made from a breathable material, such as cotton or even bamboo. He says although surgical masks provide protection from spreading the virus, "they are not the best to use for keeping cool".
Change what you put on your skin
"The other thing you want to do is try and avoid make-up," says Dr Sheraz, as it can mix with sweat and clog pores. "Use sun block and a water based moisturiser." The
Met Office forecasts high UV levels
in some areas.
Above all, stay hydrated
It's all well and good having the handy bottle of water to hand but if you're steadfastly not taking any liquid on board because you are keeping your mouth covered, you may end up in danger from dehydration.
There is no problem removing your mask to have a refreshing glug of cool water - just remember to gel your hands before touching your mask and aim to remove it when you are at a safe distance from others.
See here for more advice staying on cool.