Summary for Wednesday, 5th August


Spread of the coronavirus in the UK could have been slowed with earlier quarantine restrictions on arrivals, says a report from MPs

Travellers told to self-isolate in early stages were mostly from Asia but countries such as Spain should have been included, they say

Thousands of infected people are likely to have arrived in the days before lockdown was imposed in late March, report adds

Australia records another daily record in virus cases, driven by an outbreak in Melbourne, which is under a new lockdown

Sri Lankans go to the polls to vote for a new parliament, with virus safety measures in place

Global death toll has passed 700,000; more than 11 million people have recovered from the virus

UK's border policy was a 'serious mistake', say MPs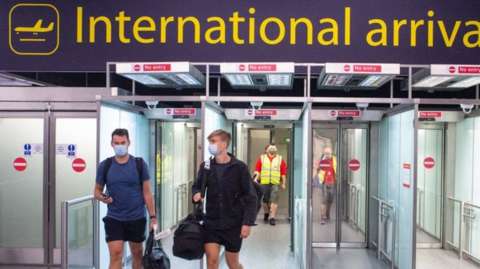 The UK's coronavirus outbreak could have been curbed more effectively had quarantine restrictions on arrivals been imposed at an earlier stage, MPs have said.
The Home Affairs committee said it was a "serious mistake" not to bring in tougher border measures earlier on in the pandemic.
The committee said ministers had underestimated the threat of importing the virus from Europe at a time when there were serious outbreaks in Italy and Spain.
A Home Office spokeswoman disputed the committee's findings, saying all of the government's decisions had "been guided by the science".
During February and early March, all passengers from China, Iran, South Korea and later Italy were asked to self-isolate for 14 days on arrival.
But a decision on 13 March to end self-isolation advice for international arrivals not displaying symptoms had been "inexplicable", said the MPs.
Currently, travellers arriving from certain high-risk countries - including UK nationals - are asked to provide an address where they will self-isolate for 14 days.
Read the full story here
.
Victoria sees record rise as more borders are shut
The Australian state of Victoria has reported another record rise in coronavirus cases, days after it tightened its lockdown measures to curb the disease.
A further 725 infections and 15 deaths - including that of a man in his 30s - were confirmed in the state on Wednesday, Australia's worst day yet.
The record numbers came ahead of another wave of restrictions which will come into effect in Victoria at midnight tonight.
On Sunday,
Premier Daniel Andrews declared a state of disaster
. He announced a night-time curfew and restrictions on leaving home for residents of Melbourne, the country's second most populous city.
Australia has fared better than many countries due to effective suppression measures early in the pandemic, but since June, the outbreak in Victoria has worsened significantly.
On Wednesday,
the state of Queensland said it would close its borders
with neighbouring New South Wales to halt the spread of the virus.
Analysis: More accusations of serious errors
Dominic Casciani - Home Affairs Correspondent
The Home Affairs committee's report is the second parliamentary report in a week that's accused the government of serious errors. Last week's criticised how
hospital patients were discharged to care homes without a Covid test
.
Both reports amount to the same accusation - poor or inexplicable decisions that didn't help slow the march of the pandemic.
The MPs cite examples from around the world where countries were requiring arrivals to comply with stringent quarantine or monitoring measures.
The government insists that its general message from 13 March to the public to stay at home, if they had symptoms, worked.
But that recommendation was not the same as clear guidance, or an absolute legal requirement, for passengers to self-isolate even if they were feeling perfectly well.
And that, say the MPs, meant travellers in March were able to arrive and move about much more freely at a critical moment in the spread of the virus across the UK.
Australia's worst day yet
Phil Mercer - BBC News, Sydney
The Victorian government has announced a sweeping shutdown
As we reported earlier, the Australian state of Victoria reported a record rise of 725 new infections and 15 deaths on Wednesday.
This is another sad milestone for Victoria. It has recorded Australia's worst day of the pandemic so far.
Health officials are stressing the figures reflect infections that occurred in the past fortnight.
They are confident tough lockdown restrictions, including a night-time curfew in Melbourne, will push the number of new cases down in the next two weeks.
All non-essential retail stores in Victoria are preparing to close from midnight tonight, as increasingly strict disease-control measures are introduced.
All non-essential shops are to close in Melbourne