Summary for Thursday, 30th July


Florida is to close its coronavirus testing centres as Tropical Storm Isaias approaches

The decision comes a day after the US state reported a record 216 deaths

Coronavirus has killed more than 150,000 people in the United States

The time people with symptoms will have to self-isolate for is expected to increase from seven to 10 days in England

Australia's virus-hit state of Victoria has reported its worst death toll and case rise

Violent protests have broken out in Paraguay after areas were ordered back into lockdown

There are now more than 17m confirmed cases of coronavirus and 667,000 reported deaths worldwide

Welcome back to our rolling coverage of the coronavirus pandemic. Our news teams around the world will be keeping you posted on all the latest developments.
But first, here are the international headlines:


Facemasks are being made mandatory in the US House of Representatives, as the national coronavirus death toll rises above 150,000. House Speaker Nancy Pelosi said anyone who broke the new rule faced being removed from the chamber

The Australian state of Victoria has reported its worst ever daily increase in deaths and infections, prompting fears that a six-week lockdown of the state capital, Melbourne, is not working

Brazil has lifted a four-month ban on foreign travellers arriving by air, despite record numbers of daily cases and deaths. The government did not explain the latest move but observers suggest it is aimed at reviving Brazil's devastated tourism industry

There have been violent protests in Paraguay after the government ordered part of the country back into coronavirus lockdown. Crowds clashed with police on the streets of Ciudad del Este, on the border with Brazil

Japan is to lift its ban on the re-entry of some foreign residents next week, the foreign ministry has said. About 90,000 foreign nationals with residence permits are currently stuck outside Japan because of the restriction, AFP reports

Florida to close test centres as storm bears down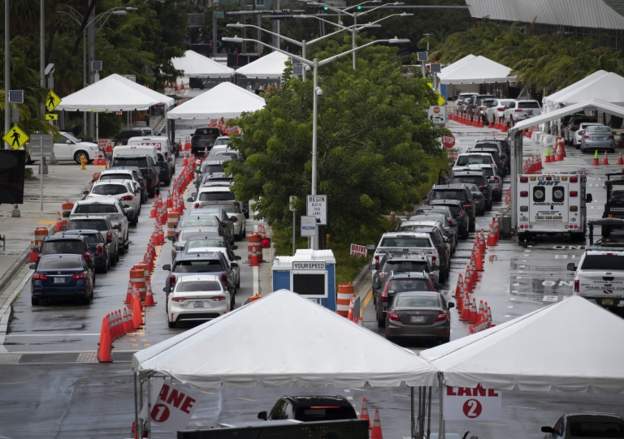 Testing centres like this one in Miami will be temporarily closed on Thursday
Florida, one of the US states worst hit by the coronavirus, says it is to close its testing centres as a tropical storm heads towards the coast.
"All sites have free standing structures including tents and other equipment, which cannot withstand tropical storm force winds, and could cause damage to people and property if not secured," state emergency management officials said.
The sites will close from 17:00 local time (22:00 GMT) on Thursday until further notice, they added.
Tropical Storm Isaias, packing winds of 50mph (80km/h) is due to make landfall in the state by the end of the week, according to the National Hurricane Center.
Florida, which has a population of 21 million, has reported more than 450,000 infections and about 6,300 deaths from the virus. A quarter of all of the cases are in the city of Miami.
The latest headlines in the UK
Here are a few of the stories making headlines in the UK this morning:
Virus isolation period 'to go up from seven to 10 days'
The length of time people with coronavirus symptoms will have to self-isolate for is expected to be increased from seven to 10 days in England.
Currently, people showing the main symptoms - a new continuous cough, high temperature or loss of taste or smell - have to self-isolate for at least week,
or as long as they feel unwell
.
It's unclear if the devolved nations will follow the UK government's lead, but the current guidance was adopted UK-wide.
England's chief medical officer Prof Chris Whitty is expected to announce later that the isolation period is being extended as ministers try to avoid a second outbreak of the virus in the UK.
Read our story in full
here
.
Gambia leader self-isolates after VP tests positive
President Barrow must spend two weeks in quarantine
Australian state sees huge spike in cases
The Australian state of Victoria has reported its worst ever daily increase in deaths and infections, prompting fears that a six-week lockdown of the state capital, Melbourne, is not working.
Health officials confirmed 723 new cases and 13 deaths on Thursday. State Premier Daniel Andrews said all the deaths involved people in their 70s and 80s. Overall it was Australia's deadliest day in the pandemic.
A partial ban on private gatherings, including weddings and funerals, is coming into force in some areas on Thursday. Everyone in Victoria will have to wear a face covering in public from midnight on Sunday.
Other Australian states have closed their borders with Victoria but the move has not entirely prevented minor infection spikes. Australia had been coping well with the pandemic until a surge in Melbourne earlier this month
.
Hancock: Safety of shortening travel quarantine being looked at
BBC Breakfast
Matt Hancock confirms the government is looking into whether it's possible to reduce the length of quarantine for travellers returning to England.
At the moment, people returning from most countries abroad must isolate for 14 days.
"We are working on whether by testing people during that quarantine it is safe to then be able to release them earlier.
"That's something that we're working on, but we're not imminently making an announcement on it," he says, stressing that the rules will not change in "the next few days".
Asked what the indicators were of a potential second wave or resurgence in the virus, he says the number of positive tests, the percentage of people who test positive, surveys of the population, and hospital admissions.
How close are we to that point in the UK? "We review the data all the time. It's impossible to predict that," he says.