Summary for Saturday, 25th July


Catalonia is to close all nightlife in the region due to a spike in coronavirus infections

Indoor gyms, swimming pools and sports facilities have started to reopen in England

Being obese or overweight puts you at greater risk of serious illness or death from Covid-19, experts in England say

The World Health Organization reported 284,196 new coronavirus cases in 24 hours on Friday, a new record

The biggest increases were in the US, Brazil, India and South Africa

South Korea reported 113 new infections on Saturday, its biggest one-day increase for three months

There have been more than 15.7 million cases globally and almost 640,000 deaths, according to Johns Hopkins University

Hello and welcome. We are back up and running our rolling coverage of the coronavirus pandemic. Here's a quick summary of the latest developments to get us started.


The World Health Organization says there has been a record spike in cases across the world, with 284,196 new infections in 24 hours

Indoor gyms, swimming pools and sports facilities in England have started to reopen in the latest easing of lockdown measures

A review by Public Health England says obesity puts people at greater risk of needing hospital treatment for Covid-19

South Korea - long hailed as an example of how to handle the pandemmic - has seen its biggest one-day increase in cases for three months with 113 new infections reported on Saturday

Chile has unveiled a plan to begin easing restrictions in parts of the capital, Santiago, as the number of daily infections slows

Globally there have been more than 15.7m cases and almost 640,000 deaths

WHO reports record daily increase in cases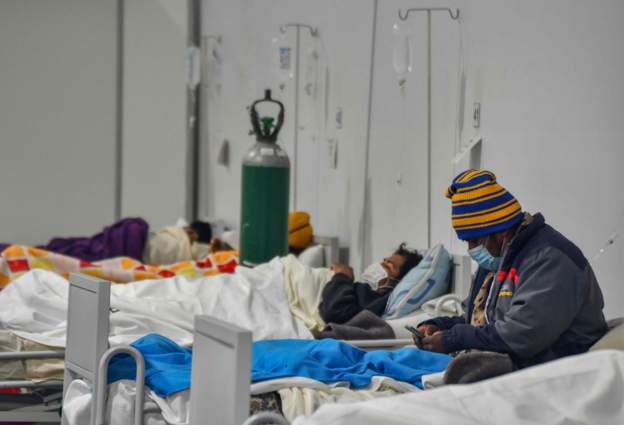 Peru had the biggest increase in new coronavirus deaths, according to the World Health Organization
Despite many countries starting to ease lockdown measures, the World Health Organization (WHO) has reported a record increase in daily coronavirus cases across the world.
It said there were 284,196 new infections in 24 hours on Friday. The number of deaths increased by 9,753, which was the largest single-day increase since 30 April.
The latest figures broke WHO's previous record for new cases - 259,848 on 18 July.
The number of new cases by country were:


US - 69,641

Brazil - 67,860

India - 49,310

South Africa - 13,104

WHO said the biggest increases in new deaths were:


Peru - 3,876

Brazil - 1,284

US - 1,074

Mexico - 790

India - 740

Peru increased its total death toll by 3,000 in one day following a review of its Covid-19 data. Cases in the US have passed four million with at least 145,000 deaths.
Catalonia closes nightclubs amid spike in infections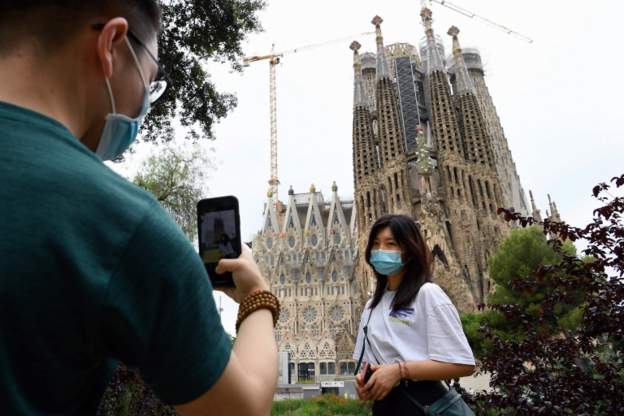 Barcelona, the Catalan capital, is among Spanish cities seeing a rise in infections
The government of Catalonia in north-eastern Spain says all nightclubs and late-night bars in the region are to close for the next two weeks due to a spike in coronavirus infections.
Barely a month after Spain ended a state of emergency, cities including Barcelona, Zaragoza and the capital Madrid have seen a surge in new infections.
The Spanish health ministry reported more than 900 new cases of the virus on Friday. The BBC's Guy Hedgecoe in Madrid says contagion among young people is a particular worry.
France has warned its citizens not to travel to Catalonia while Norway has said it will start quarantining people arriving from Spain.
France to roll out on-the-spot tests for travellers
French Prime Minister Jean Castex says people arriving from 16 countries where the virus is widely circulating will be subject to on-the-spot coronavirus tests.
The move comes as the number of new infections in France starts to climb again. The health ministry said there were now more than 1,000 new cases each day in hospitals.
Mr Castex said the tests would be for "French citizens who live in these countries or citizens of these countries with an established residence in France". Any travellers testing positive will have to spend 14 days in isolation.
The new rules apply to people arriving from the US, Brazil, Algeria, Bahrain, Israel, India, South Africa, Kuwait, Qatar, the United Arab Emirates, Oman, Panama, Peru, Serbia, Turkey and Madagascar. France - and the European Union - do not allow general travel to and from these countries.
Multiple vaccines needed for global scale - UK scientist
BBC Radio 4
Professor
Robin Shattock, who is leading work on a coronavirus vaccine at Imperial College London,
says it is crucial to have multiple vaccines available, as his version moves to the next stage of its clinical trials on Monday.
He told BBC Radio 4's Today programme: "I think we need a series of vaccines so, while we talk about this often as a race, it is a race where we need as many groups to get past the finishing post as possible because when we think of things on a global scale, developing enough vaccines for seven billion people is going to be too big a thing for any single group to do."
In an update on the progress of his team's vaccine work, he said the "good news" is that they've seen "very mild side effects, if any", adding that the trial, which currently has 100 people enrolled, would be expanding to six new centres to enrol another 200, with the maximum age of volunteers expanded from 45 to 75.
When will have a vaccine?
Some of the answers are to be found here
Asymptomatic virus spread unknown early on - UK scientist
More now from Professor Shattock at Imperial College London.
Asked for his view on Prime Minister Boris Johnson's admission that
the government did not understand the virus during the"first few weeks and months"
of the UK outbreak, nor the extent of the role of asymptomatic spreaders, Prof Shattock said there was a "worry" the virus could be spread asymptomatically but nobody knew "quite how big a problem" it might be at that stage.
He told BBC Radio 4's Today programme that that it was always easy to see things "in hindsight", adding that the "rapidly moving" nature of the pandemic meant decisions had to be made quickly.