Summary for Friday, 24th July


India records 49,310 new infections - its highest daily number of cases

New rules begin in England making it compulsory to wear face coverings in shops

President Trump cancels the Republican convention in Florida, blaming the virus "flare-up"

Cases in the US pass four million with at least 144,000 deaths

All major international tennis tournaments have been cancelled in China

Former UK PM Tony Blair believes coronavirus will not be eliminated

Globally there have been more than 15.4m cases and almost 632,000 deaths

Hello and welcome back to our rolling coverage of the coronavirus outbreak. As another week draws to an end, here's a quick look at key developments over the last few hours:


Former UK Prime Minister Tony Blair says he does not believe the virus will be eliminated, saying Britons must simply "learn to live with it"

It comes as new rules begin in England, making it compulsory to wear face coverings in shops

In the US, more than four million people have now been infected with Covid-19

It comes as US President Donald Trump has cancelled next month's Republican party convention in Florida, saying "it's not the right time for that"

Globally, more than 15 million people have been infected with the virus, with over 632,000 deaths

Stay with us for all the latest updates - reports from our correspondents on the ground, expert analysis, and your reaction from around the world
We 'must learn to live with Covid-19': Tony Blair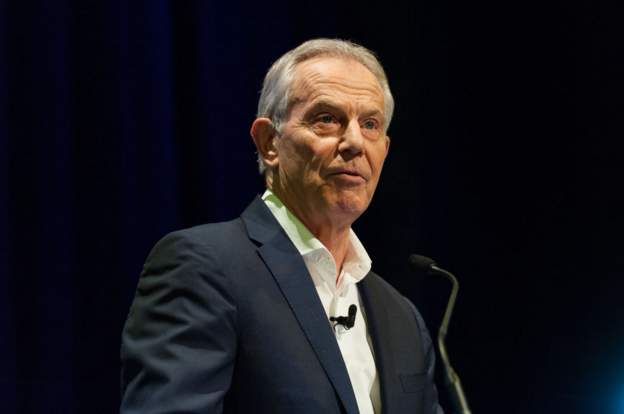 Former UK Prime Minister Tony Blair has said Britons need to learn to live with the virus, saying it would not be eliminated.
In an interview with the Press Association, the former Labour leader said there was "at least a 50/50 chance" that the UK would see a resurgence of Covid-19 in the autumn, and it was "absolutely essential" to prepare for it.
He urged the government to "put in place every single last bit of containment infrastructure that you possibly can to make sure that if that happens you are able to control the disease, because you're not going to be able to go back into the lockdown that we endured in March, April and May".
A new report by his think tank, the Tony Blair Institute, also recommended the roll-out of mass testing and compulsory use of face masks
in all enclosed public environments.
Mr Blair said: "If you're only testing the people with symptoms... you are missing asymptomatic people and you are missing pre-symptomatic people.
"And often part of the biggest problem with the disease are pre-symptomatic people."
WHO slams 'unacceptable' remarks by Pompeo
The World Health Organization (WHO) has slammed "unacceptable" remarks by US Secretary of State Mike Pompeo, who had earlier said the global health body had been "co-opted by China".
The WHO's director-general Tedros Adhanom Ghebyreyesus said the allegations were "untrue and unacceptable and without any foundation".
He added that they would not be "distracted by these comments".
The WHO has been a frequent target of criticism by the US administration, with US President Trump accusing it of failing to hold Beijing to account over the pandemic.
Trump said earlier in May that China had "total control over the World Health Organization".
Mask rules come into force in England shops
Face coverings are now compulsory for customers in shops in England, after new coronavirus rules came into force within 12 hours of the government
issuing guidance
on the change.
Coverings are mandatory in enclosed public spaces such as supermarkets, indoor shopping centres, transport hubs, banks and takeaways.
Police can hand out fines of up to £100 ($127) to those who do not comply.
But some retailers have insisted they will not enforce the rule.
Read our full story
Trump scraps Republican convention in Florida
US President Donald Trump has
cancelled the Republican party convention in Florida
, citing the coronavirus "flare-up" as US cases passed four million.
"It's not the right time for that," he said, adding that he would still give a convention speech in a different form.
Florida - a state crucial to the president's re-election hopes - is behind only California and New York in total cases.
As well as passing four million confirmed cases on Thursday, the US has recorded more than 144,000 deaths from Covid-19.
Opinion polls suggest Mr Trump is facing an uphill battle for a second term in office amid criticism of his handling of the pandemic
Bolivia postpones election for second time
Bolivia has postponed its general election over fears the planned date could coincide with a possible peak in infections.
Officials said the election has now been scheduled for 18 October.
It is the second time the vote has been postponed due to the pandemic. It was originally scheduled for May but was pushed back to September due to lockdown measures.
Medical experts have warned that infections in the country could peak at the end of August or beginning of September.
"The definitive date for the election gives better conditions for health protection, outside voting facilities and the arrival of international observer missions," said Salvador Romero, head of Bolivia's electoral court.
Bolivia's interim president, Jeanine Anez, tested positive for the virus two weeks ago.
The country has recorded 2,407 deaths and more than 65,000 infections.
Australia to see lowest population growth in century
Australia is heading towards its lowest population growth in a hundred years this year.
The rate will plunge from an average 2% growth to 0.6% due to border closures and immigration disruptions. For decades, migrants have driven Australia's population increase and related economic growth.
The nation is still reeling after yesterday's Treasury data showed the economy to be in its worst shape since WW2. Government debt A$488bn ($197m; £270bn) has ballooned to a quarter of national GDP.
All efforts at the moment are on containing the virus' spread in mainly Melbourne and Sydney.
Two thousand more soldiers will be sent to Melbourne to speed up contact tracing. Victoria state reported 300 new cases on Friday, a slight dip in the rate of local transmissions.
All major tennis tournaments cancelled in China
All major international tennis tournaments in China this year, including the Shanghai Masters and WTA Finals, have now been cancelled, said the organisers of the Association of Tennis Professionals (ATP) and Women's Tennis Association (WTA).
"We are extremely disappointed that our world-class events in China will not take place this year," said Steve Simon, head of the WTA, in an AFP news agency report.
"We do however respect the decision that has been made."
Among the WTA events cancelled is the Wuhan Open, scheduled for October.
The ATP said it would be cancelling the prestigious Shanghai Masters and China Open in Beijing.