Summary for Saturday, 18th July


President Trump rejects mandatory masks: "I want people to have a certain freedom"

Top US infectious diseases expert Dr Anthony Fauci says everyone should use them

UN Secretary General António Guterres has criticised the world's biggest powers for failing to work together to tackle the pandemic

PM Boris Johnson gives English councils new powers to manage local outbreaks

Indian actress Aishwarya Rai Bachchan is taken to hospital after testing positive for Covid-19

Iran's president says 25 million Iranians have already been infected by Covid-19

4 million people in Barcelona in north-east Spain are urged to stay at home for 15 days

Globally there have been 14.1 million cases since the outbreak began, with 602,657 deaths

Good morning and welcome to our live updates of the coronavirus pandemic.
We'll be bringing you news from the UK and around the world.
Here are the latest headlines:


US President Donald Trump has vowed not to make Americans wear masks. His remarks came as top disease expert Dr Anthony Fauci said everyone should be using them.

Indian actress Aishwarya Rai Bachchan and her daughter have been taken to hospital after testing positive for Covid-19 earlier this week . Aishwarya's husband Abhishek and father-in-law Amitabh Bachchan, both also famous actors, have been in hospital since Saturday with the virus

Councils in England now have new powers to close shops, cancel events and shut outdoor spaces to manage local outbreaks of the virus

Health Secretary Matt Hancock has called for an urgent review into covid death data in England after Public Health England confirmed reported deaths may have included people months before they died

Spain's second city, Barcelona, has urged four million residents to stay at home as the north-eastern region of Catalonia sees a surge in infections

Councils in England have new powers to manage local outbreaks
Councils in England have new powers to close shops, cancel events and shut outdoor public spaces in order to manage local outbreaks of the virus.
The Local Government Association (LGA) hopes the move will avoid the need for stricter local lockdown measures.
Prime Minister Boris Johnson said the additional powers would allow local authorities to "act more quickly in response to outbreaks where speed is paramount" in what he called "lightning lockdowns".
Leicester, the first city to see a localised lockdown, will see some easing in measures from 24 July.
Read more here
Trump says no to US mask mandate
President Donald Trump has vowed not to order Americans to wear masks to contain the spread of coronavirus.
He told Fox News on Friday that he didn't agree with a national mask mandate, saying people should have a "certain freedom".
His comments came after Dr Anthony Fauci, the top US infectious diseases expert, urged state and local leaders to be "as forceful as possible" in getting people to wear masks.
A number of states, including those with Republican governors, have ordered the wearing of masks outdoors be mandatory.
Trump was pictured last weekend wearing a mask after previously resisting.
Read more here
UN secretary general criticises nations for not working together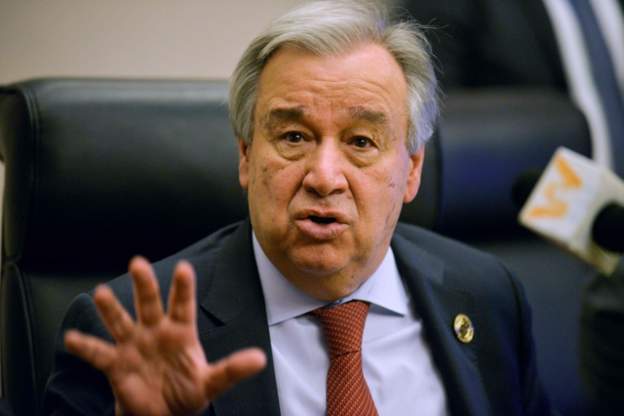 António Guterres criticised rich countries for not doing enough to help poorer nations during the pandemic
The United Nations secretary general, António Guterres, has strongly criticised the world's biggest powers for failing to work together to tackle the coronavirus crisis.
Speaking on the Today programme on BBC Radio 4, he said the relationship between the US, China and Russia had never been so dysfunctional. "We are now in a world that is no longer bi-polar but it is not yet multi-polar. It is chaotic in many aspects. Unfortunately this lack of mutual understanding, this competition among the largest powers, is a major fragility for the UN, but I would say for the world in general."
Guterres called for the Security Council to find solutions to ease conflicts taking place around the globe - in Libya, Syrian, Yemen and Afghanistan.
And he criticised rich countries for not doing enough to help out poorer nations during the pandemic.
He said the world's nations should back a "people's vaccine" made available and affordable to all. "We will not be safe in the pandemic if everybody is not safe."
Guterres was speaking ahead of a lecture for the Nelson Mandela Foundation.
Residents of Barcelona urged to stay home
Some 4 million people are being asked to stay home for the next 15 days across the capital of
Catalonia
in north-east Spain.
It's not a lockdown as such, as it's not mandatory, but it affects 13 cities in the
Barcelona
metropolitan area, as well as residents in
La Noguera
and
Segrià.
The Catalan government reported 1,111 cases on Friday in the space of just 24 hours. The neighbouring city of L'Hospitalet de Llobregat was already under restrictions, including reduced access to bars and restaurants as the outbreak spread.
"We must take a step back to avoid returning in coming weeks to a total lockdown of the population," said regional government spokeswoman Meritxell Budo.
US continues to record high number of infections
The US has now recorded more than 3.6 million cases of the virus and more than 139,000 people have died.
Daily cases continue to remain high in the country, with confirmed infections on Friday surpassing 70,000.
Some of the worst-hit states include Texas, Florida and Arizona.
Texas recorded 174 deaths on Friday, the most in one day since the pandemic began there.
Officials on the Texas-Mexico state border say hotels in the area could be converted into medical units by next week.
Public schools in the state have been given permission to keep their campuses closed well into autumn.
California Governor Gavin Newsom has announced strict criteria for school reopenings which means it is very unlikely that many students will return to classrooms in autumn.
Twenty-five million Iranians already infected - Rouhani
Iranian President Hassan Rouhani warned that infections could spike in the next 150 days
Iran's President Hassan Rouhani has said 25 million Iranians have already been infected by coronavirus and another 35 million are at risk.
Basing his statistics on a health ministry report, he warned the country would need twice as many beds. Until now, the official number of infections was 269,440.
Rouhani said: "If today we base ourselves on this report, which says that 25 million of the population in our country have been infected and that presumably the rest of our population, about 30 to 35 million more will contract it in the coming months, the same report predicts that the number of those hospitalised in the coming months is expected to be double the number we have seen in the past 150 days."
Rouhani said about 14,000 people had died from the virus and 200,000 had been admitted to hospital in the past 150 days, according to the report.
Australia delays opening of parliament
The opening of parliament in Australia has been delayed by several weeks due to the spread of the virus in the country's two most populous states.
Prime Minister Scott Morrison asked the speaker of the parliament to cancel a two-week session which was due to begin on 4 August.
The next meeting is planned for 24 August.
In a written statement, Morrison said: "The government cannot ignore the risk to parliamentarians, their staff, the staff within the parliament and the broader community."
Victoria and New South Wales are currently experiencing a surge in cases.
On Saturday New South Wales recorded 15 more cases while Victoria saw 217 new infections.