On Wednesday evening I watched the programme
'Common'
on London Live TV.
Originally shown on BBC 1 on 6th July 2014:
Multi-award-winning writer Jimmy McGovern's brand new film based on the UK's controversial joint enterprise law.
17-year-old Johnjo gives his cousin Tony and his mates Colin and Kieran a last-minute lift in his brother Patrick's car. They tell him they're going for pizza; Johnjo doesn't know that they're going to 'have a word' with a local loudmouth who needs putting in his place. As Johnjo waits in the car, Kieran takes offence with an innocent bystander, Thomas Ward, who is fatally stabbed.
The murder victim is the eldest child of Margaret and Tommy Ward, who has become estranged from his family after a bitter divorce. Struggling to make ends meet on her own, Margaret is nevertheless determined to fight through bureaucracy and the cool indifference of the banks to give Thomas the send-off he deserves.
Johnjo makes his own way to the police station and asks for DI Hastings. A career copper used to doing battle with 'no comment', Hastings can't believe his luck as Johnjo lays the blame squarely with Kieran. But Hastings wants everyone possible to be tried for murder, and with the joint enterprise doctrine at his disposal, that includes Johnjo.
I looked it up online to see if the programme was based on a true story, as it seemed to be - and found this (from the Radio Times website):
Jimmy McGovern's Common: "People will realise it's based on reality and they'll be shocked"
Sunday, 6th July 2014
Common writer McGovern on joint enterprise and the real-life cases that inspired the gritty BBC1 drama
Jimmy McGovern once asked: "Why write drama that doesn't matter?" The Liverpudlian screenwriter certainly never skirts tough issues. With drama documentaries on the Hillsborough football stadium disaster and Bloody Sunday, and gritty television series such as The Street and Cracker, he has focused repeatedly on injustice, crime and deprivation. Now the man once dubbed "a Charles Dickens for our time" is turning his attention to "joint enterprise" – an ancient legal doctrine under which inner-city youths are receiving mandatory life sentences for murders in which they did not pull the trigger or wield the knife and were only indirectly involved.

His new drama, Common, to be screened on BBC1 on Sunday, tells the story of Johnjo O'Shea, an unsuspecting 17-year-old who drives three older mates to a pizza parlour. As he waits outside, one of the three in the pizza place stabs a customer. Johnjo is unaware that his friend even has a knife, but days later Johnjo himself is charged with murder under joint enterprise. The story is fictitious, but McGovern expects parents across the country to claim he based it on their sons' cases.
The doctrine of joint enterprise or common purpose dates back 300 years to the age of duelling, when not only the combatants but also the seconds and surgeons faced prosecution. Today it's used far more widely than is realised, with gangs the target and the public's demand for safer streets the driving force.

But joint enterprise is also a cause for growing concern, not least within the legal profession, as life sentences are meted out not just to the actual killers but also to those deemed to have helped or encouraged them in any way. As McGovern tells RT, "You know that when the British public is outraged, injustice is just around the corner."
McGovern, 64, stumbled across the issue when a Liverpool woman wrote to tell him about her nephew. He receives many letters about perceived injustices and usually writes back to say that he's too busy. But this letter had taken a month to arrive because it carried the wrong postcode, so he telephoned her. 
"I got her voice and it was a different thing," he recalls. She invited him to her house. There he met three or four women with stories about the alleged injustices of joint enterprise suffered by close relatives. One "really fired me… it had all the hallmarks," he says. It was the story of Jordan Cunliffe, one of three teenagers convicted of murdering Garry Newlove in 2007. 
One August night Newlove, a 47-year-old sales manager, confronted some drunken youths outside his home in Warrington Cheshire, believing they had vandalised his wife's car. He was attacked, and died of a head injury two days later. His murder caused an outcry. His widow, Helen, demanded government action to protect communities besieged by feral gangs. David Cameron, then leader of the Opposition, cited it as evidence of "broken Britain". The tabloids had a field day, with the Daily Mail calling Newlove "another martyr to Britain's increasingly violent gang culture, populated by youths, high on drink and drugs, and hell-bent on destruction". 
Five youths were arrested and tried in near-record time. The jury was told that Newlove died from a single blow, but three were found guilty under the joint enterprise doctrine. One got 17 years, another 15 years, and Cunliffe, who was aged 15 at the time of the murder, 12 years, despite insisting he was some yards away from Newlove when he was attacked.
While Mrs Newlove launched a campaign against binge-drinking and was later awarded a peerage, Cunliffe's mother, Janet, began campaigning for her son's exoneration. She accepts he'd been drinking and was no angel, but argues he could not have seen what was happening as he suffered from an acute eye condition called keratoconus and was technically blind. The prosecution had also argued that he had been involved in a similar fracas in Warrington the previous week, and therefore knew his friends were capable of violence – another requirement for joint enterprise. But Mrs Cunliffe insists her son was in Wigan that day.
McGovern believes that Cunliffe is "totally innocent and should not be inside at all". The case of Laura Mitchell also shocked him.
Mitchell, 22, her boyfriend and three other men got into a fight over a taxi with another group outside a Bradford pub one night in January 2007. Afterwards she stayed in the car park to search for her shoes. Her co-defendants went away, returned with a mace and some knuckledusters, and killed a man named Andrew Ayres. Mitchell was convicted of his murder and sentenced to 13 years on the grounds that her presence in the car park amounted to aiding or encouraging the fatal assault. "How she can be in prison is beyond me," says McGovern.
Prosecutions using joint enterprise have become surprisingly common. There are no official statistics, but a recent study by London's Bureau of Investigative Journalism (BIJ) revealed that it has been used to prosecute between 1,800 and 4,590 people for homicide over the past eight years.
For police, prosecutors and politicians under pressure to crack down on gangs, joint enterprise is a boon. They can use it to win convictions for murder or assault, not just of the actual perpetrators but also of those who supported them in any way. They need only prove that the secondary parties foresaw that someone might be killed or seriously injured during a criminal action. They say the doctrine acts as a powerful deterrent to gangs.
"In the old days we worked hard to establish who it was who used the knife. He would be done for murder and the other scumbags would go free," the fictional DI Hastings declares in McGovern's drama Common. "Well, now it's all changed. We don't have to prove who used the knife any more. Because you all get done for murder if you were there egging him on, backing him up, helping in any way. A phone call, a knowing look even, you get done for murder. It's called 'joint enterprise', you know, and I love it."
So, understandably, do victims' relatives. Baroness Newlove refused to comment, but in 2010 – before she became Victims' Commissioner – she expressed strong support for joint enterprise, saying: "Would you stand there watching somebody else kicking and punching? Would you actually think that was right to watch, even if you didn't do the act? They were all as guilty as the person doing the act."
Joint enterprise is how Stephen Lawrence's killers were eventually convicted, though the prosecution couldn't say which man actually stabbed the teenager in 1993. It might usefully have been deployed against the mob that killed PC Keith Blakelock in north London during the Broadwater Farm riots of 1985 – as it is, his actual killers couldn't be identified.
But critics say the pendulum has swung too far. They contend that youths are receiving draconian sentences for crimes for which they bore little responsibility, and that the public doesn't care because those convicted are frequently unsympathetic characters from the fringes of society.
Guilty by Association, a BBC1 documentary to be broadcast on Monday, highlights several real cases including that of Joseph A, a 15-year-old boy sentenced to 12 years for the stabbing of Nicholas Pearton outside a fried-chicken shop after a gang fight in a park in south-east London, in 2010. Joseph A was 120 yards away when Pearton was killed by a member of his gang.
"This joint enterprise – it's not about innocent or guilty. It's about getting working-class scum off the streets," says one of the boys' mothers in Common.
Joint enterprise is politically convenient, suggests Melanie McFadyean, an author of the BIJ report. "Gang violence and gun and knife crime are real problems, which result in tragedy and inspire fear in the public. Those responsible for law and order have to do something. Joint enterprise provides a rough, ready and powerful solution." 
The problem, however, is that it "risks criminalising people who, by any ordinary reckoning of common sense, aren't responsible for the specific acts of violence for which they end up convicted – or, at least, bear much less responsibility than those directly involved in the offences," she says.
The definition of complicity is certainly elastic. In 2007 Armel Gnango, a 17-year-old drug dealer, was fired on in a south London car park. He shot back. During the fight a bullet fired at Gnango by the other gunman killed a passer-by, Magda Pniewska, a 26-year-old Pole. Gnango was convicted of her murder, under joint enterprise. The firer of the fatal bullet wasn't caught.
Samson Odegbune, 16, was one of 17 people convicted of killing 15-year-old Sofyen Belamouadden in London's Victoria Station in 2010. He was chasing another boy outside at the time of the stabbing. Samson Odegbune got 18 years (reduced to 16 on appeal) because he had an ornamental Samurai sword, was clearly spoiling for a fight and led his gang's original charge. "The law on joint enterprise is clear and unforgiving – you do not need to deliver the fatal blow or even be at the actual scene of the killing to be found guilty and sent to jail," Detective Chief Inspector John McFarlane said after the final verdict.
Another problem with joint enterprise is that mandatory life sentences for murder were introduced in 2003. The starting point for murders involving firearms is now 30 years, and for knives 25 years. That leaves judges with little scope for leniency where those convicted played relatively minor roles. "However tangential your involvement, if you're involved in murder you do life and that can't be right," says McGovern.
Another anomaly is that a 17-year-old who carries out a murder may get a lighter sentence than an 18-year-old who is a secondary party. Sentences for murder involving firearms start at 12 years for under-18s. 
Of 43 lawyers who responded to a BIJ survey, 37 expressed concern that joint enterprise could cause injustices. So have two former Lord Chief Justices, Lord Phillips and Lord Judge, and also the Law Commissioner for Criminal Law and Evidence, Professor David Ormerod. In 2012 the Justice Select Committee demanded clear guide-lines on the level of involvement required for a murder charge, saying the law is so complicated that juries "may find it impossible to understand how to reach the right verdict". The committee is now re-opening its inquiry.
The Director of Public Prosecutions did produce guidelines, but Damian Green, Minister for Policing, Criminal Justice and Victims, has rejected calls for reform, arguing that "joint enterprise law has enabled some of the most serious offenders to be brought to justice".
Mrs Cunliffe, who co-founded a pressure group called Joint Enterprise: Not Guilty by Association (JENGbA), hopes McGovern's powerful drama will change Green's mind. "It's given JENGbA a voice," she says. "I hope it will give us the public support we need. People will realise it's based on reality and they'll be shocked. They won't believe it."
There followed a few days later on BBC 1 (back in 2014) a documentary called
'Guilty by Association'
- which detailed real-life cases of various people (teenagers in most cases) who had been convicted and jailed under the Joint Enterprise law.
Guilty by Association:
Alex has been charged with a murder committed by a friend in a spontaneous fight; Wayne has been convicted of possessing a firearm he never touched; Joseph is serving a life sentence for a murder he didn't even see. All of them have been convicted using the law of joint enterprise, under which a person in a group or gang can be held responsible for the criminal acts of others.
Joint enterprise is a 300-year-old law which has been increasingly used in recent years to combat the rise in gang violence. Its supporters argue that it ensures that those who encourage violent crimes are held responsible for their actions and that it deters further violence. It has been used to secure convictions in a number of high-profile murder cases, including two of the killers of Stephen Lawrence and the three murderers of Ben Kinsella. Others argue that it is leading to wrongful convictions of people who were only on the periphery of a crime, but who will, nevertheless, be sentenced to mandatory life sentences.
This documentary follows the story of Alex's family after his arrest and during his trial for murder at the Old Bailey and also examines the cases of Wayne and Joseph. We speak to defence lawyers, prosecutors and also to the families of victims, including the Kinsellas, who believe that without joint enterprise their children's killers would have walked free. The programme raises questions about how we deal with group violence, what makes a murderer and whether we are locking young people away on life sentences for crimes they did not commit.
Unfortunately, neither of the above programmes are currently available to watch on BBC iPlayer.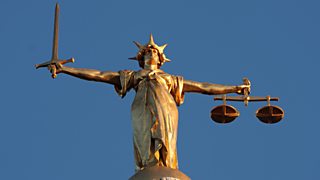 A selection of articles and radio programmes from across the BBC about joint enterprise.
FREE CHAPTER from 'A Practical Guide to Secondary Liability and Joint Enterprise Post-Jogee' by Joanne Cecil & James Mehigan
---
This article (from 2016):
https://www.burtoncopeland.com/news/joint-enterprise-law-needs-change-says-house-commons/
Joint Enterprise Law Needs To Change, Says House Of Commons

The legislation dates back 300 years and has seen hundreds of men, women and children being convicted of murder despite not 'striking the blow' that causes death.
Put simply, joint enterprise is when two or more people are deemed liable for a single crime.

Defendants can be convicted and sentenced even if their involvement in the crime was minimal and peripheral.

The rule has often been used to convict people who have been part of a group or gang involved in a death. For example, even if only one 'member' of the gang was responsible for killing someone, other members at the scene may also be charged with murder if it's believed they could have 'foreseen' death or serious harm as a result of their actions.

Two years ago The Supreme Court determined that the legislation had been misinterpreted in suspected murder cases for more than 30 years.

Judges ruled that it's wrong to treat "foresight" as a sufficient test and it was thought that the ruling would lead to a large number of appeals from those already convicted of crimes under the legislation.

However, two thirds of appeals have been rejected completely while the rest have been unsuccessful.

In March 2014, 21-year-old Alex Henry was convicted of murder and sentenced to a life term of 19 years, even though he didn't physically stab the man who died during a fight he took part in.

In August 2013, Alex was out shopping with three friends, Younis Tayyib, Janhelle Grant-Murray, and Cameron Ferguson. Alex left the shopping centre with Cameron and saw Janhelle involved in a fight with a group of four older men. Alex picked up someone's mobile phone and threw it at one of the men before punching another. Meanwhile, Cameron took a knife from a bag and fatally stabbed one of the men.

Cameron pleaded guilty and was convicted of murder, but the jury believed that Alex knew Cameron had a knife and therefore could have foreseen the use of it to cause death or very serious harm.

Detective Inspector Simon Deefholts, from the Homicide and Serious Crime Command said of the incident: "Grant-Murray instigated a confrontation which erupted into violence when his associates Henry and Ferguson – at least one of whom was armed with a knife – arrived at the scene.

"The jury have found that although not all of them had knives they were equally responsible for [the victim's] murder."

Other well-known joint enterprise cases include the men convicted of stabbing Stephen Lawrence to death in 1993 and those found responsible for the death of schoolboy Ben Kinsella in 2008.

Senior Conservative MP Andrew Mitchell has described the legislation as "a failure by our criminal justice system to distinguish between gangs and groups."

Campaign group Joint Enterprise Not Guilty by Association (JENGbA) was created to support the families of the 800 men, women and children convicted under the law.

Jan Cunliffe, who believes her son Jordan was unfairly sentenced following his involvement in the death of Garry Newlove in 2007 said: "We believe Joint Enterprise works hand in glove with a target driven police force and a target driven CPS in over charging and over-criminalising individuals. We are aware with targets there comes pressure. There is a major concern for us especially when more and more frequently the law being used to convict is a common law that has been acknowledged as being misinterpreted for over three decades."

Mrs Cunliffe argued that because her son is blind, he didn't witness the murder of Garry Newlove and could not have understood what was happening, let alone encourage actions that he could not see. The jury found him guilty of murder due to the notion of 'possible foresight'.

---
Most recent findings:
This report in
The Guardian
, from Jan 2018, shows that at that date no changes have been made to this ancient law:
Senior Conservative MPs are backing a cross-party motion calling on the government to conduct an urgent review of the controversial joint enterprise laws.

Despite

a supreme court ruling two years ago

concluding that the legislation had been wrongly interpreted for decades, there have been no successful appeals against conviction.
Motion calls for review two years after supreme court ruled laws have been misinterpreted
and you can have a read of this - dated 03/03/2020 :
FREE CHAPTER from 'A Practical Guide to Secondary Liability and Joint Enterprise Post-Jogee' by Joanne Cecil & James Mehigan
and I also find that protest marches and meetings are still being held, e.g. as of March 2020, (even within the current Covid-19 lockdown restrictions environment), but seems that some of these have jumped on the bandwagon of current BAME protests, putting forth the notion that the Joint Enterprise law is 'racist' in practice.
- Those same bandwagon gatecrashers are currently inferring now that the failings of the
Grenfell
enquiry are down to BAME 'racism'...
all of which
(to my mind)
is veering away from the whole substance of the intention for reform of that antiquated law.