Summary for Tuesday, 7th July


Five million residents to return to stay-at-home restrictions for six weeks after a surge in cases in Victoria

Border between Victoria and NSW to close at midnight (14:00 GMT)

Victoria recorded 191 new infections on Tuesday, its highest one-day figure since the pandemic began

A new Spanish study casts doubt on the theory that herd immunity will protect populations

Brazilian President Jair Bolsonaro is tested after showing symptoms of the coronavirus

A UN report says diseases will keep leaping from animals to humans without action to protect the environment

Three UK pubs which re-opened at the weekend have had to close after customers tested positive

There have been more than 11.5 million cases globally and more than 530,000 deaths

Welcome back to our rolling coverage of the Covid-19 pandemic. The latest headlines:


For the first time in a century, the border between Australia's two most populous states, New South Wales and Victoria, will close at midnight (14:00 GMT)

The closure was agreed after a surge of cases in Victoria, and the state announced another 191 cases on Tuesday

A study in Spain suggests that, despite the country's large outbreak, it is a long way from "herd immunity"

Brazilian President Jair Bolsonaro takes another Covid-19 test, after reportedly showing symptoms - results are expected on Tuesday

Globally, there have been more than 11.5m cases since the outbreak began, and 537,000 deaths have been linked to Covid-19

Victoria surge continues as border closes
At midnight (14:00 GMT), the border between New South Wales and Victoria in Australia will close for the first time in a century.
The closure was agreed after a surge in cases in Melbourne, the state capital of Victoria. And that surge shows no sign of slowing down.
On Tuesday, the state announced another 191 cases - a record daily tally. Of those, 154 came from unknown sources, while 37 were linked to existing outbreaks.
In Melbourne, 3,000 tower block residents are under a week-lock lockdown after an outbreak there. At least 69 cases have been found in the blocks.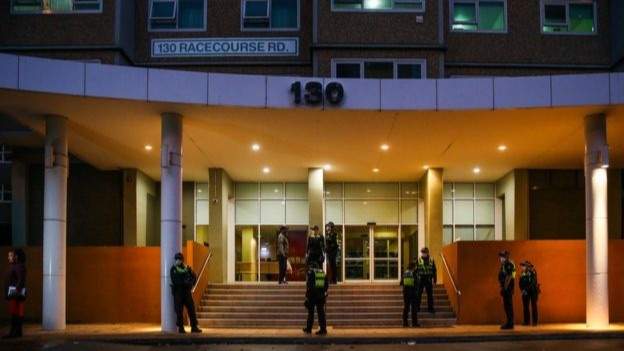 Police outside a locked-down tower block in Flemington, Melbourne, recently
Spanish study casts doubt on herd immunity
One of the hopes for beating the virus is achieving so-called herd immunity. This means that if enough people in a country get infected and recover, they'll have antibodies and be immune - and the virus won't spread anymore.
But a Spanish study has now cast doubt on whether that'll work for the current virus anytime soon.
Looking at more than 60,000 people, it estimates that just 5% of the population has developed antibodies, the medical journal the Lancet reported.
Yet it's thought that around 70% to 90% of a population needs to be immune to protect the uninfected.
"In this situation, social distance measures and efforts to identify and isolate new cases and their contacts are imperative for future epidemic control,"
the study's authors said in the report
.
Delhi cases cross 100,000-mark
Infections in India's capital, Delhi, are soaring. With more than a 1,000 new cases reported on Monday, the city's total tally has crossed the 100,000 mark, according to health ministry data.
But there is some good news - nearly three-quarters of those infected have recovered. And the proportion of deaths, at just over 3,000, isn't too bad either.
Delhi dominated headlines in late June as infections swelled in the city - but in the last week or so, it seems like the situation has slowly been brought under control. Local authorities have rapidly ramped up testing and have been using antigen testing across districts.
On Monday, India overtook Russia to become the third-most affected country with more than 690,000 cases. For the past few days, India's overall caseload has galloped at an alarming rate, adding more than 20,000 new infections per day.
Although the country has the third-highest number of cases, it is eighth in fatalities, according to statistics from the Johns Hopkins University.
NSW - Victoria border will be shut for 'weeks, not days'
New South Wales Police Minister David Elliott has said the Victoria border closure will be a "matter of weeks, rather than days".
"I think you can probably assume with the effort put into a deployment like this, [it will last] a couple of weeks," he said.
"The first message and the last message from the government today is: if you don't have to cross that border, don't," he added.
Permits will be issued for those who need to cross for essential reasons. But the police are deploying hundreds of officers to make sure people comply.
"If you want to do the wrong thing, you'll be caught," said Elliot.
The border stretches hundreds of miles from the Pacific coast to the Australian interior.
Brazil's Bolsonaro awaits virus test result
The Brazilian president, Jair Bolsonaro, has taken another Covid-19 test, after reportedly having a high temperature.
Bolsonaro said his lungs had also been checked, and they were "fine". The result of the Covid-19 test is expected on Tuesday, and he has cancelled engagements.
This is the fourth test the president has taken - all the others have been negative.
Bolsonaro has previously downplayed the virus, comparing it to "a little flu". Brazil has the second highest number of cases and deaths in the world.
On Sunday, the country's foreign affairs minister posted a picture of himself, Bolsonaro and others celebrating US Independence Day at the US embassy, without masks.
Japan's household spending slumps at record rate
Japan's household spending has slumped at a record pace as measures to slow the spread of the coronavirus kept people at home.
Government figures show household spending dropped by 16.2% in May from a year earlier. The worse than expected fall was the fastest rate of decline since comparable data began in 2001.
There were big drops in spending on hotels, transport and eating out. Goods that saw an increase in spending however included meat, alcohol and face masks.
The data underlines the major challenges facing Japan's government and central bank as
the country braces for its deepest recession since the end of World War Two
.
No new cases in Beijing as 'mini-cluster' fades away
Beijing has reported no new locally-transmitted cases for the first time since an outbreak began last month.
The outbreak - which was linked to a huge food market in the capital - has led to at least 335 infections.
It caused mass testing, the closure of some venues, and travel restrictions for people in at least 27 of Beijing's neighbourhoods.
But the cluster has seemingly been petering out for some time - the city hasn't reported more than three new daily cases in the past week.
Trying to find answers in Wuhan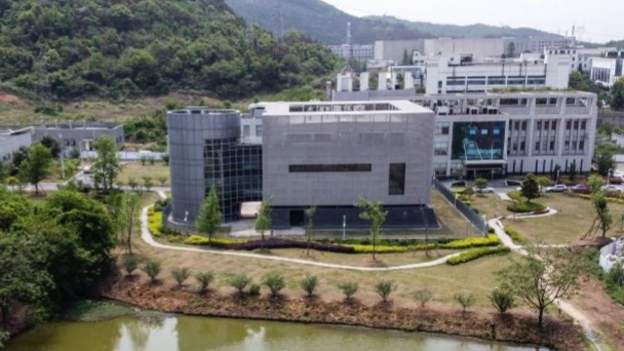 The Wuhan Institute of Virology
While most scientists believe the new coronavirus jumped from animals to humans, President Trump thinks it may have come from a Chinese laboratory, while his Secretary of State Mike Pompeo has said there's "significant evidence" to back up the "lab leak" theory.
The outbreak emerged in Wuhan - a large city that's home to a virology institute that studies bat viruses, among other things.
But getting answers in Wuhan is not easy - as the BBC's John Sudworth discovered.
"One woman we arrange to interview arrives with plain-clothes policemen in pursuit. When she scrambles into our car, they block our way," he reports.
"We meet another man in the darkness on the banks of Wuhan's East Lake. He tells us he's been visited twice by the police for speaking out about the death of his father.
"For victims and journalists alike, asking questions about how and why the outbreak began in Wuhan, and whether it might have been better contained, is not easy.
"But at the epicentre of this global disaster, the need to ask questions is a necessity, not a choice."
Melbourne ordered back into lockdown
Melbourne and a shire in regional Victoria are to re-enter lockdown from Thursday, state Premier Daniel Andrews says.
Mr Andrews says the order will last for six weeks.
Australia's second-biggest city has seen a surge in cases in the past few weeks. It recorded 191 new infections today - a daily tally record.
New Zealanders may not be allowed to come home
New Zealand residents returning from overseas are quarantined for 14 days - but the government is now worried it is running of space.
In response, Air New Zealand has stopped taking new bookings, while people with existing bookings will be allowed in "subject to availability of quarantine space".
"We currently have nearly 6,000 people in our 28 managed isolation facilities, and are scaling up more spaces all the time, but we need to do so safely,"
Air Commodore Darryn Webb said.
The airline's chief commercial and customer officer Cam Wallace said they had agreed to close new bookings for three weeks.
 

  Cam Wallace:

  As a short-term measure @FlyAirNZ has agreed to close out bookings for the next three weeks on international inbound sectors. We are working closely with the Govt to support NZ's continued success in its fight against covid-19.
New Zealand has been hailed as a success story when it comes to tackling the coronavirus.
The country has recorded just over 1,500 confirmed or probable coronavirus cases and 22 people have died. Last month, all Covid-19 restrictions were lifted and the nation was declared virus free.
US death toll moves past 130,000
The deaths of 130,284 people in the US have now been linked to Covid-19, according to data collected by the Johns Hopkins University.
This means the official death toll is about twice that of Brazil, which has the second-highest toll.
The US has an estimated population of 328m though, against Brazil's 210m.
After Brazil, there's the UK with more than 44,000 deaths and Italy with just under 35,000.
The US is also leading the tally of the highest number of confirmed infection, currently at 2,935,712.
Overall, New York has the highest death toll among US states, with more than 32,000 fatalities linked to the virus - but confirmed infections are now surging in southern states as well.
More from Victoria's Premier Daniel Andrews…
The new lockdown order will apply to metropolitan Melbourne and Mitchell Shire to its north - about five million residents in total.
Mr Andrews says those people can only leave home for care, essential items, exercise and work "if you have to".
"There is simply no alternative other than thousands and thousands of cases and potentially more," he has just told reporters.
"I think a sense of complacency has crept into us as we let our frustrations get the better of us. I think that each of us knows someone who has not been following the rules as well as they should have."
The state had been steadily easing restrictions before the surge in the past fortnight. Currently, it has more than 700 active cases.
Other Australian states and territories continue to report only small numbers of new infections, and have banned Victorians from entry.
Australia has had about 8,500 cases in total and 106 deaths.