Summary for Monday, 29th June


The number of people to die with Covid-19 worldwide passes 500,000

Since the outbreak began, there have been more than 10 million cases

The number of new, daily cases is rising in more than 30 US states

The governor of Texas says the virus has taken a "swift and dangerous turn"

But New York state records its lowest death toll - five - since 15 March

In Hebei province, China, more than 400,000 people are under a new, strict lockdown

Another 75 cases are recorded in Victoria, Australia, as its spike continues

Hello and welcome back to our rolling coverage of the Covid-19 pandemic. The latest headlines:


The number of people to die with Covid-19 since the outbreak began passes 500,000 worldwide

Meanwhile, the number of confirmed cases is now over 10 million

In Texas, the governor says the outbreak has taken a "swift and dangerous turn"

But New York state records its lowest death toll - five since 15 March

More than 400,000 people are under a new lockdown in Hebei near Beijing

Lowest deaths in New York state since 15 March
New York state has been the worst-hit part of the US - it has recorded more than 30,000 Covid-19 deaths, according to Johns Hopkins University date, more than twice as many as any other state.
But, after months of bad news, things are getting better.
On Sunday, Governor Andrew Cuomo said
just five people with the virus had died
, the lowest daily total since 15 March.
"As states across the country struggle with new outbreaks related to reopening, New York's numbers continue to go down to record lows," he said.
"Our progress is a direct result of New Yorkers' discipline and hard work and an incremental, data-driven reopening."
China locks down 400,000 people after virus spike
China has reinstated a strict lockdown near Beijing, affecting around 400,000 people, after a small surge in cases.
The restrictions have come into force in Anxin country in Hebei province.
Only essential workers are allowed to leave their homes, while one member of a household is allowed to go out once a day to shop for necessities.
After the pandemic emerged in China at the end of last year, the country has managed to get new infections to a consistently low level.
To avoid a second wave, even small surges are taken very seriously by the country's health authorities.
Melbourne outbreak sees 'concerning' rise
Infections in the state of Victoria have risen in the past fortnight to become Australia's biggest outbreak in almost three months.
Today's 75 new cases – the most nationally since 11 April – follow a door-to-door testing blitz in 10 suburbs of Melbourne.
Recent transmissions are "overwhelmingly concentrated" in those areas, say health officials, who describe the state's 288 active cases as "concerning".
They have not ruled out re-imposing strict lockdown measures, but maintain the outbreak doesn't yet constitute a "second wave".
(You can read more about second waves globally here.)
"I think it will get worse before it gets better," said Victoria's chief health officer, Brett Sutton.
Australia has had more than 7,500 cases in total and 104 deaths.
Other states and territories have seen few or no cases in recent weeks.
Singapore hands out coronavirus tracing devices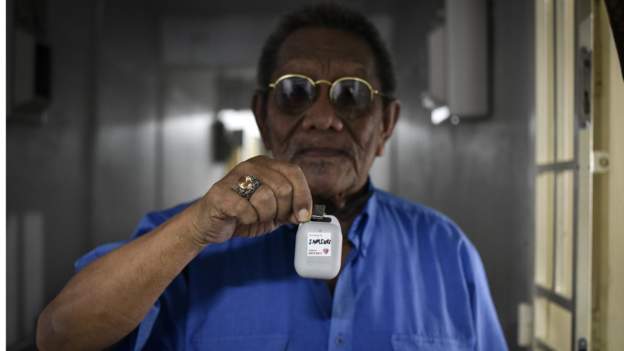 Singapore has started to hand out Bluetooth-enabled contact tracing devices as part of its measures to slow the spread of the coronavirus.
The so-called TraceTogether tokens are an alternative to the government's contact tracing smartphone app.
They are aimed at people that do not own - or prefer not to use - a mobile phone.
The announcement of the device was met with concerns in some quarters over privacy.
Where the 500,000 deaths have been
The US remains the country hardest-hit by the virus, with 125,803 deaths, according to a Johns Hopkins University tally.
Brazil comes second at 57,622 deaths, followed by the UK, Italy, and Spain. In fact, more than half of recorded deaths have occurred in those five countries - which is partly down to their testing and reporting methods.
And here are the
ten most-affected
countries,
ranked by deaths per 1 million of the population:


San Marino - 1,235

Belgium - 839

Andorra - 675

UK - 639

Spain - 606

Italy - 574

Sweden - 522

France- 455

US - 377

Netherlands 356

Texas infections take 'swift and dangerous turn'
The spread of infections has taken a "swift and very dangerous turn" in the US state of Texas, its governor has warned.
Governor Greg Abbott said the daily number of cases had gone from an average of about 2,000 to around 5,000.
And Abbott revealed that as many as 5,000 people a day were being admitted to hospital for treatment.
US Vice-President Mike Pence said the government would "make sure that Texas... [has] the resources, supplies, the personnel to meet this moment".
He also urged Texans to wear masks, saying "we know from experience, it will slow the spread of the coronavirus".
Several southern and western states have recorded a surge in cases after lockdown restrictions were eased.
Ghana extends tax waiver for health workers
Thomas Naadi - BBC News, Accra
Ghana's President Nana Akufo-Addo has announced a three-month extension of the incentive package for health workers.
They will continue to enjoy a 50% increase in their basic salaries and will not pay income tax for the months of July, August and September.
The incentives were initially announced three months ago after the country recorded its first coronavirus case.
Ghana has so far confirmed about 17,000 cases and 112 deaths. It has conducted 294,867 tests - one of the highest in the continent.
South Korea records 42 new cases
South Korea recorded 42 new cases on Monday - mostly tied to churches - as the country deals with its self-described "second wave".
Of these, 30 were locally-transmitted infections - 21 from the capital Seoul and its surrounding areas.
At least 27 recent cases have been tied to a major church in Seoul, according to Yonhap News.
Health officials said earlier this month that the country
was in the grip of a second wave
, though its numbers have remained relatively low.
Half of Tokyo residents oppose 2021 Olympics, says poll
More than half of Tokyo's residents do not think the postponed Olympic Games should be held next year, a poll suggests.
The poll, which was conducted by two Japanese news organisations between 26-28 June, found that 51.7% of people hoped the Games in 2021 were postponed or cancelled again.
Among those opposed to the Games being held in 2021, 27.7% wanted them cancelled altogether, while the rest preferred a second postponement.
Of those who wanted a 2021 games, 31.1% said the event should be scaled-back, including without spectators, while 15.2% said they wanted to see a full-blown Olympics.
The poll received 1,030 replies. The Games, originally meant to be held in July, are now scheduled for July 2021.