Summary for Sunday, 28th June


Globally, the number of infections now stands at over 10m and nearly 500,000 people have died - Johns Hopkins University

In the UK, the city of Leicester could be placed under a local lockdown after infections surge

The US states of Florida and Texas have reinstated curbs on bars to battle a surge in infections

America has recorded around 2.5 million cases and at least 125,000 deaths

UK travel companies say holiday bookings have "exploded" on news that restrictions are being eased

Delhi is now India's worst-hit area, with about 73,000 recorded cases and at least 2,500 deaths

The head of the European Commission has warned no country will escape the pandemic until it has been ended everywhere

Globally, the number of infections now stands at 9.98m, and more than 498,000 people have died - Johns Hopkins University

Hello and welcome to our live updates on the coronavirus pandemic. Here are some of the latest headlines from around the world:
We'll bring you more on these stories and further developments through the day.
UK 'will not return to austerity of 10 years ago' - PM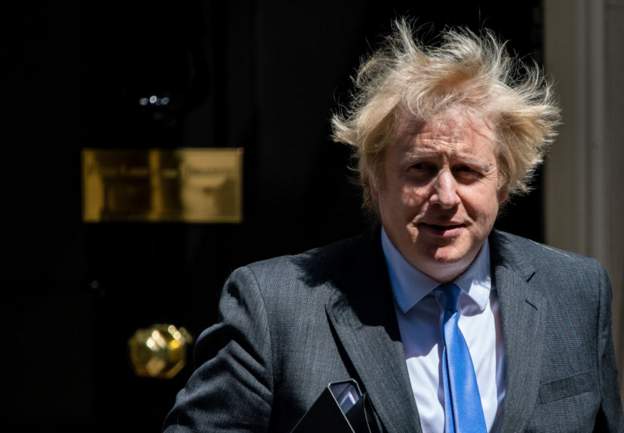 The UK is "absolutely not going back to the austerity of 10 years ago", Prime Minister Boris Johnson has said.
Johnson made the pledge as he began to outline plans to kickstart the country's economic recovery from the pandemic in an interview with the
Mail on Sunday.
"We're going to make sure that we have plans to help people whose old jobs are not there any more to get the opportunities they need", he told the paper.
His plans will include the creation of a new taskforce - led by Chancellor Rishi Sunak - to look at speeding up the building of hospitals, schools and roads.
It comes as latest figures show that the economy shrank by 20.4% in April - the largest monthly fall on record - while the number of workers on UK payrolls
dived more than 600,000 between March and May
.
Read more here
The symptoms - and what to do if you have them
The UK's National Health Service has listed three main symptoms of coronavirus that people should be aware of and ready to act upon:


A new, continuous cough

Fever, where your temperature is above 37.8C

Loss of smell or taste

So what should you do if you have mild symptoms, and at what stage do people need to go to hospital?
The BBC's health and science correspondent James Gallagher has produced this comprehensive guide
.
What's happening in the southern US states?
More now on the record numbers of cases that have been reported in southern US states.
The surge comes after businesses were allowed to reopen in recent weeks. The so-called sun belt, which includes Florida, Texas, Georgia and Arizona, had been at the forefront of reopening their economies.
But many states have since reported record spikes as businesses reopened and people poured in from other areas.
The spike has led state officials in Florida to tighten restrictions on business again - as Texas also did on Friday.
Miami Mayor Francis Suarez told the BBC that the "sheer numbers are so high" that they are putting a huge strain on the city's healthcare system.
And in a further development, Vice-President Mike Pence said he was postponing campaign events in Florida and Arizona "out of an abundance of caution".
Welsh first minister 'concerned' by UK government's messaging
Wales First Minister Mark Drakeford has expressed concern with the UK government's messaging over coronavirus.
Speaking to Sky News, he said the virus "has not gone away" - something which he said was a "very different message" to that in England, where it seems it is "it's all over and you can go back to doing what you did before".
"My concerns with the UK government are sometimes less with the substance where I think we are all broadly trying to do the same things," he told Sophy Ridge on Sunday.
"I'm more concerned with the messaging - the way things are described."
Many restrictions are being lifted sooner in England than Wales, where the Welsh government decides its own response to coronavirus.
Asked whether the UK government was moving too quickly, he said that Wales would continue to move "carefully, cautiously, one step at a time".
"We put our efforts into planning first and making the announcements second - not making an announcement and then thinking about how you can make those things happen," he added.
Lockdown 'perfect for unwelcome wildlife'
"Nature is returning" has been a familiar refrain over the weeks and months of lockdown.
With cities and towns less busy, and often deserted, many species rarely seen in urban areas are now in plain sight.
In the UK, conservationists say hedgehogs, stoats, foxes and badgers and deer all increasingly took advantage of fewer humans being about.
Globally,
cougars explored the streets of Santiago and wild boar roamed in Haifa in Israel. Dolphins swam in Istanbul's Bosphorus River.
But increased sightings of some species were not so welcome - lockdown also saw a surge in rat numbers.
Read more