Summary for Saturday, 27th June


Health experts in the US call for urgent action after a record number of new cases were recorded on Friday

Top infectious disease expert Dr Anthony Fauci says there is "a serious problem" - but Vice-President Mike Pence hails "progress"

The US has more than 2.4 million confirmed infections and at least 125,000 people have died - more than any other country

Meanwhile, the number of reported cases in India has surged to more than 500,000

Restrictions on some non-essential overseas travel will be relaxed in the UK from 6 July

More than 9.8 million cases and 494,000 deaths worldwide - Johns Hopkins University

Welcome to our live coverage of the coronavirus pandemic and thank you for joining us.
We'll be bringing you updates throughout the day. Here's the latest:


Health experts in the US are calling for urgent action after a record number of new cases were recorded on Friday. The total of 40,173, given by Johns Hopkins University, surpassed the record set only the previous day

The country's infectious disease chief Dr Anthony Fauci said there was a "serious problem". He told a White House briefing the current rises were due to everything from regions "maybe opening a little bit too early" to citizens themselves not following guidance

The spike prompted a number of states - namely Texas, Florida and Arizona - to delay their plans to reopen

Elsewhere, India reported thousands of new cases over the last 24 hours. It pushed the country's total above 500,000 and experts warn that hospitals could be overwhelmed

In the UK, restrictions on non-essential overseas travel will be relaxed from 6 July . Holidaymakers are expected to be allowed to travel to certain European countries without having to spend 14 days in quarantine when they return

Doctor leaves critical care to applause
A senior doctor has left critical care to applause from colleagues in Stockton, England, after being treated for coronavirus.
Consultant haematologist Maria Szubert said she was "at death's door" when she was admitted to the University Hospital of North Tees at the end of May.
UK to open up European holidays from 6 July
UK holidaymakers are expected to be allowed to travel to certain European countries without having to spend 14 days in quarantine when they return.
Blanket restrictions on non-essential overseas travel will be relaxed in the UK
from 6 July, the government has said.
A full list of travel corridors between the UK and other destinations will be published next week.
They are thought to include Spain, France, Greece, Italy, the Netherlands, Finland, Belgium, Turkey, Germany and Norway - but not Portugal or Sweden, where infections have recently spiked.
A traffic light system will be introduced - with countries classified as green, amber and red depending on the prevalence of coronavirus.
"Our new risk-assessment system will enable us to carefully open a number of safe travel routes around the world - giving people the opportunity for a summer holiday abroad and boosting the UK economy through tourism and business," a government spokeperson said.
"But we will not hesitate to put on the brakes if any risks re-emerge."
A step in the right direction for UK travel
Tom Burridge - Transport correspondent
The UK travel sector has gone to war with the government over its blanket quarantine policy, which previously ordered
everyone entering or returning to the UK to self-isolate for 14 days
.
So a more nuanced, risk-based approach will quieten the critics to some extent.
But the storm of controversy swirling around this policy won't completely go away.
Portugal, which will probably not be on next week's list of exemptions, feels hard done by.
The country is desperate that UK tourists return.
And although in public health terms the US is not currently close to being on the list, it does potentially present a tricky diplomatic dynamic, given the normally cosy relationship between Washington and London.
And the transatlantic flight market is lucrative too.
This announcement is a step in the right direction for UK aviation but they want testing at airports to also provide another way for passengers to be exempt. So far, in public, the government has said very little about that.
US states pause plans to reopen
More now on the record spike in cases recorded in the US on Friday.
The surge in infections has led some of the country's largest states to reimpose restrictions and pause their plans to reopen.
Texas, Florida and Arizona have all put their reopening plans on ice.
Texas ordered all bars to close, while Florida's governor said he did not intend to move to the next stage of reopening.
Several other states, including California, Nevada and Oklahoma, have set single-day case records this week.
Case numbers creep up in Czech Republic
Rob Cameron - BBC Prague Correspondent
The Czech Republic has recorded its highest number of new cases - 168 - since 15 April.
This week saw several daily increases over 100 for the first time in months. The authorities have not commented on the figures yet, but have said previous spikes are localised outbreaks in regions such as North Moravia.
It is unclear whether the numbers will affect an announcement due on whether masks will still be compulsory in confined spaces. The authorities had planned to lift the requirement everywhere from 1 July apart from in areas with localised outbreaks, which have in recent weeks included Prague.
The country has carried out 536,312 tests and recorded 11,038 cases in total. Of these, 3,021 are active, with 125 in hospital, while 7,668 people have recovered and 349 have died.
India passes 500,000 recorded cases
Let's take a look at India, where experts fear a rise in cases could stretch the country's health system to its limit.
The number of recorded cases there has surged to more than 500,000, with 100,000 new infections reported in less than a week.
Health officials say the rate of infection appears to be accelerating, and Friday's tally of more than 18,000 new cases marked a daily record.
The western state of Maharashtra is currently the worst affected area.
Some experts say the government should now prioritise reducing deaths over containing the spread of the virus.
"Our focus should be on preventing deaths and not really getting bogged down because of the numbers. Numbers are going to increase," Dr Manoj Murhekar, a member of India's main coronavirus task force, told Reuters news agency.
India imposed a strict lockdown in March, but many of the restrictions were eased earlier this month.
Barnardo's declares fostering 'crisis' during Welsh lockdown
Matt Lloyd, BBC News
The coronavirus pandemic has caused a "crisis" for foster caring in Wales, according to a children's charity.
Barnardo's Cymru has seen a 45% rise in the number of children needing foster care at the same time as a 51% fall in parent inquiries during lockdown.
The double impact has led the charity to declare a "state of emergency".
It believes the pandemic and lockdown has increased pressure on vulnerable families due to job losses and poverty while also affecting mental health.
"The coronavirus pandemic has hit vulnerable families hardest, with many reaching crisis point," said chief executive Javed Khan.
Read more
UK government must tackle social problems, says former PM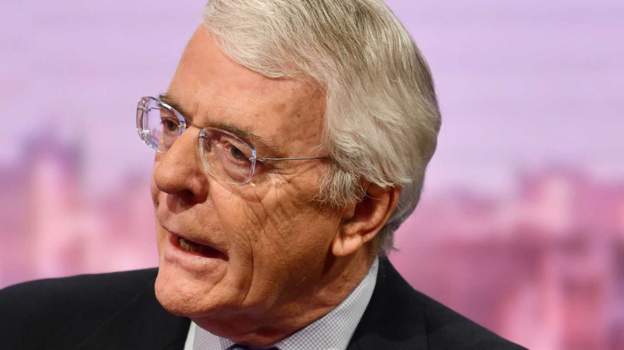 Former Conservative Prime Minister John Major has said the government must "take the lead" in creating policies that deal with existing social problems in the UK.
Sir John said the value of social care had been recognised during the coronavirus pandemic and that the government needed to be involved in supporting its long-term future.
"I think it has been undervalued and I don't think it is possible any longer to undervalue it," he told Radio 4's Today programme.
He also said "ending dependence on food banks was essential", adding, "It is truly shocking that we have food banks in 2020".
The ex-chancellor advised against raising taxes in the short term - as Britain's coronavirus recovery got under way - but concluded that they would have to go up eventually.
"Over time, I think there is little doubt that taxes are going to rise," he said.
US judge orders release of dozens of migrant children
A US federal judge has ordered the release of 124 migrant children held at three family detention centres infected with coronavirus.
Judge Dolly Gee said the centres in the states of Kansas, Pennsylvania and Texas were "on fire" and there was no more time for half-measures.
She ruled that the children must be released by mid-July, into the custody of suitable sponsors. These could include the children's own detained parents, who could be released with tracking devices, if necessary.
Reports say several thousand migrants held in US detention centres have tested positive for coronavirus.
Liverpool mayor 'angry' as football celebrations cause chaos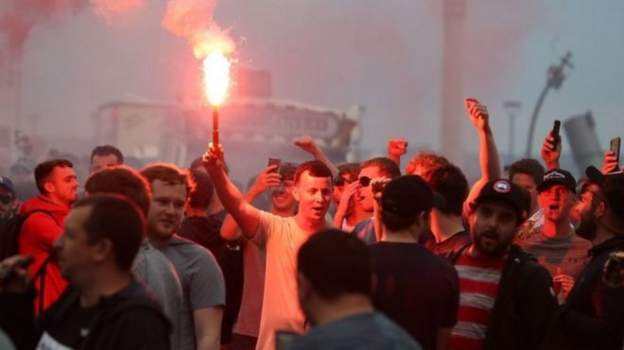 Liverpool fans let off flares outside the city's Liver Building, causing a small fire
Mayor of Liverpool Joe Anderson has condemned "a tiny minority" of football fans who "brought Liverpool football club and the city of Liverpool into disrepute" following
a second night of celebrations in Liverpool's city centre
.
Police and politicians had urged fans to stay at home after Liverpool FC were named Premier League Champions on Thursday - the club's first title win in 30 years.
Mayor Anderson said he was "angry and upset" by scenes of fans who gathered en masse drinking and setting off flares on Friday.
Merseyside Police eventually issued a section 34 dispersal order for the city centre - allowing officers to break up groups of more than two people - until Sunday.
But Anderson said the police should have acted earlier, arguing that it was apparent by yesterday afternoon that a "pre-meditated" gathering was under way.
"Bottom line is, I have serious questions to ask as to why no planning was put in place," he told BBC Radio Merseyside.
He acknowledged it was a "difficult set of circumstances", adding that "drink played a major part" in the chaos.
But he said it was "absolutely clear" that the behaviour seen on Friday was "no longer acceptable".
"I'm expecting Merseyside Police to come down really heavy now. The gloves are off here, it's about public safety."
"Please, please, celebrate at home and stay safe," he urged fans.
Mersey Police, Liverpool FC, Liverpool County Council issued a joint statement on Saturday morning.
"Our city is still in a public health crisis and this behaviour is wholly unacceptable," it said.
"We need to work together to make sure we don't undo everything that has been achieved as a region during lockdown."
Caring for a riverside community in Brazil
In these pictures, healthcare workers can be seen visiting the riverside community of Pinheiro in northern Brazil.
There are more than 1.2m confirmed cases in the country, according to Johns Hopkins University in the US.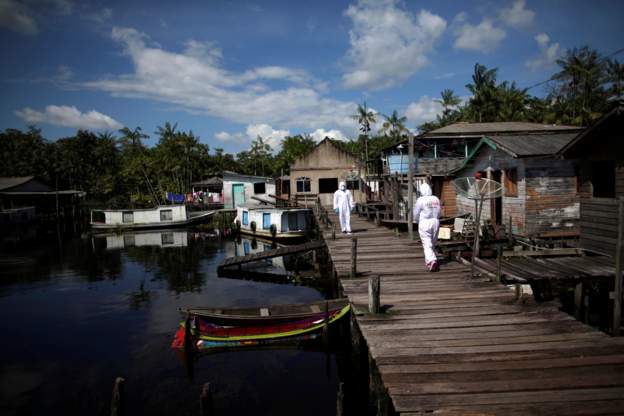 The healthcare workers visited the community on Friday to check on residents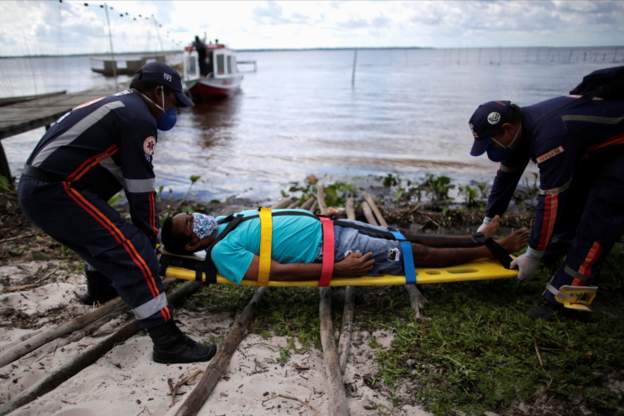 Here, they can be seen moving a man who tested positive for Covid-19 so he can be transferred to a hospital
Parts of the community are only accessible by small bridges
Surge in holiday bookings expected in UK
Reaction is coming in on the news that blanket restrictions on overseas travel will be relaxed in the UK from 6 July.
Jonathan Smith, from travel agency association ABTA, told BBC Radio 4's Today programme that the industry expected "a surge in bookings", but he predicted that more travel companies were likely to go bust before a full recovery was felt.
He said people should expect holidays to look different - not just at airports and on aircraft, but in terms of social activities, such as eating out.
Meanwhile, Patricia Payne from tourism agency VisitBritain says public confidence in having a holiday anywhere is low, and the tourist industry needs to show it's safe.
"We've seen a real nervousness about travelling domestically through the summer. We've got a whole new audience, which probably hasn't had a domestic holiday for some years."
The hydroxychloroquine story so far
For months, hydroxychloroquine has been at the centre of much interest as potential preventative measure and for treating patients with Covid-19.
The anti-malarial drug has been promoted by Brazil's President Jair Bolsonaro and by his US counterpart Donald Trump who even claims to have taken it himself for a while to ward off infection.
The ongoing interest in the drug has led to shortages and rising prices which directly impacted those taking the drug already for autoimmune conditions like lupus and rheumatoid arthritis.
While recent large-scale trials have shown that hydroxychloroquine is not effective as a treatment some countries have continued to promote its use within their healthcare systems.
With so many twist and turns, the question is where do we stand now with hydroxychloroquine?