Summary for Friday, 26th June


The number of new US infections has in recent days reached levels not seen since April

Texas and Florida are among states to pause reopening plans

20m people in the US may actually have been infected, almost 10 times the recorded number, health officials warn

London police attacked as they try to disperse crowds at illegal street party for second night in a row

Mexico has now recorded 25,000 deaths and 200,000 cases of the new coronavirus

The WHO has warned of a resurgence of the virus across Europe as restrictions are eased

Cases have hit a record daily high in South Africa, the worst-hit country on the continent

The number of cases worldwide stands at 9.6m with more than 490,000 deaths, according to Johns Hopkins University

Hello and welcome to our rolling coverage of the Covid-19 pandemic. The latest headlines:


As cases across much of Latin America surge, more than 25,000 people have now died with Covid-19 in Mexico

In the US, the majority of states are seeing increases in their daily infections, and almost 40,000 cases were reported on Thursday

US health officials say 20 million people may have been infected - around 10 times the official figure

Europe has seen an increase in weekly cases of Covid-19 for the first time in months

Globally, there have been 9.6m confirmed cases since the outbreak began, and 460,000 deaths linked to Covid-19.

Mexico passes 25,000 deaths
More than 25,000 people with Covid-19 have now died in Mexico, with more than 200,000 cases in total, the Mexican government has announced.
The country did not record its first cases until 28 February - weeks after the outbreak took hold in Asia and Europe - and the economy did not shut down until late March.
The socialist president, Andres Manuel Lopez Obrador, was criticised for being too slow to close it down - and then for being too quick to open it up.
Businesses started to
reopen earlier this month
, despite the rolling averages of daily cases and deaths being on a largely upward trajectory.
Cases increasing in majority of US states
More than 37,000 cases were recorded in the US on Thursday - close to a daily record, and similar to the daily totals in the April peak.
And data from the
New York Times
shows the daily infections are increasing in 29 states, including California, Texas, and Florida.
But despite the increase in confirmed cases, the daily number of deaths is still decreasing, and is way down on its mid-April peak.
There were 692 Covid-19 linked deaths announced on Thursday. The total regularly passed 2,000 in April.
Texas pauses reopening as cases surge
The US state of Texas has paused the reopening of its economy, as the number of cases surge.
Businesses that are already open will not be shut - but, for example, capacity limits in bars and restaurants will not be eased yet.
Governor Greg Abbott said
: "The last thing we want to do as a state is go backwards and close down businesses.
"This temporary pause will help our state corral the spread until we can safely enter the next phase of opening."
The number of daily infections is increasingly sharply in Texas, although the number of deaths is largely flat.
Just over 2,300 people with Covid-19 have died in the state since the outbreak began.
Virgin Australia to fly again with new US owner
Virgin Australia has been bought by US private equity group Bain Capital after falling into administration due to travel restrictions.
The airline was struggling with long-term debt of A$5bn (£2.55bn; $3.17bn) even before the pandemic struck.
Virgin Australia is currently owned by a number of major shareholders including Sir Richard Branson.
The deal is expected to be complete in August.
European cases up for the first time in months
Europe has seen an increase in weekly cases of Covid-19 for the first time in months, the World Health Organization (WHO) says.
Thirty countries had increasing cases, and in 11 places, accelerated transmission has led to "very significant resurgence", said Regional Director Dr Hans Henri Kluge.
The 11 countries and territories are Armenia, Sweden, Moldova, North Macedonia, Azerbaijan, Kazakhstan, Albania, Bosnia-Herzegovina, Kyrgyzstan, Ukraine and Kosovo.
India cancels trains as cases rise
Indian Railways have cancelled all passenger, mail and express trains until 12 August as cases continue to rise across India.
Those with booked tickets will get a refund
, officials said in a statement.
However, the special trains set up in May to take migrant workers back home will continue.
Hundreds of thousands of migrants were left stranded in cities away from their homes when India went into lockdown in March.
Infections have been sprinting ahead in the country - India has broken its daily record twice in two days, reporting more than 17,000 cases in the last 24 hours.
It has had more than 490,000 cases, including 15,301 confirmed deaths, according to data from the health ministry.
Why has Peru suffered so badly?
Peru imposed one of the earliest and strictest lockdowns in Latin America - but now has the sixth highest number of confirmed cases in the world.
So why has the country been affected so badly?
The answers include a lack of fridges, a lack of bank accounts, and overcrowded homes.
Singapore bans Brits for lockdown 'bar crawl'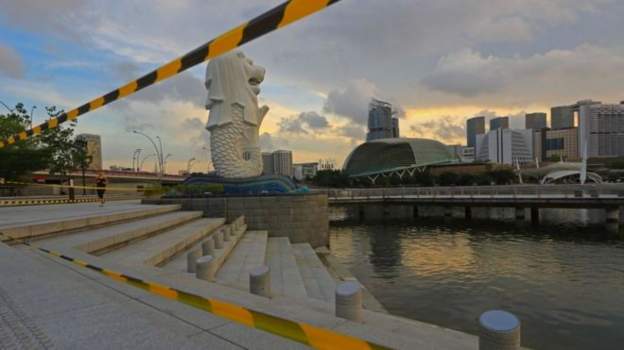 Bars and restaurants are open again in Singapore, but only to groups of five and with social distancing enforced
A group of British men living in Singapore have been banned from working there again after breaking lockdown to go on a "bar crawl".
The men were also fined S$9,000 each ($6,500; £5,200).
They were charged after a picture of people drinking during the country's "lockdown" - which banned social gatherings - went viral last month.
A separate group, an American couple and an Austrian, were also punished for drinking on the same day.
The Singapore Ministry of Manpower (MoM) said between 1 May and 25 June, 140 people had their permission to work in Singapore revoked for breaking Covid-19 measures.
Welcome to UK readers
If you're just joining us in the UK, good morning. Here are the latest virus headlines:
Australia still 'on track' despite outbreaks
Despite a spike in cases in recent weeks, Australian Prime Minister Scott Morrison says the country will continue along its re-opening as "the curve remains flat".
Australia is now dealing with around 200 new infections from clusters located solely in Melbourne, after a few weeks when barely any cases were recorded at all.
Another 30 infections were confirmed on Thursday. However, this rise was expected. Authorities are now throwing all resources at Melbourne with up to
1,000 army personnel sent to the region on Friday to help with door-to-door testing.
Mr Morrison said the vigilant response should inspire confidence in Australians, and the nation remained well-off compared to others.
"We remain on track: the curve remains flat," he said. "But where you get bumps and when you get outbreaks, then you need to manage them... and that is what exactly what is happening."
Indoor venues will soon be able to have more patrons, and several states have signalled they will re-open their borders next month.
UK medical adviser warns about beach crowds
A major incident was declared due to crowds in Bournemouth
With temperatures forecast to reach 31C in parts of the UK again today, the chief medical officer has warned that cases could rise again if people do not maintain social distancing.
Prof Chris Whitty issued the warning after a second day of huge crowds at beaches, leading to a major incident being declared at Bournemouth on the south coast of England.
"Naturally people will want to enjoy the sun but we need to do so in a way that is safe for all," he said.
Health Secretary Matt Hancock told talkRADIO that he was reluctant to use powers to close beaches "because people have had a pretty tough lockdown", but said he would take action "if we see a spike in the number of cases".
Read the full story
Panic buying ramping up in Australia again
Simon Atkinson - BBC News, Sydney
Australia's two biggest supermarkets have reintroduced a nationwide restriction on toilet paper – after signs of more panic buying.
Customers of Coles and Woolworths will be limited to two packs each as of 2pm on Friday afternoon.
Stores in Victoria – where there has been a spike in cases – saw shelves stripped of the product earlier this week.
Earlier this year, scenes of shoppers loading trolleys with toilet roll - and even brawling over it - spread across the internet.
That prompted PM Scott Morrison to brand the behaviour "un-Australian".
Scotland's Western Isles cautious about tourism reopening
Since the pandemic began, Scotland's Western Isles have seen just eight cases of coronavirus.
But now as tourism is due to resume in the coming weeks - a major part of the islands' economy - some residents are urging caution about reopening.
"The islands aren't just a holiday destination, they are our home and our home is made up of communities of people, and a lot of those people are elderly and vulnerable," said Rebecca Hutton, who runs a Harris tweed business.
The small island community is "a bit more fragile" when it comes to dealing with outbreaks, said Gordon Jamieson, chief executive of NHS Western Isles.
"If we were to see a sudden increase in cases, then it would be quite challenging for the health service to be able to respond," he said.
Read the full story
Colombia's first Covid death earlier than reported
Colombia's first suspected death from Covid-19 occurred in February - almost a month before the first case of coronavirus was officially reported in the country, its statistics agency said on Thursday.
According to data from the ministry of health, the first case of Covid-19 in Colombia was confirmed on 6 March in the capital, Bogotá, and the first death occurred later that month.
But new figures from the statistics agency show the first death occurred earlier - on 15 February, Reuters news agency reports.
Colombia has more than 77,000 reported cases of the virus, with more than 2,600 deaths, according to data collated by Johns Hopkins University.
Reports in other countries, including
Brazil
,
France
and the
UK
also suggest the virus may have arrived earlier than first thought.
Colombian officers in masks, photographed in March
You've completely misread data, Sweden tells WHO: Europe round-up
Sweden
's state epidemiologist has taken issue with the World Health Organization (WHO) for including it on
a list of 11 countries with "very significant resurgence"
of Covid-19. Anders Tegnell has told Swedish TV the WHO has completely misinterpreted the data. Infections are rising because of more testing, says Dr Tegnell, arguing that other countries are at the start of their epidemic.
Sweden took a different approach than most European countries by not imposing a lockdown. unlike the measures seen elsewhere in Europe. We have a comprehensive round-up of
how nations across the Continent and easing their virus-related restrictions.
A Norwegian study suggests there's no increased risk
of infection in gyms and fitness centres if good hygiene and social distancing are observed. Five Oslo gyms were given the green light to reopen in May and half the members were allowed back.
Norway
's gyms reopened on 15 June.
Portugal
will reimpose a lockdown from 1 July on parts of Greater Lisbon because of high infection rates. Residents in 19 parishes will have to stay at home unless absolutely necessary.
Ireland
will move to Phase 3 of lifting its lockdown on Monday. Churches, cinemas, cafes and restaurants will reopen and a 14-day quarantine will be lifted for visitors from a "green list" of countries from 9 July.
There's been an outbreak at a Red Cross reception centre in the southern
Spanish
city of Málaga. The 89 cases are mainly young migrants rescued in the Mediterranean.