Summary for Tuesday, 23rd June


Cases in Florida surge past 100,000, the seventh US state to reach the mark

New infections are spiking in several US states as the country reopens

Saudi Arabia has said the Hajj pilgrimage will go ahead but with no international visitors

Cases are rising in Victoria, Australia, raising fears a second wave might be coming

UN chief Antonio Guterres has thanked health workers for their "remarkable acts of service to humankind"

UK PM Boris Johnson is expected to say pubs, cinemas and galleries will be able to reopen in England from 4 July

Worldwide there have been more than 9 million virus cases and 471,000 deaths

WHO: The greatest threat is lack of solidarity
The director general of the World Health Organization, Tedros Adhanom Ghebreyesus, has said the "greatest threat we face now is not the virus itself, it's the lack of global solidarity and global leadership".
"We cannot defeat this pandemic with a divided world," he said during a video conference.
While Tedros did not mention President Trump specifically, the US leader said last month that his country - which is the WHO's biggest funder - would terminate its relationship with the organisation.
"China has total control over the World Health Organization,"
he claimed
More cases recorded in Australia outbreak
Another 17 cases have been reported in the Australian state of Victoria, sparking fears of a "second wave".
Many cases in the latest outbreak came from large family gatherings and other community transmission, whereas previously most were found in returned travellers.
Medical teams were swooping in on six "hotspot" regions in Melbourne to trace contacts and carry out testing.
"There is literally an army of people going out door knocking," said Premier Daniel Andrews.
Cases in Victoria make up close to 90% of Australia's new infections in the past week.
Other states are keeping their borders firmly closed, even as they move further out of lockdown.
Western Australia and South Australia are both scrapping gathering limits next week.
Trump steps in after adviser's China comment
President Trump has reassured investors that the US trade deal with China is still on - after White House adviser Peter Navarro told Fox News that an agreement between the countries was "over".
Navarro said the "turning point" came when the White House learned about the coronavirus only after a Chinese delegation left Washington, where they had signed the phase one trade deal, on 15 January.
Mr Navarro quickly walked back on his comments, saying that they had been taken "wildly out of context", and Mr Trump said the deal was "fully intact".
The debacle sent global stock markets on a roller coaster ride as shares slipped on the initial comments - only to recover after the clarification.
Donald J. Trump:

The China Trade Deal is fully intact. Hopefully they will continue to live up to the terms of the Agreement!
Mexican newborn triplets test positive
Will Grant - BBC News, Mexico and Central America correspondent
Newborn triplets have all tested positive for coronavirus in Mexico, in what health authorities say is a previously unheard of case.
The babies were tested in the first hours of their life and hadn't been in contact with anyone known to be infected with the virus.
Scientists believe they may be able to help shed light on whether the virus can be passed internally by pregnant mothers via the placenta.
"It is unprecedented from a scientific point of view," said Miguel Angel Lutzow Steiner, the head of the public health agency in San Luis Potosi.
Two of the babies are in a stable condition; the other is receiving treatment for a respiratory illness.
The health authorities believe the parents may have been asymptomatic – they have been isolated while they await results of their own tests.
Another 13 cases in Beijing
Beijing has recorded another 13 virus cases, taking the recent total to 249.
The city had previously gone 57 days without a locally transmitted case but a cluster, linked to a huge food market, broke out earlier this month.
The city responded to the outbreak by banning people from at least 27 neighbourhoods from leaving the city, while others needed a negative test before they could leave.
Across China, 22 new cases were reported on Tuesday.
How Asia's biggest slum contained the coronavirus
Soutik Biswas - India Correspondent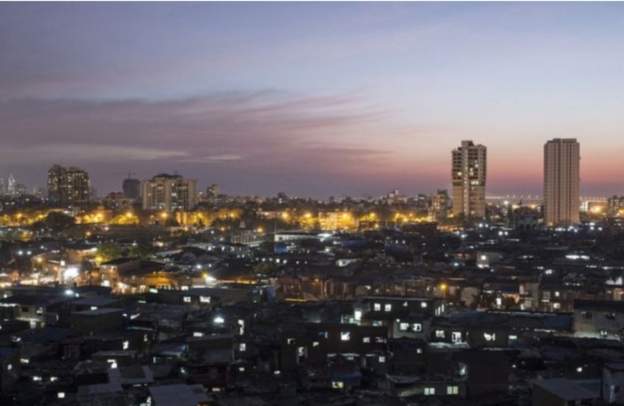 Night falls on Dharavi, home to 650,00 people
In one of the world's most congested shanty towns, social distancing is not a luxury people can afford. And density is a friend of the coronavirus.
Imagine more than 500,000 people spread over 2.5 grubby sq km, less than a square mile. That's a population larger than Manchester living in an area smaller than London's Hyde Park and Kensington Gardens.
Eight to 10 people live together in poky 100 sq ft dwellings. About 80% of the residents use community toilets.
Homes and factories coexist in single buildings lining the slum's narrow lanes. Most people are informal daily-wage workers who don't cook at home and go out to get their food.
And yet Dharavi, a sprawling slum in the heart of Mumbai, India's financial and entertainment capital, appears to have brought an outbreak under control - for now.