Summary for Monday, 15th June


Shops in England selling non-essential items open for first time in almost three months

From Monday, anyone on public transport in England must wear a mask

In France, travel to other EU countries is allowed, and cafes and restaurants can open

Other European countries are also easing border restrictions

In Beijing, a spike in cases continues, with 36 more cases recorded

Globally, there have been 7.9m confirmed cases since the outbreak began and 433,000 deaths

Welcome back to our coverage of the coronavirus pandemic. As Europe continues to ease restrictions while Asian countries fear a second wave, we will keep you updated on all developments from around the globe.
Here's what you need to know:


In England, shops selling non-essential goods are allowed to open for the first time in almost three months

But people taking public transport must wear face masks from now on

France also continues to ease lockdown measures: travel to other EU countries is now permitted while cafes and restaurants can open

Spain will bring the reopening of its borders forward by 10 days, allowing most Europeans to travel in from 21 June

China has seen a new spike, with 36 more cases recorded in Beijing

Iran is also seeing a new rise, with the number of daily deaths topping 100 for the first time in two months

Cases continue to rise in Beijing
For a while it seemed like life was slowly but surely going back to normal in China.
But its capital Beijing has been hit by a series of new cases - after almost two months without a local case.
Beijing recorded 36 new locally transmitted cases on Sunday - on Saturday it also reported 36 cases - all of which have been linked to the city's largest wholesale market.
More than 20 neighbourhoods now have restrictions on visitors. Three other provinces across China have also reported confirmed or suspected cases connected to Beijing.
Local media reports say this virus was discovered on chopping boards used for imported salmon at the market.
China's chief epidemiologist of its Centre for Disease Control and Prevention has now said this particular strain did not resemble the type circulating across the rest of the country - suggesting it came from elsewhere.
For now, however, there's no clear indication of where the strain might have come from.
Ghana makes wearing face masks compulsory
Thomas Naadi - BBC News, Accra
President Nana Akufo-Addo has announced that the wearing of face masks is now compulsory in Ghana.
The country's coronavirus case count has risen to nearly 12,000, with 54 deaths and about 4,000 recoveries.
Restrictions on religious gatherings have been eased and schools will reopen for final year students on Monday. Border crossings still remain closed.
The country has so far conducted about 250,000 tests in its population of 30 million.
England shops open, Wales and Scotland remain shut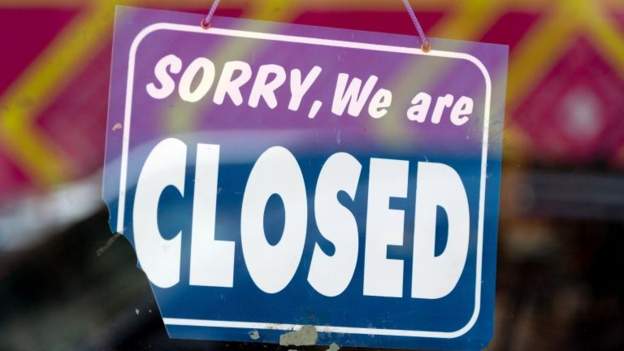 It's time to flip over that sign
Non-essential shops in England are set to open this Monday, after nearly three months of lockdown.
Outdoor attractions like zoos will also be allowed to open, as will places of worship - albeit only for individual prayer.
All sites have to stick to social distancing rules though, which means people have to remain at least 2m (6ft) apart and will be asked to wear face masks when indoors. The same goes for public transport.
Shops in Northern Ireland opened on Friday while Scotland and Wales have not yet decided when to allow their businesses to follow suit.
Masks become compulsory on English public transport
Anyone travelling on public transport in England must wear a face covering from Monday.
More than 3,000 extra staff including police officers are being deployed at stations to make sure people comply.
Passengers without a covering will be asked to wear one. If they refuse, they may not be allowed on board or they could be fined £100.
People with certain health conditions, disabled people and children under the age of 11 will be exempt from the rule.
In the coming days, hundreds of thousands of free coverings will be handed out at railway stations. The government says masks can be homemade, such as a scarf or bandana.
As well as on transport, all hospital visitors and outpatients also have to wear masks.
Nigerian doctors to go on strike
Chris Ewokor - BBC News, Abuja
The doctors are demanding adequate protective gear
One of the main doctors' unions in Nigeria says its members will go ahead with a strike on Monday over poor pay and a lack of personal protective equipment for health workers.
The Association of Resident Doctors says they will stop providing all services including emergency care and coronavirus treatment.
The union's president, Aliyu Sokomba, said the government had failed to respond to the doctors' demands, including a call for extra payment to reflect the increased risk they faced during the pandemic.
Nigeria has recorded more than 15,000 cases of Covid-19 and more than 400 deaths.
The association represents around a third of Nigeria's doctors.
'Two years' for Australia economy to recover
The Australian government today outlined a series of building and infrastructure projects to get the economy going again.
Australia's economy is forecast to recover quicker than those of many other nations due to its successful suppression of the virus.
The OECD has forecast it will have one of the smallest falls in GDP among developed economies for the rest of 2020, and official unemployment forecasts have been revised down to 8% from 10%.
However, Prime Minister Scott Morrison said it would still take two years for the economy to return to where it was pre-pandemic. "There is a mountain yet to climb," he said.
The government aims to cut off some of its A$260bn (£140bn; $180bn) welfare supports next month – and says it will be "extremely cautious" about future spending.
Australia is still recording a handful of new cases each day, but will have almost all of its restrictions - excepting border closures - lifted come July.
It has eliminated the virus in many parts of the country, authorities said last week.
France reopens borders and cafes
French President Emmanuel Macron has said the country has "won its first victory" over the virus, and a number of restrictions will now be lifted.
In a televised speech to the nation, he said France would reopen its borders to travellers from the European Union from Monday.
Restaurants and cafes will also be able to reopen fully, not only outdoors. Schools, except for high schools, will open from 22 June. Macron warned the virus could still return, however.
He also said the disease had exposed France's "shortcomings" - and that the country had been overly dependent on global supply chains.
Hong Kong Disneyland to reopen
The Disneyland theme park in Hong Kong is set to reopen this Thursday - but with a reduced number of visitors.
The park, which closed in January due to the outbreak, will introduce social distancing measures and suspend all activities that require close interaction with others.
Visitors will also be required to wear face masks.
It is the second Disney park to reopen in China, after the Shanghai Disneyland welcomed visitors last month.
You can read more about the challenges of reopening that park here
EasyJet flights to resume
EasyJet planes will be taking to the skies again after weeks of being grounded, as the British carrier resumes a small number of mostly domestic flights on Monday.
The resumption comes after weeks of lockdown, though the airline will only be starting with minimal service.
It will be flying mostly routes within Britain to cities like Edinburgh and Belfast, and to a handful of European cities in France, Switzerland, Italy and Portugal, according to a Reuters report.
EasyJet and two other airlines are taking legal action against the British government in a bid to overturn a 14-day quarantine policy.
Under current rules, all arrivals into the UK have to go into quarantine for two weeks - but airlines say this will have a "devastating" effect on tourism.
Nearly 1 in 3 test positive in Delhi as cases surge
Almost one in three people tested for Covid-19 in the Indian capital, Delhi, this week were found to be positive,
reported the Hindustan Times newspaper
. It's analysis was based on government data.
The newspaper added that the average positivity rate - the percentage of people who test positive - was 30.5%. In comparison, this rate for all of India is about 7%, according to the country's top medical body.
Cases have been galloping in Delhi in recent weeks, which currently has more than 40,000 infections.
"This just means that currently the numbers are on a rising trend and there is transmission happening in the community," Dr Shobha Broor told the newspaper. She added that the high positivity rate could also be explained by labs potentially only testing those with symptoms. "If you only test the people who are likely to have the infection, the positivity rate will be high."
The capital city has been struggling to accommodate an increasing caseload as numerous reports of patients being turned away at hospitals emerge. With more than 300,000 infections, India now has the fourth-highest number of cases in the world.
France to reopen its EU borders
As we reported earlier, France is set to reopen its borders to some travellers as it begins to relax its lockdown measures.
Let's take a deeper look at what this will mean.
In an address to the nation, President Emmanuel Macron said France would allow travellers from almost all European Union countries to enter from Monday.
Visitors from other continents would be allowed to enter from 1 July, he said.
But travellers from Spain, along with those from the UK, will have to quarantine because of their own restrictions on French arrivals.
UK visitors will have to self-isolate for 14 days, the government says.
You can read more about France easing its lockdown measures here
How Vietnam became a virus success story
Anna Jones - BBC News
Despite a long border with China and a population of 97 million people, Vietnam has recorded just over 330 cases of Covid-19 on its soil and not a single death.
So how has it managed to keep the numbers so low?
Experts say that Vietnam saw a small window to act early on, and used it fully.
It enacted measures other countries would take months to introduce, bringing in travel restrictions, closely monitoring and eventually closing the border with China and increasing health checks at borders and other vulnerable places.
By mid-March, Vietnam was sending everyone who entered the country - and anyone who'd had contact with a confirmed case - to quarantine centres for 14 days.
But though cost-effective, its intrusive and labour-intensive approach has its drawbacks, and experts say it may be too late for most other countries to learn from its success.
You can read more here
Could social distancing of less than two metres work?
UK Prime Minister Boris Johnson has commissioned a review of the 2m (6ft) social distancing rule, but could a reduced distance work to stem the spread of coronavirus, asks BBC Science editor David Shukman.
Put simply, the nearer you are to someone who is infected, the greater the risk of catching the virus.
The government's scientific advisers say that being 1m apart carries up to 10 times the risk of a 2m separation.
Meanwhile the World Health Organization (WHO) recommends keeping a
distance of at least 1m
.
It's not all about distances, however. The amount of time spent in proximity to an infected person, the quality of ventilation, and safety precautions such as face coverings can all have an impact on the chances of infection.
You can
read more here
India to use 500 train carriages as wards in Delhi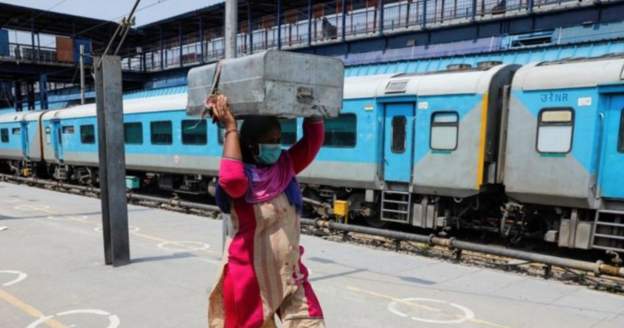 Train carriages at New Delhi station
India is to convert another 500 railway carriages to create 8,000 more beds for coronavirus patients in Delhi, amid a surge in infections.
Home Minister Amit Shah announced a package of new emergency measures for the capital on Sunday, including a rapid increase in testing for Covid-19. Nursing homes will also be requisitioned.
The total number of 320,922 officially confirmed cases puts India fourth in the world - after the US, Brazil and Russia - in the pandemic.
The death toll in India stands at 9,195, according to data compiled by Johns Hopkins University from official sources.
India began converting railway carriages into quarantine or isolation wards in April, when large parts of the railway network were suspended owing to the pandemic.
Five questions about India's rising infections
Weeks after India eased what was arguably the world's harshest lockdown, and four months after its first recorded Covid-19 infection, its case number is skyrocketing.
Should the spike in cases worry India? Is India's low death rate misleading? And what lies ahead?
The BBC's Soutik Biswas took a look at these questions.
India has one of the lowest testing rates in the world
Covid blood clots targeted in treatment trial
Rachel Schraer - BBC Health Reporter
Scientists are to test whether an experimental drug can prevent potentially deadly blood clots associated with Covid-19.
The trial, funded by the British Heart Foundation, will test the theory the clots are caused by a hormone imbalance triggered by coronavirus infection.
It will become one of several drugs currently being trialled to prevent the disease's worst effects.
A third of hospitalised coronavirus patients
develop dangerous blood clots
.
The drug, TRV027, works to rebalance hormones involved in blood pressure, water and salt.
China to launch new airline despite travel downturn
China's second-biggest airline is to launch a new carrier despite a severe global downturn in passengers caused by the pandemic.
China Eastern has joined forces with a range of partners including China's biggest online travel agency, Trip.com.
The new airline will be focused on the island destination of Hainan, a free-trade hub that is home to eight million people.
Some have questioned the timing of the launch, which comes as the airline industry struggles to survive.
You can read more about the move here
Commuters in England wear face coverings as new rules kick in
It's still early here in the UK, but people have already been seen following
new rules that require face coverings to be worn on public transport from today
.
Most people in England - except those with disabilities, children under 11 and those with certain health conditions - will need to wear a face covering while travelling on a bus, coach, train, tram, Tube, ferry or plane.
Passengers without a covering will be asked to wear one, or will face being refused travel or fined £100.
A passenger wearing a face mask on a bus in Newcastle
At Gatwick airport, a passenger called James told BBC Breakfast that wearing a face covering on his way to Nice, where he works, was "very strange" but if everyone wears one then it shouldn't be a problem.
Meanwhile on London's Tube network, volunteers handed out face masks to commuters as they entered Vauxhall underground station - where two security guards were stationed to stop people taking more masks than necessary.
A Transport for London (TfL) staff member monitoring the distribution of masks said most people were already wearing face coverings before they entered the station.
Thousands of portraits of Covid victims fill Peru cathedral
Many of the victims did not have access to adequate medical care
An archbishop in Peru has filled his cathedral in the capital, Lima, with more than 5,000 photographs of Covid-19 victims, and warned more people face death by starvation as a result of the economic crisis brought by the pandemic.
When the 84 pews were filled with the images, church workers covered the bases of the building's columns. The victims included police officers, firemen and street-sweepers, and many died without receiving appropriate medical care, according to local media.
In a message broadcast during Sunday's Mass, Archbishop Carlos Castillo sharply criticised the country's health system, saying it was based "on egotism and on business and not on mercy and solidarity with the people,"
AP news agency reports.
"An even harder moment is coming," he was quoted as saying. "It would be terrible if in the times to come we have thousands of these photos - but dead of hunger."
Peru has confirmed 6,688 Covid-related deaths and 229,736 cases. It has the second-highest numbers of deaths and infections in South America, after Brazil.
Read more about how Covid-19 is affecting the region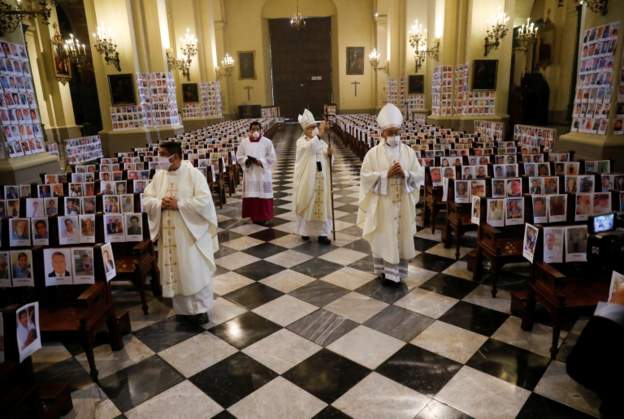 Archbishop Carlos Castillo blessed the photographs on Sunday
'Lockdown has been boring - I want to treat myself'
Stewart Whittingham - Reporter, BBC News Online
As non-essential shops re-opened in England today, people queued for more than 40 minutes to get into stores in Manchester City centre.
Big queues formed outside Primark, TK Maxx and Foot Locker on Market Street.
Mother-of-one Ines Sima, 23, joined the line outside TK Maxx.
She said: "I think I'll be waiting for half an hour, maybe more.
"But I've really missed shopping, that's why I'm here.
"I want to get some nice dresses.
"Lockdown has been hard and boring so I want to treat myself."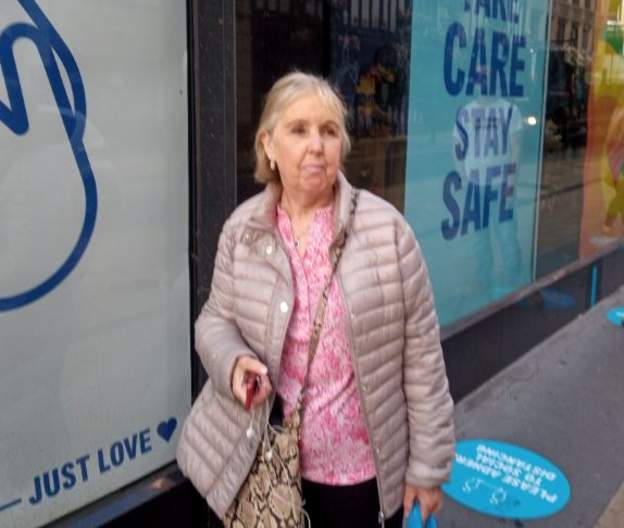 Retired library worker Clare Barcoe, 66, joined the queue outside Primark.
She said: "I've come to return some jeans for my son.
"They don't fit him and this is the first time I've been able to come and he's at work.
"But I'll get some things like t-shirts while I'm here."