Summary for Thursday, 11th June


US cases pass the two million mark, according to Johns Hopkins University

The US has the most recorded cases in the world, followed by Brazil and Russia

Infections are still rising in 20 US states even as restrictions continue to be relaxed

A former adviser to the British government says an earlier lockdown could have halved the UK death toll

Mexico City will start large-scale testing, diverging from the federal government

Disneyland announces phased reopening in July

Coachella music festival, originally rescheduled to October, has been cancelled

There have been more than 7.3 million infections globally and more than 416,000 deaths

Welcome back to our coverage of the pandemic. We'll keep you posted on all developments as the day shifts from Asia, across Europe and Africa, to the Americas.
Here's what you need to know this morning.


The number of confirmed infections in the US alone is nearing the 2 million mark, data from the Johns Hopkins University shows

Infections are still rising in more than 20 states, as restrictions are eased

Mexico City will begin large scale testing as it plans to reopen its economy

The Disneyland theme park in California plans to open in July with a "significantly limited" capacity

Worldwide, there have been more than 7.3 million confirmed infections since the outbreak began and around 416,000 deaths

US infections about to pass 2 million
The number of confirmed coronavirus infections in the US since the outbreak began is 1,999,392
according to data collected by the Johns Hopkins University
.
The United States has by far the overall highest infections - almost three times the number of Brazil (772,416).
The US also carries out the most tests, with around half a million performed per day. That partly explains the high infection figure, with around 20,000 new cases added each day.
The US also has the highest death toll, at 112,878, ahead of the UK (41,213) and Brazil (39,680). Again, it's worth stressing that different countries record Covid-19 deaths in different ways.
New Zealand goes 20 days with no new cases
New Zealand has now gone 20 days with no new virus cases, even after the country lifted almost all of its restrictions.
The country is at Level 1, which allows all schools and workplaces to open. Weddings, funerals and public transport can resume without any restrictions. Social distancing is no longer required but is encouraged.
And following the recovery of an Auckland woman on Monday, the country has no known active cases of Covid-19.
New Zealand has recorded 1,154 confirmed cases and 22 deaths from Covid-19 since the virus arrived in late February.
Has a second wave of infections hit Iran?
Reality Check
Iran has seen a surge in the number of cases in recent weeks, sparking fears it might be facing a second wave of the pandemic.
The country started to relax its lockdown in mid-April, after the number of infections declined, so is it paying the price?
New infections have been averaging more than 3,000 a day in the first week of June - a 50% increase on the previous week.
Officials say the increase is largely down to an increase in testing - and that there is no spike in daily deaths.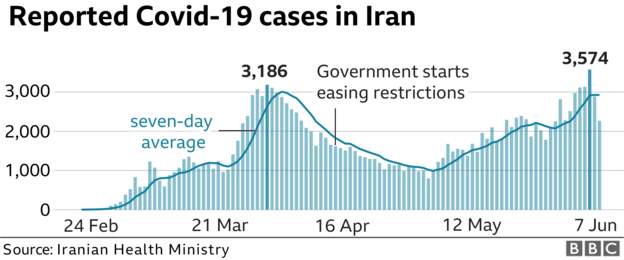 'Earlier lockdown would have halved UK death toll'
The number of virus deaths in the UK would have been halved if lockdown had started a week earlier, a former government adviser has said.
Prof Neil Ferguson - whose advice was crucial to the decision to go into lockdown - said the outbreak had been doubling in size every three or four days before measures were taken.
The UK lockdown began on 23 March. Records from meetings show the UK's advisers were not recommending a lockdown in early March.
One of them, Prof John Edmund,
recently told the BBC
: "I think the data that we were dealing with in the early part of March and our situational awareness was really quite poor.
"So I think it would've been very hard to pull the trigger at that point, but I wish we had."
Australian BLM protester tests positive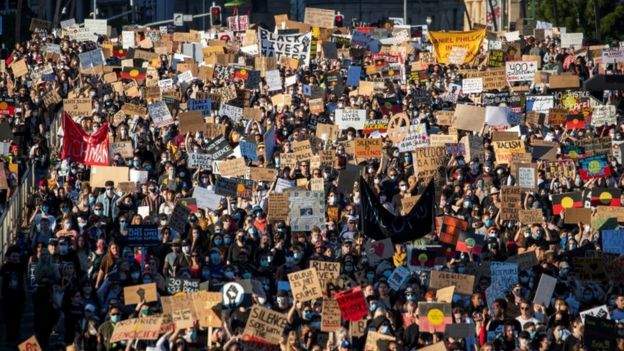 Huge crowds protested against racism and black deaths in custody in Australia at the weekend
One of the Australia's new cases is a Black Lives Matter protester who attended Melbourne's rally with thousands of other people.
Health officials said the man, in his 30s, had worn a mask but was potentially infectious. He fell sick a day after the rally, meaning it was unlikely he acquired it at the march.
Australia's government has strongly criticised the protests
for the health risks, and this morning Prime Minister Scott Morrison called for people who attend demonstrations this weekend to be arrested and charged.
He said the protesters were pushing a "double standard" in how public health orders were applied. He said if a second wave arose, it would be the fault of the anti-racism protesters.
Mexico death toll climbs beyond 15,000
Mexico's Covid-19 death toll now stands at 15,357, after another 708 fatalities were recorded in the past 24 hours.
The country also saw a record number of new infections, with 4,833 taking the total to just under 130,000.
The capital Mexico City meanwhile plans to increase testing as the city is looking at reopening its economy soon.
Latin America is now the epicentre of the pandemic, with cases continuing to grow in various countries.
Australia calls itself economic recovery 'leader'
Australia's government has seized on new global economy predictions to declare the nation is doing far better than others.
The world economy is set to shrink 6% this year - or 7.6% if there's a second virus wave, says the Organisation for Economic Co-operation and Development (OECD).
"But the positive news for Australia in this report is that Australia stands out as a leader in the economic recovery," said Treasurer Josh Frydenberg this morning.
Australia's economy is predicted to drop 5% this year, but grow 4% next year (helped by a reliance on China's recovering economy).
The government said its massive welfare and stimulus measures had helped cushion the blow, but many of these are due to expire in July and September.
There's also been criticism of the government's boosted support for some areas - like home construction - over others including childcare.
California Disneyland to reopen in July
The US theme park Disneyland in California has said
it plans to reopen in July
. Capacity will be "significantly limited" though and visitors won't be allowed to get hugs from Mickey or Donald.
The reopening is still pending government approval but the park's sister attraction
Disney World in Florida has already received said approval
.
The Disney parks are among the world's most-visited theme parks and would usually see tens of thousands of visitors each day. They closed in March due to the pandemic.
"Any further action on this front would be absolutely unacceptable," he said.
More than 30,000 people - including opposition lawmakers - turned up to huge rallies across Australia's cities last weekend. Activists have defended their right to protest against racism and black deaths in custody.
They have also pointed out that Australia is one of the safest countries for the virus - a fact also regularly cited by the government in promoting Australia in other areas.
Recovered cases surpass active infections in India
The number of cured or discharged Covid-19 patients in India is higher than active cases for the first time.
On Wednesday, the health ministry said 135,205 people had recovered in comparison to the 133,632 active cases in the country.
But infections in India have been on the rise for weeks now, and experts are especially worried about surges after the country eased out of its harsh lockdown this week.
Hotspots include big cities like the national capital, Delhi, and the financial capital, Mumbai, which have more than 30,000 and 50,000 cases respectively.
Delhi's deputy chief minister earlier warned that infections could by the end of July cross half a million in the city, where hospitals are already struggling to cope.
India has more than 275,000 cases, including nearly 7,500 deaths.
Miami beach reopens after weeks of closure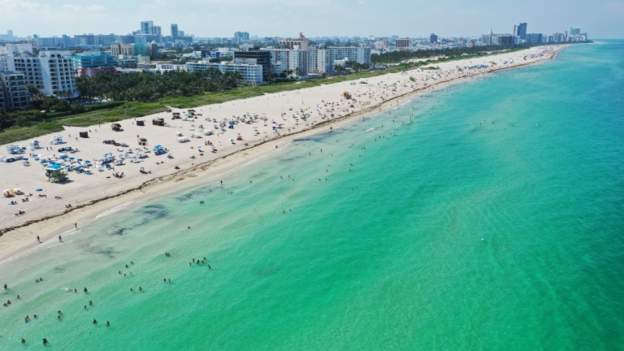 After weeks of closure, the famous Miami beach reopened for the first time since early May on Wednesday.
"I almost started crying as soon as I came out onto the beach," local Julie Isaacson told news agency AFP.
Restaurants on the promenade famous for its art deco buildings and buzzing night life, reopened two weeks ago, although at half capacity.
States across the US are gradually reopening businesses and attractions after weeks of lockdown closure.
Bollywood superstar charters flights for migrants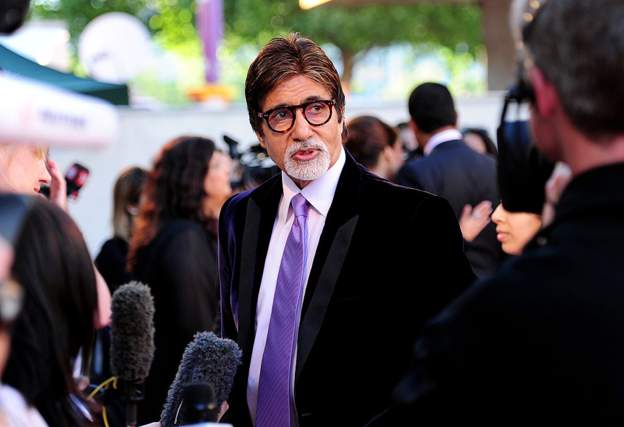 One of Bollywood's biggest names, Amitabh Bachchan, has organised flights to take home some 700 Indian migrant workers stranded in Mumbai due to the lockdown, reported PTI news agency.
Four flights took off on Wednesday and two more are scheduled to fly on Thursday
, the agency reported, quoting sources close to Bachchan.
The plight of migrant workers, who were stuck in cities away from their homes when India enforced its lockdown overnight in March, prompted outrage across the country.
Hundreds of thousands walked hundreds of miles - in the blazing heat with little access to food and water - to get home.
The Indian government has organised trains to take home migrants and other Bollywood stars like Shah Rukh Khan and Sonu Sood have also organised efforts to take home stranded workers.
Ginger exports jump 150%
Peru says exports of ginger have almost tripled during the coronavirus pandemic - because the root is seen as a natural immune system booster.
Officials said shipments had increased by over 150% in the first quarter of this year compared to the same period in 2019.
Most of the exports went to Spain, the Netherlands and the United States. Ginger and lemon juice in a hot drink is seen as a traditional cold and flu remedy in many countries.
While ginger is a healthy food, it does not prevent you from catching the virus though.
Cases per capita around the world
As the US exceeds two million cases, it's worth remembering that its high total is partly down to widespread testing and a large population.
Using data from the WHO dashboard. the worst-affected countries relative to population size are as follows (note that many in the list have tiny populations, with only small outbreaks in total terms):
1.
Qatar
- 24,949 cases per million people
2.
San Marino
- 20,441
3.
Vatican City
- 14,545
4.
Andorra
- 11,065
5.
Bahrain
- 9,518
6.
Kuwait
- 7,759
7.
Chile
- 7,468
8.
Singapore
- 6,584
9.
Luxembourg
- 6,463
10.
Peru
- 6,057
11.
US
- 5,894
Deaths per capita around the world
Following on from our post on the countries with the highest number of cases per capita, here are the countries with the highest numbers of deaths, relative to population size.
Not all countries record deaths in the same way. The data comes from the WHO dashboard.
1.
San Marino
- 1,235 deaths per million people
2.
Belgium
- 830
3.
Andorra
- 662
4.
UK
- 601
5.
Spain
- 580
6.
Italy
- 563
7.
Sweden
- 467
8.
France
- 448
9.
Netherlands
- 352
10.
Ireland
- 342
11.
US
- 335