Summary for Wednesday, 10th June


Top US infectious disease expert Dr Anthony Fauci says the virus is his "worst nightmare"

He warns the crisis is not over as many countries, including the US, begin relaxing lockdown rules

In the UK, NHS waiting lists could double to 10m by the end of the year, health officials warn

Meanwhile PM Boris Johnson will later announce plans to further ease lockdown restrictions in England

The number of cases in India's Mumbai overtakes Wuhan with 51,000; meanwhile authorities in Delhi warn that cases there could reach half a million

Brazil's government will start publishing regular Covid-19 data again after a Supreme Court order

There have been more than 7m infections globally, with 3.37m recoveries and more than 411,000 deaths, according to Johns Hopkins University

Welcome back to our coverage of all things coronavirus. As the day moves from Asia to Europe, Africa and the Americas, we will keep you posted on all global developments.
Here's what you need to know this Wednesday morning.


US top coronavirus expert Anthony Fauci has warned that the pandemic is far from over – despite many countries easing their restrictions

China has dismissed as "ridiculous" a US study of hospital traffic and search engine data that suggested the virus may have been spreading in the country as early as August 2019

Brazil has fully restored its website of coronavirus data, following an order by the Supreme Court. The government controversially removed totals of cases and deaths over the weekend

In France, the Eiffel Tower is set to reopen on 25 June after being shut for more than three months

In England, plans for all children to return to primary schools before the summer break have been dropped

The World Health Organization has rowed back on comments that asymptomatic transmission of the virus was "very rare" - now saying such transmissions are still a "big unknown"

Worldwide, there now have been almost 7.2 million infections and more than 400,000 deaths linked to Covid-19

Fauci warns pandemic 'isn't over yet'
"It isn't over yet," Dr Anthony Fauci, the US coronavirus expert and White House adviser, has said - describing the pandemic as his "worst nightmare".
"In a period of four months, it has devastated the whole world," he told a conference.
"That's millions and millions of infections worldwide. And it's condensed in a very, very small time frame."
The director of the National Institute of Allergy and Infectious Diseases made his comments during a conference held by the Biotechnology Innovation Organization (BIO).
But, despite admitting he was surprised by how fast the virus had spread, he said he was confident a vaccine would be found.
Brazil restores detailed data after court decision
Brazil has restored detailed data to
its Covid-19 website
, after it was ordered to do so by the country's Supreme Court.
At the weekend, the website stopped publishing cumulative totals for cases and deaths in the country - provoking uproar.
Critics accused Jair Bolsnaro's government of trying to cover-up the scale of the outbreak, and the decision was overturned on Tuesday.
The newly-restored data shows Brazil has had almost 740,000 cases since the outbreak began and almost 40,000 deaths.
The figures are the second and third highest in the world, respectively.
Australia goes 24 hours without a local transmission
For the first time since the crisis escalated, the country has avoided seeing any locally-spread cases.
Official statistics for yesterday recorded only two new infections in the previous 24 hours.
Both involved people in quarantine in New South Wales who recently returned from overseas, local media reported.
Since imposing a lockdown in March, Australia has successfully curtailed the virus. In total, it has had 7,267 cases and 102 deaths.
Restrictions are steadily being lifted - this week will see the return of the Australian Football League (AFL), a week after the National Rugby League restarted. Small numbers of fans will be permitted to attend two AFL games.
New cases detected in Melbourne
We just reported that Australia saw no community transmissions in 24 hours to Tuesday - a national milestone - but unfortunately that will not be the case today.
State officials in Victoria have confirmed four new infections there, including at least two in Melbourne.
The news is better in Australia's other most populous state, New South Wales, which has now recorded two weeks without a local transmission.
Asymptomatic transmission an 'open question'
The World Health Organization (WHO) has clarified comments that asymptomatic transmission of the virus was "very rare".
"I used the phrase 'very rare' and I think that it's a misunderstanding to state the asymptomatic transmission globally is very rare. What I was referring to was a subset of studies. I was also referring to some data that isn't published," said WHO scientist Dr Maria Van Kerkhove
Van Kerkhove said just how much transmission comes from people with no symptoms was still a "big unknown".
Looking at investigations of clusters of infections from various countries, she said that where an asymptomatic case has been followed up, it was "very rare" to find secondary infections among their contacts.
But she explained it was still an "open question" as to whether the same was true globally.
Not all primary pupils in England to return
In the UK, the government has confirmed that not all primary pupils in England will return to school before the summer break starts in July.
The government's "ambition" was for all primary pupils of all ages to return in this academic year. But social distancing rules, and a limit of 15 pupils per class, mean this will not be possible for all schools.
Primary pupils in England in Reception, Year 1 and 6 began to return to school last week.
Vulnerable children and the children of key workers have been able to attend primary and secondary schools throughout the lockdown.
Most secondary school pupils in England will not return until September. There are different rules in other parts of the UK.
Pakistan should reimpose 'intermittent lockdowns' - WHO
The World Health Organization has sent a letter to the Pakistani health authorities urging them to re-impose intermittent lockdowns.
The global body stressed the country did not meet the conditions for lifting restrictions.
A surge of new cases has hit Pakistan after the government asked provinces to ease coronavirus measures.
A total of 108,316 people have been infected, and on Monday Pakistan reported a single-day record of 105 deaths.
The WHO said Pakistan needed to mitigate the risks of the health system collapsing.
"WHO strongly recommends the government adapt the two weeks off and two weeks on strategy," said the letter, signed by WHO's Head of Mission in Pakistan Dr Palitha Mahipala.
China says 'August theory' is 'incredibly ridiculous'
China has said a Harvard Medical School report - which suggested that Covid-19 may have been spreading in Wuhan as early as August 2019 - is "incredibly ridiculous".
China reported the new coronavirus to the World Health Organization on 31 December.
But the Harvard report used satellite images of traffic outside hospitals in Wuhan, and online search queries, to suggest people may have been infected from late August.
The Chinese Foreign Ministry spokeswoman Hua Chunying said: "I think it is ridiculous, incredibly ridiculous, to come up with this conclusion based on superficial observations such as traffic volume."
The report was not peer-reviewed, and other scientists have said it is hard to draw conclusions from the Harvard data.
One expert at the Scrippt Research Translational Institute said the research method used in the study was "very indirect and imprecise".
Here's what the study said.
South Korean cases continue to emerge
South Korea has recorded 50 new virus infections over the past 24 hours.
The country, which never had a lockdown, had reduced infections to single digits in April.
Yet several clusters have emerged in recent weeks after social distancing rules were relaxed in early May.
Overall, the country has recorded just under 12,000 infections, and 276 deaths linked to the virus. Currently, there are around 1,000 confirmed active cases.
Argentina daily cases rise above 1,000
Argentina's daily new infections continue to rise, climbing above 1,000 for the first time.
The health ministry recorded 1,141 new cases on Tuesday, taking the total number of cases to 24,761 while 24 new deaths are taking the overall toll to 717.
But though numbers are rising, they are still much lower than in neighbouring Chile or Brazil - now the epicentre of the global pandemic.
Despite protests, Argentina has just extended lockdown measures for the capital Buenos Aires.
South Korean unemployment at 10-year high
Unemployment in South Korea has climbed to the highest level in more than 10 years as the economy is hit by the virus pandemic.
In May, the rate went to 4.5%, up from 3.8% in April.
"The biggest layoffs are still from small retailers, restaurants and lodging. There seems to be some improvements in restaurants but convenience stores and other 'mom-and-pop' stores still seem to be struggling," an official told Reuters news agency.
As a consequence of the pandemic, unemployment is rising around the globe.
OECD data from April
shows average unemployment across member states at 8.4% - with
the United States accounting for the largest number of jobs lost
Delhi virus cases could reach 500,000
The number of cases in India's capital of Delhi could climb to more than half a million by the end of July, the city's deputy chief minister has warned.
If this happens, Delhi will need at least 80,000 hospital beds, said Manish Sisodia - a huge leap from its current capacity of nearly 9,000 beds.
It comes amid reports of residents complaining about being turned away at hospitals and tales emerged of people struggling to get a hospital bed.
On Tuesday, the government announced that it
would double the number of beds in 22 private hospitals
.
Delhi currently has more than 30,000 confirmed cases of Covid-19.
The warning comes as India has taken steps to further relax its stringent lockdown - malls, restaurants, temples and offices opened earlier this week. The country has reported more than 250,000 infections and 7,471 deaths.
Vietnam 'may resume some international flights'
Vietnam is considering the resumption of overseas air travel to destinations seen as "safe" from coronavirus.
Foreigners have been banned from entering the country since 22 March, with very few exceptions.
Prime Minister Nguyen Xuan Phuc has now asked officials to draw up a list of "safe regions" for the resumption of international commercial flights, according to the country's state media.
The report says safe destinations will be those that have had no new cases of coronavirus for at least 30 days.
Despite having a long border with China and a population of some 97 million people, Vietnam has had just 332 confirmed Covid-19 cases, 192 of which were imported,
and not a single death so far
.
Refugees stranded by virus have nowhere to go
Bangladesh has said it will not take back 269 Rohingya refugees
who have been detained by Malaysia.
The refugees - who originally fled persecution in Myanmar - are thought to have left southern Bangladesh in a boat in early April.
In previous years, smugglers have brought tens of thousands of Rohingya illegally into Malaysia, which is seen as a regional safe haven.
But recently, Malaysia has refused to allow refugees boats to land, citing the virus pandemic.
In this instance however, the refugees were brought to shore and detained after they were discovered by the coast guard in Malaysian waters. Malaysia later asked Bangladesh to take the refugees back.
But Bangladesh Foreign Minister AK Abdul Momen told the
Anadolu Agency:
"Bangladesh will not take them. Bangladesh is neither obligated nor in a position to take any more Rohingya."
Our home turned into a hospital overnight'
Krutika Pathi - BBC News, Delhi
Mukul Garg wasn't too worried when his 57-year-old uncle developed a fever on 24 April. Then, within 48 hours, two others in his family of 17 also became ill.
The symptoms trickled in as expected - temperatures spiked and voices grew hoarse with coughing.
Garg initially chalked it up to seasonal flu, unwilling to admit it could be coronavirus.
"Five or six people often fall sick together in this house, let's not panic," he told himself.
Over the next few days, five more people in the house showed Covid-19 symptoms. And the pit in his stomach grew.
Soon, the Garg family would become its own coronavirus cluster as 11 of its 17 members tested positive.
"We met nobody from the outside and no-one entered our house. But even then the coronavirus entered our home, and infected one member after the other."


Read the full story on how this Indian joint family coped with - and beat - the virus together

All 17 members of the Garg household
How face masks affect our communication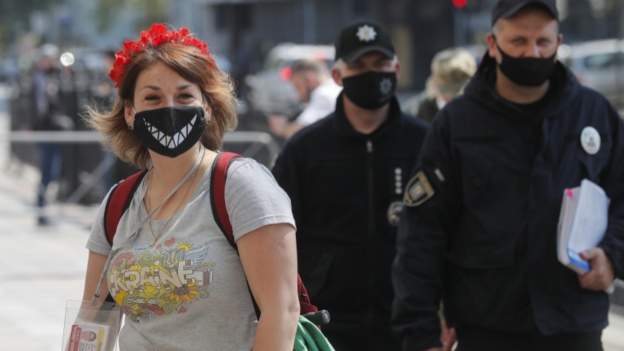 Many of us are wearing face masks as a protection against the virus. But how do they alter our interactions with others?
When it comes to studying faces, the eyes and mouth are the most informative regions because they tend to be the most expressive.
We subconsciously analyse their combined movements to figure out what someone is trying to tell us.
The mouth region, in particular, is good for expressing feelings of happiness.
Concealing this area can be problematic when wanting to come across as approachable and friendly – which might explain why a number of healthcare workers have taken to adhering smiley-faced pictures of themselves onto their medical gowns in a bid to ease patient anxiety.
India court orders states to send back stranded workers
India's Supreme Court has ordered all states to send back migrant workers stranded in cities due to the coronavirus lockdown within the next 15 days.
Hundreds of thousands of migrant workers have been seen walking long distances on roads to return home to their villages, after industries were shut and jobs cut.
With little access to food and water - and under the scorching heat - some died along the way. The scenes caused outrage in India and spurred fears of a large-scale humanitarian crisis.
The government started running special trains for migrants in May and at the last hearing in the court, it said more than 4,000 trains had transported around 570,000 people home so far.
10 million people could be on NHS waiting list
A staggering 10 million people could find themselves on waiting lists for the UK's National Health Service (NHS) by the end of the year, as a result of the Covid-19 crisis - double the current amount.
A backlog of cases, having to maintain social distancing and a shortage of staffing are among the factors that could lead to this, said the NHS Confederation.
The body, which represents health and care leaders, said emergency funding and longer-term spending were needed.
The Department of Health has said it will continue to provide the resources, funding and support the NHS needs.
Guidance had been issued on how the NHS "should start to restore services in a safe way", a spokesman added.
It comes as Prime Minister Boris Johnson is set to announce further easing of lockdown restrictions - with zoos and drive-in cinemas expected to be allowed to re-open from Monday.
Doctor's diary: 'People think it's over, but it's not'
What is it like to work on the front line?
Some doctors and nurses in the UK have not been home since the early days of the pandemic to avoid carrying the infection to their families.
And some of them fear that cases will begin to rise as members of the public - unlike medical staff - are too eager to move on.
"It's hard to explain to family members - I try to get across that we are doing our best," junior doctor Kirsten Sellick told the BBC. "But it's been heart-breaking speaking to them on the phone."
Click here to read the story of Kirsten and nurse Becky Aird
at the Bradford Royal Infirmary in the UK.
Mumbai overtakes Wuhan total as Indian cases spike
India's financial capital, Mumbai, has recorded 51,000 cases of Covid-19 since the outbreak began - taking it past the total in Wuhan, where the virus emerged.
The news comes amid a surge of infections in India, which has 266,598 confirmed cases.
Maharashtra state, of which Mumbai is the capital, has 90,000 of them.
Infections are also spiking in the capital Delhi, where authorities have said they expect to see more than half a million cases by the end of July.
The surge coincides with India's decision to relax restrictions after three months of a stringent lockdown that was intended to curb the spread of the virus.
Experts say that there was no other option but to lift the lockdown, which exacted a massive economic cost on the country.
Welcome to our coverage
Good morning to those of you joining us in the UK - our team in London are now taking over live coverage.
Here are some of the main UK headlines:
UK papers focus on schools and statues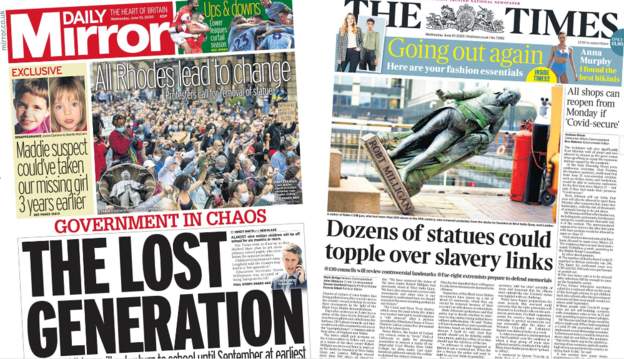 There is widespread criticism in Wednesday's papers of the government's decision to drop plans for all primary school children in England to return to class
before the end of the school year in July.
The Daily Mirror is concerned about what it calls "The Lost Generation", while the Guardian says PM Boris Johnson has been urged to draw up an "urgent national plan" to get all pupils back to school from September, or risk an "epidemic of educational poverty".
You can read a full review of the
UK's morning papers here
.
Boxing stages first major fight card since outbreak
Another sport has returned to action, as the first major fight card in boxing took place since the start of the coronavirus outbreak.
There were no fans at the event in Las Vegas, with undefeated American Shakur Stevenson beating Felix Caraballo in the main event.
"It's a different atmosphere," said Stevenson. "Losing the weight was different. Training in the gym was different. I couldn't be around anybody.
"Even when fighting and there was no crowd was different. I would catch him with mean shots and there would be no 'Ooohs' or 'Aaahs.'"
After his win, Stevenson and Jared Anderson, who beat Johnnie Langston in a heavyweight bout, wore t-shirts reading "Black Lives Matter".
People most infectious at start, WHO studies say
World Health Organisation (WHO) experts said on Tuesday that studies show people with coronavirus are most infectious just at the point they begin to feel unwell.
Dr Mike Ryan, WHO's top emergencies expert, said the novel coronavirus lodges in the upper respiratory tract, making it easier to transmit by droplets than related viruses such as Sars or Mers, which are in the lower tract.
"That means you could be in the restaurant feeling perfectly well and start to get a fever, you are feeling okay, you didn't think to stay home, but that's the moment at which your viral load could be actually quite high," he said.
First part of £60m PPE delivered to NI from China
The first part of a £60m consignment of personal protective equipment (PPE) has been delivered to Northern Ireland from China.
The Department of Health said 1.5 million Type 11R masks reached Belfast in recent days.
The Department of Health said a total of just over 63 million masks had been ordered alongside almost 55 million pairs of gloves, to be delivered in phases, over the coming weeks.
Health Minster Robin Swann said there is intense global demand for PPE products and the achievement in securing the order "should not be underestimated".
He said PPE products would be issued to frontline staff after the equipment had been assessed.
Pre-Covid neglect left schools unprepared, says union
The general secretary of the head teachers union, the NAHT, has said that schools would have been better equipped to cope with the current crisis if they had not been neglected before the pandemic.
Paul Whiteman told BBC Radio 4's Today programme that lack of recruitment and investment was "being brought to bear now".
"It's all about capacity," he said. "There simply isn't the capacity in the system in terms of numbers of teachers or numbers of classrooms available to do more, if observing those [social distancing measures] that the Department for Education are recommending."
Whiteman added that careful planning was now needed to mitigate the lasting effect of coronavirus on children's education.
"Crucially, we're not going to catch children up over a very short period over the summer, this is going to be a longer-term catch up that's going to be needed and we need to plan that right now."
Why Kenyans are begging their president for freedom
In our series of letters from African journalists,
Joseph Warungu captures the frustrations of Kenyans who have been pleading with the government to ease the measures
taken to curb the spread of Covid-19.
"Mr President, we beg you - please, please set us free!"
These are not the words of people held in detention or mandatory quarantine.
Instead, it is the cry of many Kenyans who cannot stand the lockdown measures anymore.
Covid-19 and patient backlog putting 'huge pressure' on NHS
The entire NHS is under "huge pressure" because of the combined effects of keeping up social distancing, the backlog of treatments and challenges around staffing, NHS Confederation chief executive Niall Dickson has said.
It comes as the
NHS Confederation warns that the number of people on waiting lists could double to 10 million by the end of the year.
Dickson told BBC Radio 4's Today programme: "There is going to be huge pressure to get waiting lists down.
"There's also going to be huge pressure in other parts of the service - we shouldn't just concentrate on waiting lists or hospitals but also look at what's happening in community services and primary care."
Dickson added: "We certainly want to see the government renew their agreement with the independent sector because frankly we need all the capacity we can get to try and build up services going forward."
The Department of Health has said it will continue to provide the resources, funding and support the NHS needs.