Summary for Sunday, 7th June


The number of people confirmed to have died of coronavirus globally has reached almost 400,000

Big anti-racism rallies have taken place around the world despite warnings about the spread of the virus

As many as 60 million people could be pushed into "extreme poverty" by Covid-19, the World Bank warns

Brazil has removed months of virus data from a government website amid criticism over its handling of the outbreak

A far-right rally in Rome against the Italian government's response to the pandemic has turned violent

Good morning and welcome to our rolling coverage of the coronavirus pandemic.
We'll keep you posted on developments worldwide and in the UK.
Here are some of the latest news stories:


Big - largely peaceful - protests have taken place in cities around the world against racism and police brutality sparked by the death of African American George Floyd. The demonstrations went ahead despite advice against mass gatherings due to Covid-19

Some of the biggest were in New York, Chicago, Philadelphia, Los Angeles and San Francisco

In the UK, rallies were held in London, Manchester, Cardiff, Leicester and Sheffield . Some held signs referring to the pandemic, including one that read: "There is a virus greater than Covid-19 and it's called racism"

The number of people around the world confirmed to have lost their lives due to coronavirus has reached almost 400,000, according to Johns Hopkins University in the US. Infections are close to 6.9 million

Brazil, which has the world's second-highest number of cases and has recently had more new deaths than any other nation, has removed months of data on Covid-19 from a government website , amid criticism of President Jair Bolsonaro's handling of the outbreak

The World Bank has warned that 60 million people could be pushed into "extreme poverty" by the effects of coronavirus. It defines "extreme poverty" as living on less than $1.90 (£1.55) per person per day

Meanwhile, famous cultural venues have been reopening in European cities, including the Palace of Versailles outside Paris, and the Prado museum in Madrid.

France to increase fine on discarded masks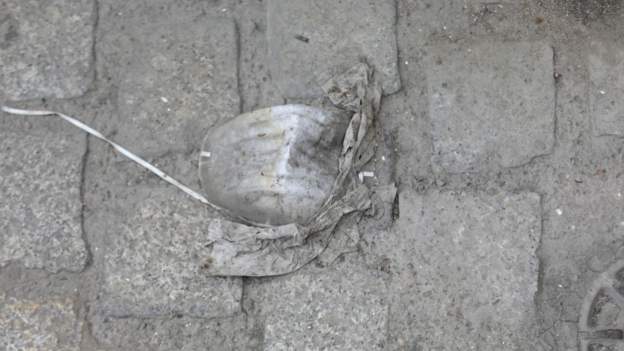 One of the more repulsive sights to emerge in recent weeks on the streets of France and elsewhere is abandoned, single-use masks, and now the French government has decided to get tougher on anyone caught throwing them away.
There's already a fine of €68 if you do throw a mask or a cigarette butt on the floor - that's now set to increase to €135 (£120; $150). It also applies to discarded gloves or other waste.
Environmental transition minister Brune Poirson told AFP news agency that everyone "has to understand that all waste thrown on the ground often finds its way in the ocean".
'UK protests risk spreading infections' - Hancock
England's Health Secretary Matt Hancock has warned that the Black Lives Matter protests taking place across the UK risk increasing coronavirus infections.
Speaking on the Sophy Ridge on Sunday show on Sky News in the past few minutes, Mr Hancock said that he supported the argument being made by demonstrators for more equality, but that "gathering in large groups is temporarily against the rules, precisely because it increases the risk of spreading this virus".
"Please don't gather in groups of more than six people because there is a pandemic that we must control," he said.
Mr Hancock is appearing on the BBC's Marr show and you can watch that at the top of this page.
Paris returns to cafe life with new normal
Lucy Williamson - BBC's Paris Correspondent
Fear isn't something 88-year-old Mathilde gives into easily. Sitting on the terrace of her local bistro in Paris, hours after it reopened, she sipped a fizzy drink, as the morning sunshine drew perspiration from her glass.
"I've been waiting for this," she said. "To be surrounded by people, not to be alone anymore!"
Mathilde had dressed for the occasion: a printed dress, perfectly styled hair.
Public life here has always demanded a little extra effort. For its cafes and restaurants that means new rules on seating, new cleaning procedures, hand sanitiser everywhere you look.
Many people have expressed relief that Paris's bars and cafes are open again, but the gradual return to normality is also creating familiar frictions.
Read
more from Lucy here
'No room for complacency' in UK virus R rate - expert
In the UK, there are concerns that the R number of the coronavirus - the number of people each infected person, on average, passes the virus onto - could be
creeping up, particularly in the north-west and the south-west of England.
Prof John Edmunds, who sits on the government's Scientific Advisory Group for Emergencies (Sage) group and specialises in infectious disease modelling at the London School of Hygiene and Tropical Medicine, has told the BBC the epidemic has been concentrated around specific settings, including hospitals, care homes and other enclosed locations like prisons.
He explains that the R number is less than 1 and as the epidemic has "shrunk" there have been outbreaks in these settings, meaning the slope of the number of cases "has flattened off".
The R number is now "creeping up", he believes, because it's "reflecting this flattening off of the slope". But he wonders: "Does that mean we are seeing an increase in community cases or is this just a reflection of ongoing outbreaks in hospitals and care homes?"
He says scientific estimates of the R number are "fairly crude", partly because the number of cases are low, so they have to look at other data, such as the weekly Office of National Statistics (ONS) survey.
He says that suggests 5,000 people in the community in England are being infected every day, which he says is "still a lot of infection", adding there's "no room for complacency".
Russia's death toll continues to rise
Russia has reported 8,984 new Covid-19 infections in the last 24 hours, bringing the total number of cases to 467,673.
The number of recorded deaths rose by 134 to 5,859 over the same period, according to the official figures from Moscow.
Russia, like many countries, is also suffering acute economic hardship after weeks of coronavirus lockdown. As a result, President Putin's approval rating has fallen to an all-time low.
Hard-hit Brazil removes data amid rising death toll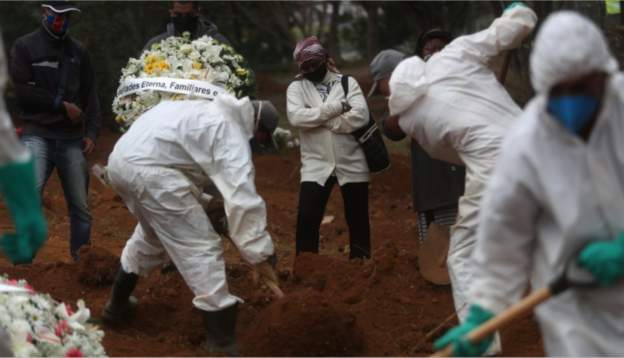 Brazil has already recorded almost 36,000 coronavirus-related deaths
Brazilian President Jair Bolsonaro's has been criticised repeatedly for his response to the coronavirus pandemic - from opposing lockdown measures to attending rallies without a face covering.
Brazil has the world's second-highest number of cases, but has now removed months of data on Covid-19 from a government website.
The health ministry said it would now only be reporting cases and deaths in the past 24 hours, no longer giving a total figure as most countries do.
Brazil has more than 670,000 confirmed infections, but the number is believed to be much higher because of insufficient testing. Almost 36,000 people have died - the third-highest toll in the world, after the US and UK.
Read
more on this story here