Summary for Saturday, 6th June


Wearing masks in public can help slow spread of the virus - World Health Organization (WHO)

Black Lives Matter protest takes place in Sydney after coronavirus restrictions overturned by court

Prince William reveals he's a volunteer on mental health helpline during lockdown

UK care home residents who pay own fees face price hikes of more than £100 a week on average, claims Age UK

Number of cases in India overtakes Italy as hospitals struggle to cope

Globally, the number of infections is more than 6.7 million and some 395,000 people have died - Johns Hopkins

Good morning and welcome back to our rolling coverage of all things coronavirus.
We'll keep you posted on all developments worldwide, and here in the UK.
Here are some of the latest news stories:
Face mask requirement comes as surprise to UK hospital leaders
The announcement on Friday night that National Health Service workers in England will be required to use face masks at all times came as a surprise to hospital leaders.
Chris Hopson, the chief executive of NHS Providers, which represents NHS trusts, says bosses felt "completely in the dark" about the "significant and complex" changes.
From 15 June, staff must use surgical masks at all times and hospital visitors and outpatients must wear face coverings.
Read more
here
.
England's Sancho fined for haircut breach
It could prove a pricey trim for England international Jadon Sancho.
The Borussia Dortmund forward has been fined by the German football league after being pictured having a home haircut without wearing a mask.
The 20-year-old called the decision "an absolute joke" in a Twitter post that he later deleted.
Sancho's team-mate Manuel Akanji has also been fined after they were both deemed to have broken rules, with the league saying the players had "obviously violated general hygiene and infection protection standards".
Both players received visits from a hairdresser at their respective homes, with neither the stylist nor the player wearing masks.
Dortmund defended the players, saying they did not breach the Bundesliga's health and safety rules.
Thousands march at Sydney protest
Shaimaa Khalil - BBC News, Sydney
Thousands of protesters have taken to the streets in central Sydney in solidarity with demonstrations in the US over police brutality and the death of African American George Floyd.
Some held "Black Lives Matter" placards written in red, yellow and black - the colours of Australia's aboriginal flag.
On the eve of this rally, the New South Wales supreme court decided that it should not go ahead because of concerns over the spread of Covid-19.
But the decision was overturned at the last minute by a court of appeal.
Authorities are worried that mass gatherings could undo what the country has achieved so far in controlling the spread of the virus.
But organisers and supporters, many from the indigenous Australian community, have insisted on coming out. Not just in solidarity with the protesters in the US, but also to draw attention to indigenous deaths in police custody here in Australia.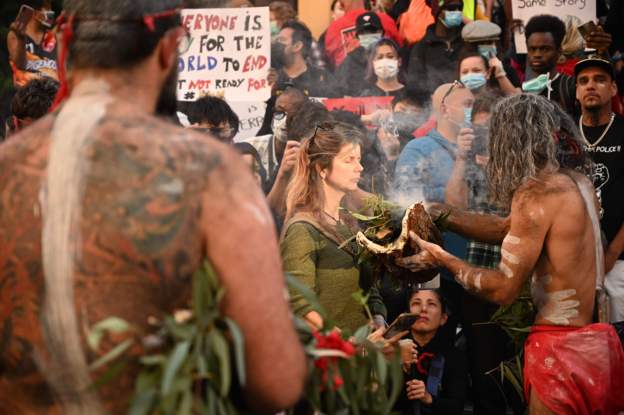 Aboriginal protesters perform a traditional smoking ceremony at the start of the rally in Sydney
Marches have been taking place across Australia, including in Brisbane, Melbourne, Hobart, Adelaide and elsewhere.
They have been in high spirits with no reports of unrest.
Read
more on this story here
Coronavirus surcharges adding 'insult to injury' in UK care homes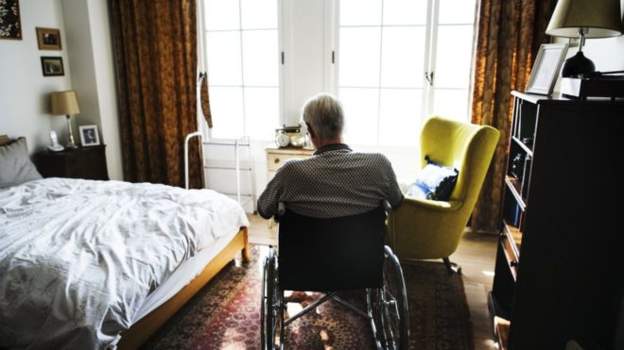 Some older people in UK care homes are being asked to pay more than £100 a week extra in fees to cover extra costs relating to the coronavirus pandemic.
Charity Age UK says residents who pay their own fees are facing the bills to pay for protective gear and rising staff costs.
It is an "insult to injury" for people who have "been through the mill" during the pandemic, the charity adds.
Read more
here
.
Fans set to return at PGA events next month
Golf fans will be allowed to watch a PGA Tour event for the first time since the coronavirus shutdown at next month's Memorial Tournament in Ohio.
The tour resumes next week with the Charles Schwab Challenge in Texas, but the first five events will be played behind closed doors.
The Memorial Tournament, founded by 18-time major winner Jack Nicklaus, takes place from 16-19 July at Muirfield Village.
The event said the move was confirmed after it was given "state approval", with tournament organisers saying they were looking forward to being "an example of how public gathering events can be developed and implemented with approved and accepted protocols in place".
The PGA Tour has been suspended since 12 March after all professional golf was stopped because of the pandemic.