Summary for Friday, 5th June


The EU Commissioner for Home Affairs says states should reopen internal borders by end of June

Ylva Johansson made the comments before a meeting of national ministers on Friday

Some EU states have reopened some borders, but others remain closed

In England, masks will be compulsory on public transport from 15 June

Article that said hydroxychloroquine increases risk of death in coronavirus patients is withdrawn

Peru declares oxygen a 'strategic resource' - meaning hospitals get priority on supplies

Basketball teams in the NBA vote to resume matches on 31 July in Disneyworld, Florida

Globally, there have been 6.6m cases since the outbreak began and 388,000 deaths

Hello and welcome back to our rolling coverage of the coronavirus pandemic. We're writing to you out of Singapore, where we'll keep you across all the latest developments.
Here's what you need to know:


The EU Commissioner for Home Affairs has called on the EU's member states to reopen their internal borders by the end of June. Ylva Johansson said she believed it was "time to open up"

Masks will be made compulsory on public transport in England from 15 June. Passengers will not be allowed to travel without one, and if they do not wear one they could be fined

The Peru government has declared oxygen a "strategic health resource" due to an acute shortage to treat Covid-19 patients. Peru is the second hardest-hit country in Latin America

And an influential study on the controversial drug hydroxychloroquine has been withdrawn.

Globally, over 6.6 million people have been infected with the virus and the death toll stands at 388,000.
EU commission: 'Open borders by end of June'
The European Commission has called on all EU member countries to lift their border restrictions by the end of this month and allow passport-free travel across the bloc.
The virus situation was "fast improving", according to Home Affairs Commissioner Ylva Johansson.
"We are coming very close to a situation where we should lift all the internal border restrictions and border checks," she told broadcaster Euronews, adding that "a good date should be the end of June".
She also said she was happy to see that EU members were already easing border controls.
Across Europe, countries are phasing out their domestic restrictions and some have begun to reopen borders over recent days. There's no indication yet as to when the EU's external borders will reopen.
NBA votes to restart season in July
After a suspension of almost three months, the NBA's board of governors has approved a plan to restart the season on 31 July.
The games are set to be played without fans at the Disney campus near Florida.
"While the Covid-19 pandemic presents formidable challenges, we are hopeful of finishing the season in a safe and responsible manner based on strict protocols now being finalised with public health officials and medical experts," said commissioner Adam Silver, according to local reports.
The NBA first suspended its season on 11 March after one of its players tested positive for Covid-19.
Australia PM says planned protests a health risk
A Black Lives Matter protest in Sydney on Tuesday
There are more Black Lives Matter protests planned in Australian cities this Saturday, but they've been strongly criticised for their potential health risks.
In light of the alleged police killing of US man George Floyd, the protests in Australia have focused on the country's own record of indigenous deaths in custody – where over 430 Aboriginal people have died since 1991.
Organisers have urged protesters to wear face masks and PPE. But Australian Prime Minister Scott Morrison has strongly urged people to not go – saying the health risks from "people coming into close proximity are real".
He said people had the right to protest, but many Australians had made sacrifices under health restrictions such as being unable to attend funerals or visit family.
State authorities are allowing the rallies to proceed in cities like Sydney and Melbourne, where thousands are expected to attend. Victoria's premier had urged people to stay home but said the protests would be allowed "given the depth of feeling on these issues".
Australian police try to stop Black Lives Matters protest
Now the state government says it will attempt to block the Sydney protest from going ahead. State police have sought a court injunction to stop protesters.
New South Wales Premier Gladys Berejiklian said the initial rally, when it was approved by government, was expected to be smaller - but now up to 10,000 people were expected.
She said organisers could not guarantee the event would be safe.
"They could not guarantee safe social distancing and simply the number of protesters far exceeds the health orders," she said.
There have been no locally transmitted coronavirus cases in the state for the past nine days, with all new recent infections being recorded in quarantined travellers.
What's the schedule for Europe reopening borders?
As the summer tourist season approaches, EU countries are eager to lift both domestic restrictions and open borders for non-essential travel so that tourists can come in.
Italy has done so earlier this week and most of the rest of the bloc is set to follow in the same vein later this month.
For most countries, the date when they'll reopen is around the middle of June - that includes France, Belgium, Germany, Greece, Austria, the Netherlands and the Czech Republic.
Spain expects to allow international tourists in from July.
While some countries will permit travel from across the EU, others will first allow only visitors from countries considered low-risk. Some will require virus tests from citizens of high-risk countries or regions.
Although the UK has left the EU, its citizens still have the right to freedom of movement across the bloc until the end of 2020. However, most travellers to the UK will have to face quarantine from 8 June.
More people have now died in Brazil than Italy
Katy Watson - BBC South America correspondent
Brazil has now surpassed Italy in the number of people who have died from coronavirus. On Thursday evening, the country reported that 1,473 deaths had been recorded in the past 24 hours. More than 34,000 people have now died and there have been more than 580,000 confirmed infections.
Three consecutive days, three record death tolls. Amid worsening numbers, the government has also stopped publishing them in a reliable fashion.
They used to be announced in the afternoon without fail, but these past few weeks, the timeframe has been slipping. And for the past two days, they've been announced after the main evening news bulletin has gone out - a fact that's been noted by many observers as more than a coincidence.
President Jair Bolsonaro though is saying very little – speaking on a Facebook live, he reiterated his frustration with isolation measures imposed by state governors, saying the collateral damage from the virus would be far worse than those who had lost their lives.
Authors retract influential hydroxychloroquine study
An influential study that found hydroxychloroquine increases the risk of death in coronavirus patients has been retracted by its authors.
Three of the study's authors said they could no longer vouch for its veracity because Surgisphere, the healthcare firm behind the data, would not allow an independent review of the study's data.
The study's findings had led the WHO to suspend its testing on the controversial drug, which has been repeatedly touted by US President Donald Trump.
Here's what the study actually said:


It was a huge study involving 96,000 coronavirus patients across 671 hospitals worldwide. Nearly 15,000 of them were given hydroxychloroquine

It concluded that the drug showed no benefits against the virus, and actually increased the risk of patients developing irregular heart rhythms and dying

As of yet, there is no evidence that the drug works against the virus.
Read more about it here.
How to make your own face mask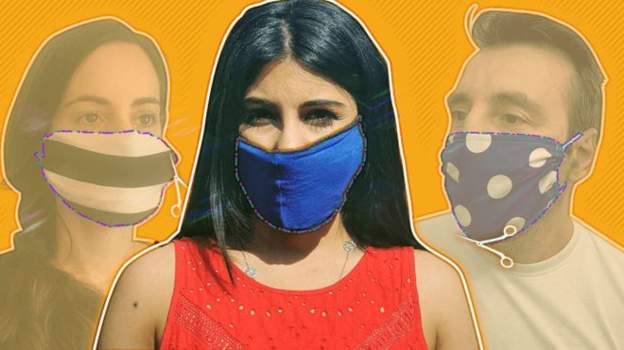 People across the country are being advised to wear face coverings in certain circumstances when out of the house, to help limit the spread of coronavirus. From 15 June, you must wear one on public transport in England.
While medical face masks and respirators are prioritised for health and care workers, you might want to try making your own face covering, wherever you live.
Here's our guide to different types and step-by-step instructions on how to make them.
Rumours, fear and rising Covid deaths in Pakistan
Secunder Kermani - Pakistan and Afghanistan correspondent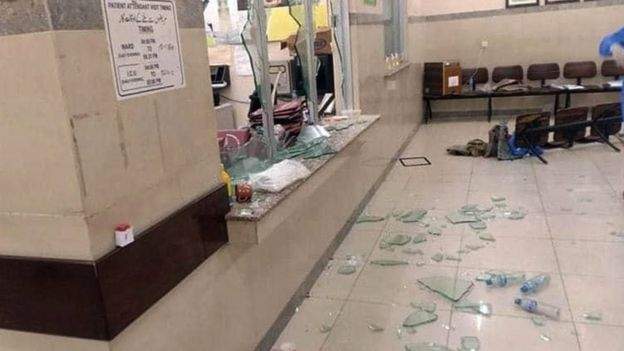 An isolation ward was trashed by a mob when the body of a patient wasn't handed over immediately
As well as concerns about the quality of medical care, and a reluctance for family members to be quarantined, bizarre rumours are swirling around, including claims that doctors are being paid by the World Health Organization (WHO) to falsely declare patients as coronavirus sufferers.
One doctor from Karachi, who asked to remain anonymous, told the BBC she was recently contacted by a friend asking for medical advice, saying: "'My son is having flu and fever but I do not want to take him to the hospital because doctors are just declaring every fever is Covid, and they're taking 500 rupees ($3; £2.40) per case'."
The theories might sound risible, but they have dangerous consequences - and not just for the patients. Hospitals in Karachi, Peshawar and Lahore have all seen incidents of patients' families attacking staff.
Read more here.
BBC to broadcast Royal Opera House reopening concert
Mark Savage - Music reporter, BBC News
The BBC is to broadcast the Royal Opera House's first post-lockdown performance across TV and radio later this month.
The concert, which will take place without a live audience, is scheduled for 13 June, hosted by the venue's director of music Antonio Pappano.
It will feature a dance premiere by Wayne McGregor, resident choreographer of the Royal Ballet, as well as music by Britten, Handel and Butterworth.
Radio 3 will air the show on 15 June, with TV highlights later in the month.
Read more here.
What is the EU Commission?
The Commission is the European Union's executive arm. That means it's the body that draws up EU wide laws and is tasked with implementing them.
But this does not mean it has the power to just order member states around. In many areas, national legislation remains in the hands of the respective national governments.
So can the Commission just order countries to close or reopen borders? No, it cannot.
But this Friday, it will discuss the border issue with all member states and make suggestions.
As national lockdowns are coming to an end, the Commission is trying to get the 27 countries to coordinate their policies to avoid confusion with every state deciding on its own rules and schedule.
AstraZeneca boosts potential vaccine supply
British drug maker AstraZeneca has now said it will be able to supply two billion doses of a potential virus vaccine after signing two new deals - including one backed by Bill Gates.
Earlier last month, it said it could manufacture one billion doses that it is developing with scientists at Oxford University.
It has now agreed to supply half of the doses to low and middle-income countries.
One of the new partnerships is with the Serum Institute of India (SII), the world's largest manufacturer of vaccines by volume. The other is a $750m (£595m) deal with two health organisations backed by Bill and Melinda Gates.
Read more about AstraZeneca's plans here.
Peru struggles for air
Peru's government has declared oxygen a "strategic health resource" due to an acute shortage to treat Covid-19 patients.
According to news wire AFP, Peru's health system is currently on the verge of collapse with more than 9,000 virus patients receiving hospital treatment.
The country's President Martin Vizcarra said oxygen for health care would take "priority over its industrial use".
Peru has more than 183,000 virus cases, making it the second hardest-hit country in Latin America after Brazil. Its death toll currently stands at 5,000.
A man in the capital Lima carrying an oxygen cylinder
The body collectors of Brazil
The number of coronavirus fatalities in
Brazil
has risen by more than 1,000 in a day, making the country's overall death toll the third-highest in the world.
Deaths have now surpassed Italy's total, and only the US and the UK have recorded more fatalities.
President
Jair Bolsonaro has consistently played down the outbreak
, although the country has the world's second-highest number of cases.
In places like Manaus, ordinary people are taking on extraordinary roles in order to help their cities cope.
If you need advice or support
It's a difficult time for many of us and you might have feelings of anxiety, loneliness or frustration.
Here's how to cope with living alone in self-isolation
Here's how you can stop bad information from going viral
Here's how to protect your mental health
Here are some of your questions answered
China continues to report no domestic cases
China's health authority has reported no domestically transmitted cases on Thursday.
However, five new imported cases - including four in Shanghai and one in Sichuan province - were reported, bringing the total number of cases to 83,027.
China had a day earlier also seen no domestically transmitted cases, with only one new imported case recorded on Wednesday.
Japan's Fuji Rock Festival cancelled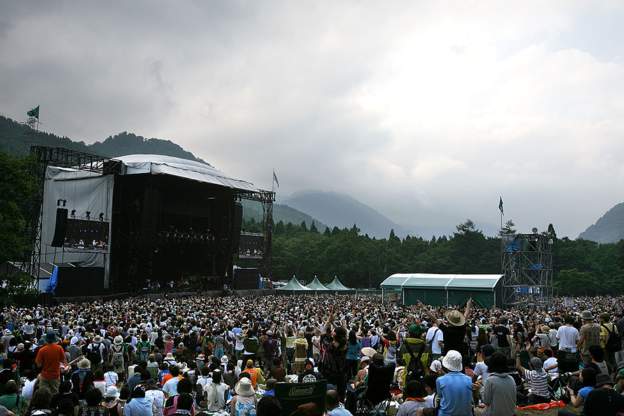 The Fuji Rock Festival in better years
Japan's popular music festival Fuji Rock, which had acts like Tame Impala, The Strokes and Major Lazer in its line-up this year, has been called off.
The annual festival was originally scheduled to take place 21 - 23 August in a ski resort in Niigata prefecture. It will now take place at the same time next year.
The festival's organisers apologised
for "taking so long to inform everyone of this decision", adding that they had "hoped the pandemic would abate in time to hold this summer's festival as scheduled".
Tickets will be refunded, or will be considered valid for next year's festival.
Japan has 16,911 virus cases and 911 recorded deaths recorded, according to Johns Hopkins University data.
Infections are spiking in India, Pakistan, Bangladesh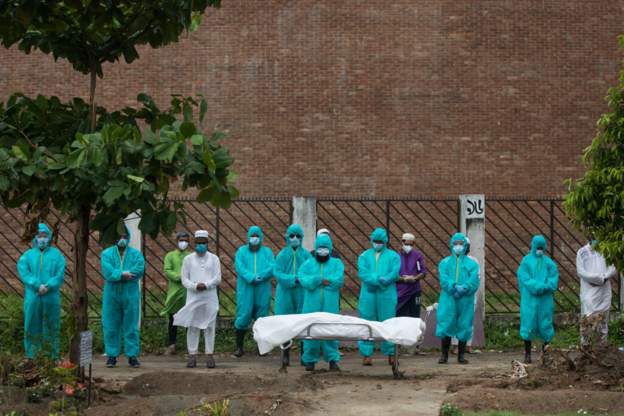 The three countries are home to some 1.7bn people
Covid-19 cases are rising fast in India, Pakistan and Bangladesh - between them, they are home to more than a fifth of the world's population.
The spike comes as all three countries lift lockdowns to curb the spread of the virus.
Pakistan now has 86,139 confirmed cases - its tally crossed China's on Thursday. Bangladesh has recorded more than 57,500 cases so far. And India on Friday registered yet another record single-day spike, adding 9,000 cases, taking its tally to 216,919.
Deaths remain relatively low, comparatively - at 6,075, India has had the most, and Pakistan (1,793) and Bangladesh (781) are far behind on this count.
But experts fear the numbers are a sign of undercounting, and with the peak yet to come in these countries there is also concern over their health systems coping with a sudden deluge of infections.
Rugby team that set off 104 days ago still not home
Owen Amos - BBC News, Singapore
Some of the squad during their quarantine in Auckland
A professional rugby union team that set off for an away match on 23 February have still not made it home.
Manuma Samoa left their Pacific island for an away match in Perth, Australia, more than 100 days ago.
But on their way home they were forced to quarantine in New Zealand - and were then stuck when their home country closed its borders entirely.
In Auckland, the squad lived in a church compound for three months, with 20 players sharing one room.
Although they are now back in Samoa, they are half-way through a two-week quarantine - and players still haven't seen their families.
"When we arrived in New Zealand it was summer," the team's video analyst Hari Junior Narayan tells the BBC. "When we left it was winter."
Where are coronavirus cases still rising?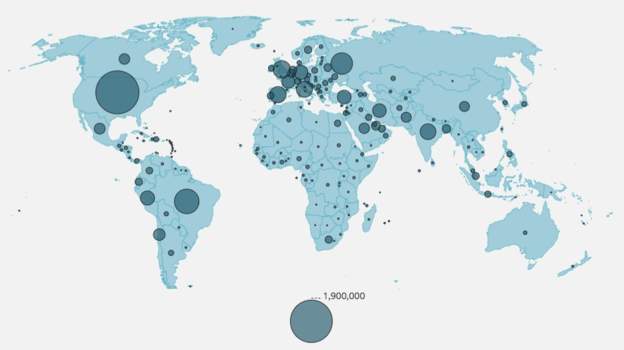 Circles show number of confirmed coronavirus cases per country.
The US has by far the largest number of cases, almost one third of the global total, according to figures collated by
Johns Hopkins University
. It also has the world's highest death toll.
The UK, Italy, France and Spain are the worst-hit European countries. And South Africa, Egypt and Nigeria have seen the largest outbreaks in Africa. Infections are spiking in India and Iran shows signs of a second wave.
There is particular concern about the situation in Brazil where President Jair Bolsonaro has compared contracting the virus to having "the sniffles". It has nearly 600,000 cases, and more than 30,000 people have died.
The true number of cases worldwide is thought to be much higher than the reported figures, as many of those with milder symptoms have not been tested and counted.
Read more
.
What's the latest in the UK?
Hello and good morning to those of you just joining us in the UK. Here are the morning headlines from across the country:


The new NHS coronavirus contact-tracing app should be in place by the end of the month, a government minister has said . The app, which has been tested on the Isle of Wight, had been due to be launched in May.

Doctors have urged the government to extend rules making face coverings mandatory on public transport to more places where social distancing is difficult.

People will have to wear masks on buses, trains, planes, trams, coaches and ferries in England from 15 June, following a government announcement yesterday .

Dentists have warned there will be no return to "business as usual" for dentistry in England when practices can reopen from Monday, with some saying they lacked enough warning of openings and do not have the necessary protective kit.

In Europe, The European Commission has called on all EU member states to reopen borders and allow passport-free travel inside the bloc by the end of June.

Fiji says it's free of coronavirus
The Pacific island of Fiji has declared itself free from coronavirus, after its last known infected patient was given the all-clear.
Prime Minister Frank Bainimarama said its success was a result of "answered prayers, hard work and affirmation of science".
  Frank Bainimarama:

Fiji has just cleared the last of our active

#COVID19

patients.

And even with our testing numbers climbing by the day, it's now been 45 days since we recorded our last case. With no deaths, our recovery rate is 100%.

Answered prayers, hard work, and affirmation of science!
Fiji was among a handful of Pacific Islands struck by the virus. The first case was recorded there in mid-March, sparking panic across the nation.
The Pacific Islands were initially seen as among the world's most vulnerable to the disease due to their under-resourced health infrastructure system. But countries acted quickly to close their borders and shut down tourism - and many have remained successful in keeping the virus at bay.
What are the symptoms and how to protect yourself
As many countries are easing restrictions, officials are warning that negligence can lead to a virus resurgence - and a second wave.
That means you should still be taking active measures to protect yourself - and to avoid infecting others should you be a silent spreader.
Here's a reminder of the symptoms,
and what to do and not to do.