Summary for Tuesday, 2nd June


India registers a new record daily spike with 8,392 fresh infections, even as country eases restrictions

The world's second most populous nation now has 190,000 cases, including 5,394 deaths

The number of people with Covid-19 to die in Mexico passes 10,000

In Australia, officials confirm the country's "youngest victim" did not in fact have Covid-19

Ministers have apologised for the misdiagnosis, which led to relatives being quarantined

Singapore says it will build new, less cramped workers' dormitories

Globally, there have been 6.2m confirmed cases and 375,000 deaths since the outbreak began

Welcome back to our rolling coverage. This is where you can get all the most important updates from around the world on the pandemic we are all living through.
Here's what you need to know:


In Mexico, the death toll has passed 10,000 as the country slowly reopens its economy

This comes as the World Health Organization warns that Latin America should not ease lockdowns yet as the region is not yet at its peak in terms of infections and deaths

In Australia, officials confirm the country's "youngest victim" did not, in fact, have Covid-19 and have apologised to the family

Europe continues to ease lockdown restrictions and more countries are reopening restaurants, hotels and cultural sights. Spain has recorded zero deaths over the past day - the country had hundreds of fatalities daily in March

Globally, there have been more than 6.2 million confirmed cases and 375,000 deaths have been linked to the virus

Australia pledges A$66m (£35m; $44m) for vaccine research
The money will be spent on "research into vaccines, into antivirals, and also into respiratory clinical trials as well as health system management", says Health Minister Greg Hunt.
"This funding is about saving lives and protecting lives and it's part of our dual process of containment and flattening the curve and increas[ing] the ability of our health system to respond - in particular in relation to the containment," he said.
Australia has seen about 7,200 virus cases and 102 deaths.
Mexico death toll moves beyond 10,000
Mexico's death toll has risen by 237 over the past day, taking the overall toll to 10,167.
There were also 2,771 new confirmed infections, taking the country's total case load to 93,435. Health officials caution that the actual number might be significantly higher.
The World Health Organization meanwhile warned Latin American countries that the pandemic in the region had not yet reached its peak and to avoid easing lockdowns.
The warning comes as several countries are beginning to ease restrictions. In Mexico, workers are returning to car production, construction and mining.
Mexico's grim milestone
Will Grant - BBC News, Mexico and Central America correspondent
It has been clear for some time that Mexico was on course to reach the tragic mark of 10,000 deaths. Now 10,167 people have died from Covid-19 and almost 3,000 more have been confirmed as having the virus over the past 24 hours.
The grim milestone was confirmed at the end of the first day of some Mexicans returning to work, in particular in the car manufacturing and construction industries and other key sectors.
It also came on the first day of President Andres Manuel Lopez Obrador's tour of the nation. He said that if people "follow the health measures, then little by little we can return to normality". However he also said Mexico would shut down again in the case of a second outbreak.
His critics say the first outbreak hasn't ended and that the deaths of 10,000 people are a clear sign that Mexico remains in the grip of the pandemic.
US protests could 'lead to resurgence'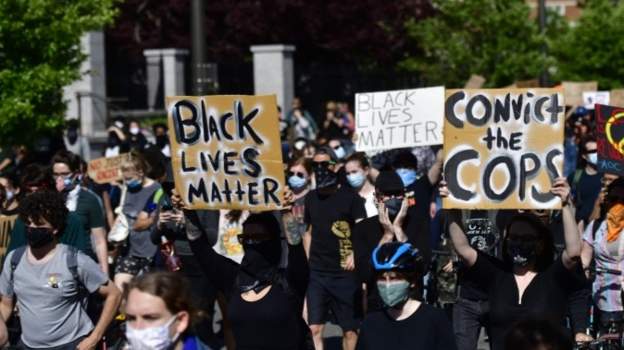 As the US sees yet another night of widespread protests, experts are warning the demonstrations are increasing the risk of a resurgence of the pandemic - even if most of the protesters are wearing masks.
US states are already lifting lockdown measures, but the virus is by no means under control in the country with the highest infections (more than 6.2 million) and death toll (375,513).
The pandemic itself has also highlighted the racial divide in the US: the mortality rate is higher among black people than white people, as is the rise in unemployment.
Some Singapore students head back to class
Today Singapore moves from its strict lockdown (called circuit breaker) to the first phase of easing restrictions.
More people are being allowed back to work and some schools are also reopening, although only classes for graduating years will resume.
So how do students feel going back to school amid tight social distancing regulations?
"It's necessary and it doesn't bother us. Life goes on," one student told the BBC.
The London hospital hit by a 'tidal wave' of patients
Thomas Mackintosh - BBC London News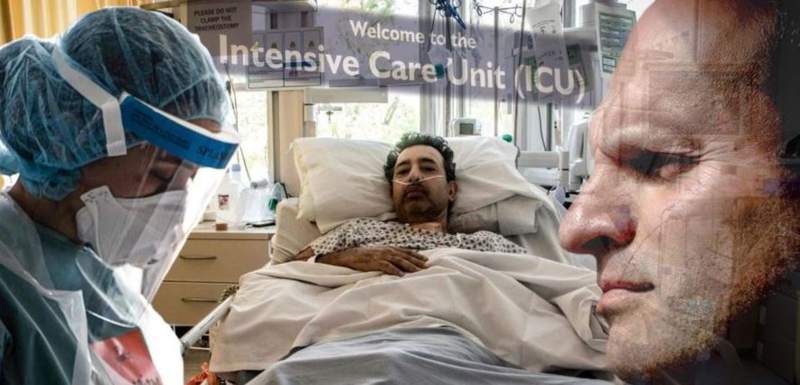 As the UK stared down the barrel of a coronavirus epidemic in early March, the biggest fear was that hospitals would be swamped and incapacitated by a tsunami of patients. It happened in Wuhan and northern Italy.
The NHS largely pulled through, but there were still times hospitals became overwhelmed.
One of those was when a London hospital became suddenly engulfed with victims.
On 19 March, night-shift staff at Northwick Park Hospital in north-west London awoke to discover their workplace was so overwhelmed with Covid patients that a critical incident had been declared.
Find out how events unfolded.
Australia apology over misdiagnosed 'youngest death'
Nathan Turner's death sparked alarm in the community
The Queensland government has apologised to relatives of a 30-year-old man who was wrongly identified last week as having died with the virus.
Nathan Turner, who succumbed to unrelated medical complications, had been recorded as Australia's youngest Covid-19 death.
It sparked alarm as the first case in a coal mining town, Blackwater - prompting the widespread testing of locals. Officials scrambled to trace how the virus had entered the small community.
Now they say they got it wrong. While Mr Turner had initially tested positive after his death, subsequent tests found he didn't have the virus.
Residents are angry - saying in an online petition the false result "created emotional, mental and physical trauma" for them.
State officials defended their actions in reacting promptly to a positive test, but apologised to Mr Turner's family.
"You know I really want to say to the family that we're incredibly sorry that that has happened," Premier Annastacia Palaszczuk said.
"To the family I know that is still grieving and I don't want them to be stressed any more... I know it is a very tough time for them but we do know that the coroner made that finding yesterday and we accept that finding."
This revises Australia's death toll down to 102 cases. More than 90% of the nation's 7,200 people with the virus have recovered.
Pakistan has to 'learn to live with virus' says PM
Secunder Kermani - BBC Pakistan and Afghanistan correspondent
Pakistan's Prime Minister Imran Khan has insisted a lockdown is not the solution to the country's coronavirus outbreak – even as the number of new cases continues to rise.
In a televised address on Monday, he said Pakistanis would have to "learn to live with the virus", as the poorer sections of society could not afford not to go to work.
There have been around 75,000 Coronavirus cases and 1,500 deaths in Pakistan so far.
From the start of the outbreak, the prime minister has expressed his opposition to lockdown measures. Restrictions that had been imposed in March by local authorities have now largely been lifted, with streets and markets crowded, despite doctors expressing concerns the healthcare system will be overwhelmed.
Mr Khan also appealed to the public to follow social distancing rules, but also said even more businesses would now be allowed to open up.
The move comes as the results of randomised testing in the city of Lahore were released – suggesting around 5% of the city's population could be infected, amounting to more than half a million people – vastly higher than the official number of cases across the whole country.
Marriott reopens all hotels in China as travel rebounds
Marriott has reopened all of its hotels in China and the group says it has seen a recovery in business travel.
The world's third-largest hotel chain has 350 outlets across China and says that occupancy rate is now at 40%.
Marriott gave an upbeat statement on Monday about its business in China as it emerges from coronavirus lockdowns.
Last week it said the financial impact from the pandemic had been more severe for the hotel chain than 9/11 and the 2008 financial crisis combined.
Read more on this here.
Singapore charges foreigners for breaking lockdown
Authorities in Singapore have charged seven foreigners for disregarding the country's so-called "circuit breaker", a strict lockdown where all social gatherings are prohibited.
In mid-March, they were photographed having drinks together outside in an upmarket part of the city, popular with well-off expats.
After photos of the gathering went viral on Facebook there was considerable protest on social media with Singaporeans expressing anger that police seemed more lax in enforcing the lockdown for foreigners than for locals.
Authorities then tracked the seven people down and today they were charged in court for breaching Covid-19 regulations.
The accused can be jailed for up to six months as well as fined up to 10,000 Singapore dollars ($7,100, £5,700).
Authorities have said they could revoke their work visas and ban them from working in the country.
India records biggest daily spike yet
India registered a new record daily spike on Monday with 8,392 fresh infections.
This means the country now has more than 190,000 cases, including 5,394 deaths, according to data from the health ministry.
India has seen a succession of record single day cases over the past few days.
On Saturday, more than 8,000 new cases were reported just as India announced new relaxations in its lockdown.
Is Putin relaxing restrictions for political gain?
Lockdown restrictions in Moscow are beginning to be lifted despite Russia having one of the highest Covid-19 infection rates in the world.
For the last two months, residents have only been allowed out to go to the nearest food shop. Now, they can go for a walk three times a week and non-food shops will start reopening.
But some suggest President Putin's recent declaration that the epidemic's peak has passed is just politics:
See video here
Asia's fishermen and farmers go digital during virus
Justin Harper - Business reporter, BBC News Singapore
Farming communities in South East Asia are embracing online selling for the first time during virus lockdowns.
The closure of wet markets around the region has been a major challenge for fisherman and farmers who traditionally sell their fresh produce there.
Thankfully e-commerce has been their saviour as they go online and connect with customers in a new way.
From Malaysia to Indonesia, China to Thailand, rural communities have seen their livelihoods saved as they go through their own digital transformations.
Read the full article here
.
What's it like to be laid off over Zoom?
Before the crisis managers would usually have met staff face-to-face, to give them the bad news.
Now video-conferencing tools such as Zoom and Microsoft Teams (MS Teams) are being used to replicate the formality of the meeting.
Chris Malone, an audio visual technician at events company Sparq in the UK, feared for his role when it was explained to him that an HR representative would be on his next MS Teams call along with his line manager.
His instincts proved correct, as he was told he was going to be laid off.
Read more about this here.
UK 'looking at ways to relax travel quarantine rule'
The government is looking at ways to relax the 14-day quarantine rule for people entering the UK over coming months, BBC Newsnight has learnt.
From Monday, most people arriving by plane, ferry or train - including UK nationals - must self-isolate.
But some MPs and businesses have expressed concern at the plan, warning it will damage the travel industry.
One government source told Newsnight that ministers were looking at ways around the coronavirus quarantine.
Read more here.
The tyranny of India's 'tin pot dictators'
Geeta Pandey - BBC News, Delhi
Major Atul Dev, a retired Indian army veteran, is on the warpath - against his Residents' Welfare Association.
Commonly known as the RWAs, these associations are a unique feature of Indian urban living. They are responsible for managing the day-to-day affairs of specific residential areas and generally set guidelines - relating to issues like security - for people to follow.
But ever since India went into a lockdown to halt the spread of coronavirus, many are being accused of overreach, although they say they are only acting in the interest of everyone's safety.
In recent days, the Indian press has used unflattering phrases such as "little Hitlers" and "tin pot dictators" to describe them.
Click here to read the full piece
Scenes from around the world as countries reopen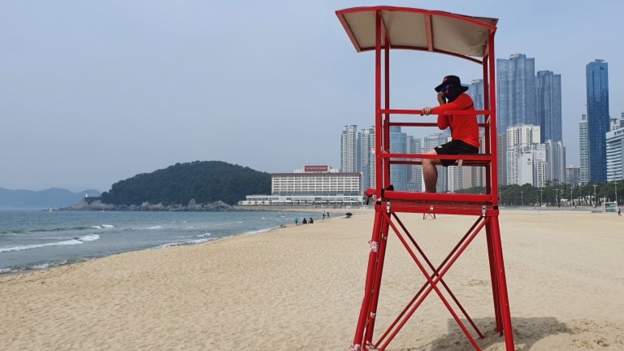 South Korea
was one of the model countries in tackling the virus. Several small clusters have stoked fear of a resurgence of the pandemic but the gradual easing of the lockdown continues. This beach in Busan has reopened - though it doesn't seem terribly busy.
In
India
,
the lockdown is being eased despite infections still going up
. This hairdresser in Chennai has now been allowed to reopen. Many businesses and workplaces are already open, construction has re-started, markets are crowded and parks are filling up. Soon, hotels, restaurants, malls, places of worship, schools and colleges will also reopen.
Singapore
is also very slowly starting to ease its lockdown. Schools resume classes for graduating years but students have to abide by strict social distancing rules both in class and around the school premises.
In
Latin America
however, the pandemic is still heading for its peak, the WHO warns. In Mexico, the death toll has just gone above 10,000 while Brazil has more than 500,000 confirmed infections. Despite warnings, several countries are beginning to reopen their economies.
Singapore to build more dorms for foreign workers
Andreas Illmer - Singapore
Singapore has South East Asia's highest number of confirmed infections, more than 35,000 cases.
Most of those are among the migrant worker population
- workers mainly from Bangladesh and India who are employed largely in construction and shipping, and are housed in often cramped dormitories.
Now, the government has announced it will build new dorms with improved conditions. Overall, there are more than 300,000 such workers in the small city state - who were all quarantined by the government - and by the end of the year, there's to be additional space for about 60,000 workers.
Authorities say with the new dorms in place, they'll be able to "decant workers from the existing dormitories and to undertake major upgrading to these".
Activist Alex Au of local NGO TWC2 says it's a good thing that some serious action is being taken but warns the new standards are still short of what they are advocating for.
"We must also be concerned that new dorms will not be built like internment camps the way current dorms are with barbed-wire fencing and strict controls over movement. Singapore needs to respect the human rights of migrant workers," Mr Lau told the BBC.
He also urges there should be more economic support for the workers who - unlike citizens - don't get subsidies for housing.
Quarantine rules and school return dominate UK papers
Plans to relax quarantine rules for people entering the UK and the return of some primary school pupils dominate the UK front pages on Tuesday.
Read more here.
The Telegraph says the 14-day quarantine plan - which it says will be brought before Parliament on Tuesday - has caused a revolt among Tory MPs, with tourism and aviation business leaders warning it will ruin their industry
The Guardian picks up on criticism of the plan, saying that under the rules those arriving in the UK will still be allowed to go food shopping and use public transport from airports during the quarantine period
The Daily Mirror suggests the socially distanced scene that awaited pupils at primary schools on Monday could be a glimpse of the "new normal"
The i newspaper reports the government is planning to run "beefed-up" school summer camps to help disadvantaged children catch up on the work they have missed
Tokyo virus cases surge
Japan's capital Tokyo has seen more than 30 new cases over the past day, authorities have said. It's the first time in almost three weeks that the number is that high.
Japan has just lifted a state of emergency after cases had been low for some time. But there's already been a new cluster in the southwest of the country, and there are fears the easing of restrictions could lead to a second wave.
Overall, Japan has recorded more than 16,000 infections and fewer than 1,000 deaths.
'India will get its growth back' - PM Modi
Strengthening India's economy while it battles coronavirus is a top priority, Prime Minister Narendra Modi told business leaders on Tuesday.
"We will definitely get our growth back. India will get its growth back," he told the Confederation of Indian Industry's annual session by video link.
More and more businesses are starting to open up
across India as it slowly exits one of the world's harshest lockdowns. Enforced in March, the strict curbs squeezed the economy as industries were shut overnight.
Starting from 8 June, restaurants, hotels, shopping centres and places of worship will be allowed to re-open in many areas in the first stage of a three-phase plan.
But areas with high numbers of Covid-19 cases will remain under tight lockdown. India has confirmed more than 190,000 infections and 5,598 deaths, according to data from the health ministry.
South Korea church clusters spark fear
Julie Yoon - BBC Korean service
In South Korea, cluster infections at small church gatherings are putting health authorities on edge ahead of tomorrow's further school reopening.
According to health authorities and local governments, at least 40 cases have been traced to small church gatherings in Incheon and Gyeonggi province this week.
The Central Disaster Management Headquarters said on Tuesday that 24 out of 30 participants at a local church in Incheon tested positive of the virus.
"Participants of the Bible study were in a small room, singing and praying without wearing masks while sitting close to each other," said Son Young-rae, a senior epidemiological strategist at the government's Central Disaster Management Headquarters. "And this has led to 73% of the participants being infected with the virus."
South Korea has had 11,541 confirmed cases of the virus and reported 272 deaths. It has slowed the spread from several hundred new daily infections in late February and early March to around 10 per day in late April.
However, the number of cases has jumped in recent weeks as the country began easing virus restrictions.
In effort to curb the spread of the virus, Incheon has banned gatherings at some 4,200 churches and other religious facilities.
What's the latest in the UK?
If you're just waking up and joining us in the UK, then good morning. Here are the latest headlines on the coronavirus pandemic.
Relaxing UK travel quarantine 'will depend on progress'
Any relaxation over the coming months of the UK's 14-day quarantine rule for people entering the country "will depend on progress", a government minister has said.
Housing minister Simon Clarke told BBC Breakfast the measure was a "temporary, time-limited matter", but said it was "absolutely vital...we do this as long as required".
He added that it was necessary to have the rule in place for now to avoid increasing the risk of a second spike "with new cases coming into the UK... [when] we are starting to get numbers coming down quite strongly in our own country".
Asked whether he had any summer holidays planned, Mr Clarke said he had been set to travel to Jersey in August but said, "I haven't got my bucket and spade out yet."
Meanwhile, former transport minister Stephen Hammond has called for the quarantine measure to be scrapped in favour of so-called air bridges between low-risk countries.
The Tory MP told BBC Radio 4's Today programme that air bridges would be a "sensible, targeted response".
Germany divided as states lift lockdown
Germany's handling of the pandemic has attracted international attention.
However its next move from lockdown has resulted in squabbling between regional leaders and the lifting of restrictions faster than Chancellor Angela Merkel would have liked, the BBC's Jenny Hill reports.
Unable to agree on a common strategy, the leaders of Germany's 16 states have instituted a patchwork of rules and regulations, with people in one state able to use the gym again while in another region, fitness centres remain closed.
It's fuelled an intense public debate about the "Lockerung" or relaxation policy, with many fearing Germany could squander its initial success.
Read more on Germany's lockdown debate here.
Japan reopens Imperial Palace park
As Japan eases its lockdown restrictions, Tokyo's Imperial Palace has reopened its grounds. People are allowed back into the park as of this Tuesday, but the number of visitors is limited to 50 each in the morning and afternoon.
Japan has managed to keep its coronavirus cases relatively low, although it's also been criticised for not doing enough testing. And since the state of emergency has been lifted, there have been a few regional spikes - the latest in Tokyo itself, which today reported its highest daily increase in about three weeks.
Indonesia cancels Haj pilgrimage
Indonesia has cancelled the Haj pilgrimage this year due to concerns over the spread of coronavirus.
Indonesia is the world's most populous Muslim-majority nation, and hundreds of thousands usually make the trip to Saudi Arabia, where Islam's two holiest sites - Mecca and Medina - are located.
Saudi authorities had already said the Haj and Umrah pilgrimages would remain suspended until further notice. Even if the suspension was lifted, Indonesia would not have had enough time to prepare,
local media reported.
The average wait time for the Haj is 20 years due to a quota system. The quota for Indonesians this year was more than 200,000.
In a television address, Indonesia's religious affairs minister Fachrul Razi said: "The government has now decided to cancel the Hajj trip for 2020. This is truly a difficult decision for us to make and we know many people are upset."
Indonesia has seen more than 1,600 confirmed deaths from coronavirus.
Wuhan doctor dies after months in intensive care
Robin Brant - BBC News, Shanghai
The lockdown is long over, the rail and roads re-opened weeks ago, Wuhan's tourist authority is back on social media encouraging people to come to the city. But Wuhan's doctors are still dying.
Dr Hu Weifeng was among the first to recognise and treat the new type of coronavirus that caused Covid-19. His demise was a long, slow and disfiguring one. Over the last four months Hu was treated in intensive care, and video showed him having dialysis and breathing through a tracheotomy.
At one point last month he was well enough to be released. But his condition reversed.
Pictures of his bespectacled face, dramatically darkened by his ill-health, were shared widely on social media.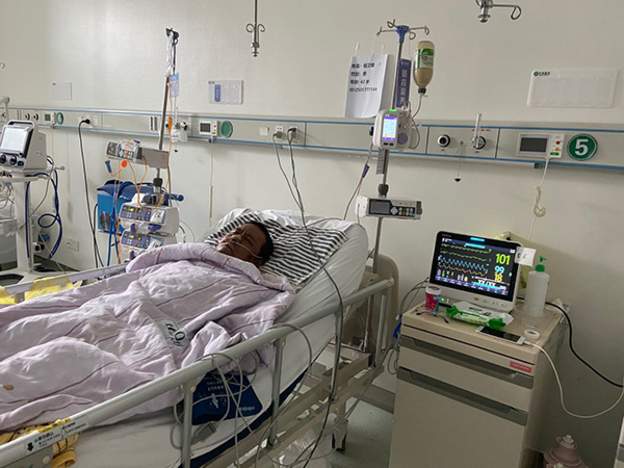 His death in the early hours of Tuesday morning, according to several reports in China's state run media, marks a grim conclusion. It's possible he is the last to die of a feted group: the doctors at Wuhan Central Hospital who contracted the disease after they started treated patients at the end of December.
Dr Hu is the sixth doctor at this hospital to die from illnesses caused by Covid-19. More than 230 staff there were also infected, according to official reported numbers.
Questions about why those at the tip of the spear at the Wuhan outbreak were not better protected, and why colleagues of Dr Hu's who raised concerns were punished by the local police, have been dealt with by China's propagandists.
The doctors who died before Hu are already official national heroes. Aged just 43 he is now likely to join them, posthumously.
First virus death confirmed in Bangladesh Rohingya camp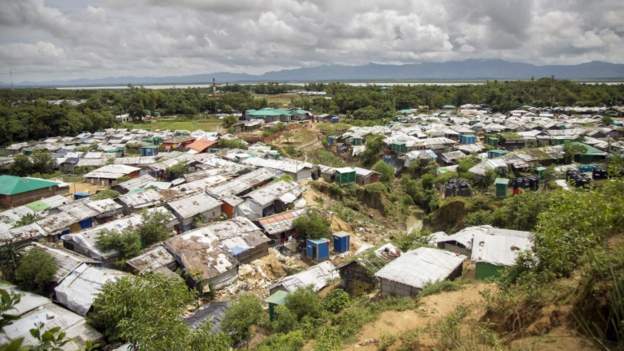 Officials in Bangladesh say a 71-year-old man has become the first Rohingya person living in the refugee camps in the south-east to die of coronavirus.
A health official said the victim died in an isolation centre run by the medical charity MSF. He was from Kutupalong, the largest of the camps, in Cox's Bazar district bordering Myanmar.
So far 31 Rohingya refugees have been confirmed to have coronavirus in the most densely populated refugee camp in the world.
Nearly a million Rohingya Muslims who fled violence in Myanmar are living in Bangladesh.
Lowest virus deaths in seven weeks in England and Wales - ONS
There were 2,589 deaths involving coronavirus in England and Wales registered in the week ending 22 May - the lowest weekly number recorded in the last seven weeks, according to the Office for National Statistics (ONS).
Some 12,288 deaths were registered in the nations during the same period - a drop of 2,285 from the previous week but still 2,348 more than the five-year average, the ONS said.
In total, the ONS said there have been 286,759 deaths to date in England and Wales this year - 51,466 more than the five-year average.
Lockdown latest from Europe
France becomes the latest European nation to further ease its lockdown. Here's the latest from Europe:


On Tuesday, France officially entered Phase 2 of its lockdown easing. Bars and restaurants reopen – though only the terraces in Paris - a 100km (62-mile) limit on travel has been lifted, and more schools are restarting classes

Russia has confirmed 8,863 new cases and 182 new deaths, bringing its total number of infections to 423,741. The capital Moscow began lifting its lockdown on Monday, but some say the decision was political

Czech Republic officials have announced a new traffic light system for travel. Europe is divided into green, amber and red countries with different movement restrictions. Sweden and the UK are both designated red for now

Montenegro is due to declare its epidemic over. Provided no new infections are reported overnight, it will have gone 28 days without any new cases

Italy marks National Day with muted celebrations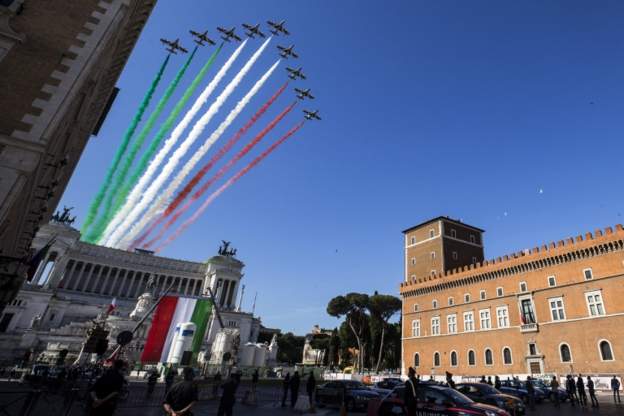 Italy is marking its National Day today with muted celebrations due to the coronavirus.
National Day marks the proclamation of the Italian Republic in 1946 and is usually celebrated with a parade. This year, smaller celebrations are taking place.
On Tuesday morning, Italy's Frecce Tricolori aerobatic display team conducted a fly-past over Rome.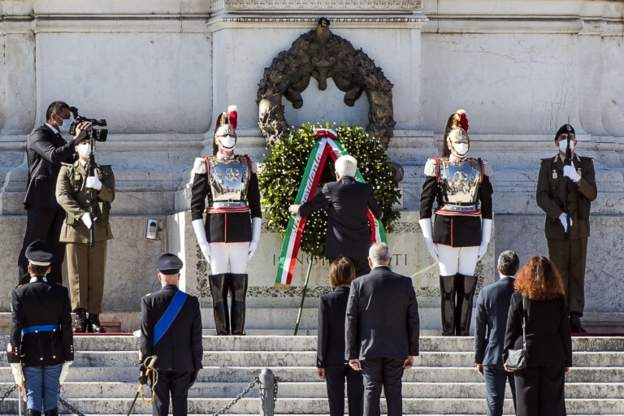 Italy's president and prime minister attended a ceremony in the capital where they laid flowers on the tomb of the unknown soldier. Images show people at the ceremony all wearing face masks.
President Sergio Mattarella said in a message that
the country has faced "unprecedented difficulties"
which still require "unity, responsibility and cohesion".
He added that Italy will have to "face the consequences for a long time".
More than 33,000 people have died from the virus in Italy.