Summary for Friday, 29th May


More than 200 schools across South Korea are forced to return to online teaching just days after being allowed back in classrooms

Most of the affected schools are in an area outside of Seoul which has seen a fresh outbreak of the virus

On Thursday South Korea reported 79 new cases within 24 hours - its highest number in two months

Japan has seen a new cluster of infections emerge in the south-west, just days after the PM lifted the state of emergency

Brazil reported a daily record of 26,417 new coronavirus cases on Thursday

Moscow more than doubled the official death toll from Covid-19 for the month of April

There are more than 5.8m cases globally and the death toll stands at 359,791, according to Johns Hopkins University

Welcome back to our rolling coverage of the pandemic. We will keep you posted on developments worldwide - moving through the day from our teams in Asia and Australia via Europe and Africa to the Americas.
Here's what you need to know this morning.


South Korea is reimposing some of its social-distancing measures in response to a recent uptick in new infections. Some schools are closing again while hundreds are delaying plans to reopen

Japan has seen a new cluster of infections just days after the country lifted the state of emergency

Russia has more than doubled the April death toll for the capital Moscow - the city now says 1,561 people died with the disease

Brazil has reported a new daily record of 26,417 infections

The number of Americans filing new unemployment benefit claims last week was over 2m for the 10th week in a row, with a recent total of over 40m

The UN has warned that global tourism may fall by 70% this year

Nearly six million people have tested positive for coronavirus worldwide, according to a tally by Johns Hopkins University. The global death toll has risen to over 359,000.

School's out again - for some - in South Korea
Laura Bicker - BBC News, Seoul
More than 200 schools have closed just days after they re-opened in South Korea after a spike in coronavirus cases.
Some 56 new cases of Covid-19 have been recorded in the past 24 hours, down from a two-month high yesterday of 79 - but the concern is that these infections are close to highly populated areas.
Most of the new cases are linked to a distribution centre in Bucheon, just west of Seoul. The warehouse is run by the country's biggest e-commerce firm, Coupang, and officials have said the facility was not strictly complying with infection control measures.
Health officials even discovered traces of Covid-19 on workers' shoes and clothes. They have managed to track, trace and test thousands of employees from the centre and there will be further checks on other distribution facilities across the country over the next two weeks.
The fear of infections has forced 251 schools in Bucheon to close after reopening, while hundreds of others have had their reopening delayed.
A student in Seoul, whose mother worked at the Coupang warehouse, was also found to have the virus. Health authorities have re-imposed some restrictions and called for a tighter social distancing campaign over the next two weeks.
Public parks and museums will be closed in Seoul and surrounding cities, businesses are being urged to encourage more flexible working, and people are once again being asked to avoid mass gatherings.
There has never been a lockdown in South Korea - instead the country relied on aggressive tracking and testing measures. Most of the social distancing measures are voluntary but the appeal to the public is an emotional one.
The message is - abide by these measures to let our children go to school and stop the disruption to their education. It's a plea that has worked in the past. Health officials will hope it works once more.
Japan sees new regional virus cluster
After Japan lifted its state of emergency, there has been a small rise in infections in the south of the country.
The city of Kitakyushu in Fukuoka has recorded 22 new infections since the weekend. The national government has sent a response team to prevent it from spreading.
Prime Minister Abe lifted the nationwide state of emergency - which allows governors to push for lockdown restrictions - on Monday, but the prefecture of Fukuoka had its state of emergency lifted on 14 May.
Singapore looks to set up 'travel bubbles'
Authorities in Singapore are considering setting up travel bubbles or "green lanes" with countries where Covid-19 is under control.
Singapore National Development Minister Lawrence Wong said they were in talks with several countries, though "some [are] at more advanced stages, some we're just starting".
He added that people would have to be tested before being allowed to travel."The idea is to have clear protocols that would include testing of travellers from one country to Singapore and vice versa....[then] we can have assurance that the traveller is free from infection and then essential travel can resume."
The key phrase, though, is essential travel - rather than "mass-market" travel or tourism.
"I think [mass-market travel] will take a lot longer to resume," Mr Wong said. "Not just in Singapore, but also internationally."
Moscow doubles April death toll
Moscow's authorities have more than doubled the official death toll
from Covid-19 in the Russian capital for the month of April.
The city's health department now says 1,561 people died from the disease - not 639 as initially announced.
The department stressed the new tally included even the most "controversial, debatable" cases.
Russia has had 380,000 confirmed infections - the world's third highest number behind the US and Brazil.
Despite this, Russia's official death toll is only 4,142.
Only one case left in New Zealand
...and the nation has reported no new cases for an entire week.
New Zealand has been hailed a world leader for its efforts to contain the virus - which included plunging into a full lockdown on 25 March when there were no deaths recorded and just over 100 cases.
The Kiwis have since recorded around 1,500 cases and 22 deaths. Last month, it announced it had effectively "won the battle" against community transmission.
As the country further eases restrictions - allowing 100 person gatherings from today - its focus is on potentially opening its borders in a "travel bubble" with Australia.
Experts working on the plans say the bubble could be in place by September.
Philippines to ease Manila lockdown
The Philippines will lift some lockdown measures in Manila, President Rodrigo Duterte has said. The capital region has been under one of the world's longest lockdowns, with restrictions beginning in mid-March.
Most businesses will be permitted to reopen on Monday and public transport will also partially resume. Schools, dine-in restaurants, and tourist spots will remain closed.
The announcement came despite health officials recording 539 new infections nationally, the highest daily toll since the outbreak began.
The country has had more than 15,000 confirmed cases and just under 1,000 deaths. Experts believe that due to limited testing, the actual number might be a lot higher.
Keep working from home, says Australian state
Ahead of a meeting between Australia's prime minister and state premiers, Victoria has ordered all workers who are currently working from home to continue doing so for all of June.
The second most-populous state (which includes Melbourne) has consistently enacted tougher lockdown rules than other states under the tight reins of Premier Daniel Andrews.
On Friday, Andrews said the order was designed to keep office workers off public transport as other restrictions ease. Restaurants and households can have bigger groups of people from next week, and transport data shows movement has increased by 23%.
In neighbouring New South Wales (which includes Sydney) - people have already begun to head into the office on a staggered basis.
Free fares and water for migrants after train deaths
India's Supreme Court has ruled that returning migrant workers should not be charged a train or bus fare - and that state governments must foot the bill.
It also said that Indian Railways will have to ensure that passengers are given food and water, after nine people died in hot carriages.
The court's order on Thursday came amid a rising backlash against the government's handling of one of the world's harshest lockdowns.
Announced with just hours' notice in March, it saw hundreds of thousands of migrants stranded in cities away from their homes when all transportation was halted.
Industries were shut overnight, which meant many lost their livelihoods, with no way of returning to their homes, often hundreds of miles away.
Earlier this month, the government started operating special trains for migrants wanting to get back home.
Local media reported that at least nine people aboard the trains had died this week amid levels of extreme heat. Officials say the majority of those who died had pre-existing health problems.
India's death toll passes China
More people have now died with Covid-19 in India than China, according to latest figures from India's health ministry.
The number of deaths has increased to 4,706
- in comparison, China has confirmed 4,638.
With more than 160,000 total infections, India's cases surpassed China's a few weeks ago.
While India's fourth stage of lockdown is close to an end, it remains unclear what to expect going forward.
Some experts say the outbreak hasn't peaked, and will do so only in June or July.
Rise in Germany's daily infections
Germany has recorded 741 new virus infections over the past day, taking the total to 180,458.
The number of deaths linked to Covid-19 rose by 39 to 8,450.
The number of new infections was almost double what it had been in recent days, while the deaths remained at roughly at the same level.
Like much of Europe, the country is currently easing lockdown restrictions - while keeping a nervous eye out for a possible resurgence of the virus.
African Union repeats debt relief call
BBC World Service
The chairman of the African Union, Cyril Ramaphosa, has said the pandemic is a major threat to developing countries' efforts to meet their development goals - which include targets on education, health and eradicating poverty.
Addressing a UN meeting, the South African president repeated a call for debts to be halted for a period of two years, and for debt relief.
Last month the G20 group of leading economies, including China,
offered to suspend debt repayments
from dozens of the world's poorest countries for the rest of the year.
Bollywood actor charters plane for stranded workers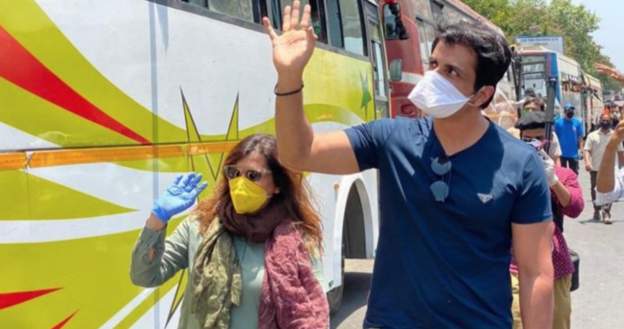 Sood has also arranged hundreds of buses to take stranded migrants home
Indian Bollywood actor Sonu Sood has chartered a flight to take home more than 170 women who were stranded in a factory in the southern state of Kerala after India announced its lockdown in March.
The sudden announcement by Prime Minister Narendra Modi earlier in the year left hundreds of thousands of migrant workers in the lurch, as they scrambled to find a way back home.
Many attempted to walk hundreds of miles. And some, walking under blistering heat with little access to food and water, died along the way.
The 177 women are aboard a flight from Cochin and will land in Bhubaneshwar on Friday morning.
They will be taken in buses to their homes from the airport. When the lockdown was enforced in March, these women were working in the factory - and they've been stuck there since, with limited food and water.
It is not the first time Sood has stepped in to help.
"It gave me sleepless nights when I saw visuals of people walking hundreds of kilometres to reach their villages," the actor told the BBC in an earlier interview.
'Don't go to church, it's a trap, you'll die'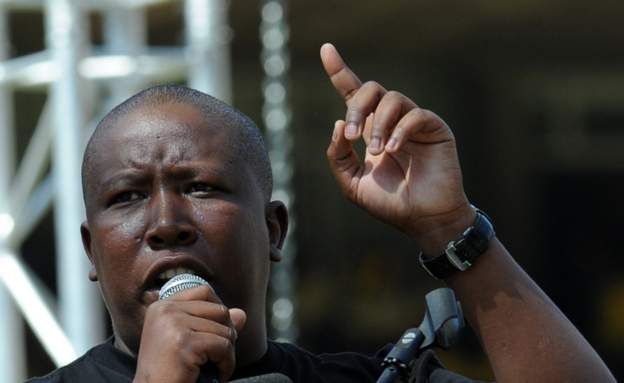 The opposition figure urged religious leaders not to reopen churches
South Africa's firebrand opposition politician Julius Malema has told South Africans not to fall for the "trap" of going to church - saying they will die after contracting coronavirus.
Malema urged religious leaders not to open churches if they care about the well-being of their people.
And he advised members of his Economic Freedom Fighters party not to attend worship, saying "it's a set-up".
Malema was speaking during a media briefing by the party.
English Premier League set to restart on 17 June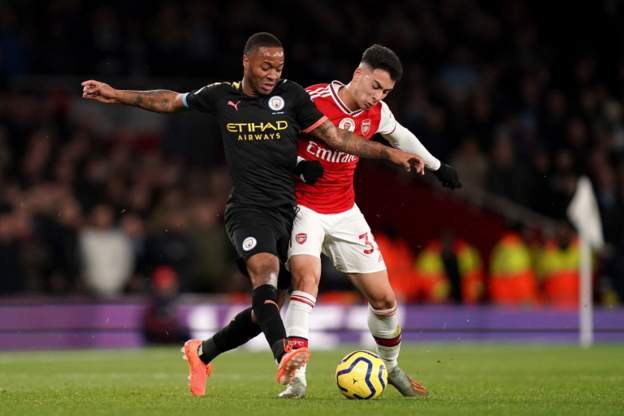 Manchester City were originally due to play Arsenal on 11 March but it was the first Premier League game to be postponed due to the pandemic
The Premier League is set to restart
on 17 June with Aston Villa v Sheffield United and Manchester City v Arsenal, subject to government approval.
A full round of fixtures would then be played on the weekend of 19-21 June.
All matches will take place behind closed doors and will be broadcast live on Sky Sports, BT Sport, BBC Sport or Amazon Prime.
BBC Sport will
air four live matches
for the first time since the Premier League's inception in 1992.
BBC to show live Premier League games for the first time
Four Premier League games
will be broadcast, free to air, live on BBC Sport
when the season resumes.
It is the first time since the league's inception in 1992 that games will be shown live by the BBC.
It was announced on Thursday that the league is set to
restart on 17 June,
subject to government approval.
"This opportunity creates an historic moment for the BBC and our audiences," the director of BBC Sport, Barbara Slater said.
As well as the four live games there will be additional Match of the Day highlights programmes.
Rugby team returns to Samoa after two and a half months
Imagine heading abroad for a game with your rugby team, and instead of flying back a few days later - you end up stuck for more than two months because the world just shut down.
That's what happened to the Manuma Samoa rugby sevens team, who played in Perth, Australia, on 14 March in the opening match of their Global Rapid Rugby season.
They lost the match, and on their way home, were stranded in New Zealand.
After weeks in lockdown, they are now headed home. And - after 14 days of quarantine in Samoa - the players will finally be allowed to return to their families.
"It's been a long couple of months for them...there's some pretty happy boys right now," said Seilala Mapusua of the Pacific Rugby Players association.
The latest news from the UK
If you're joining us from the UK, here are the latest stories this morning:
What's the latest sports news?
We reported earlier that the English Premier League is due to resume, with no fans present, on 17 June. Here's the rest of the sports news:


Italy's Serie A will return on 20 June, the country's sports minister Vincenzo Spadafora has confirmed. The league was suspended on 9 March but players returned to individual training earlier this month before group sessions restarted this week

The England and Wales Cricket Board has extended the shutdown on domestic cricket until at least 1 August. The season, due to start on 12 April, was postponed until 28 May and then 1 July. England are set to begin a three-Test series against West Indies on 8 July

The Boston Marathon has been cancelled for the first time in its 124-year history. The race had initially been postponed from 20 April to 14 September but Boston Mayor Marty Walsh said the race could not be held because of public health fears

Could there be a second wave?
Reality Check
As countries around the world consider when and how to ease restrictions, fears remain of a "second wave" of cases.
The BBC's Reality Check looks back at the best ways to avoid that second - or even third - wave.
What are the new lockdown measures in the UK?
The UK lockdown is starting to be eased after more than two months of restrictions.
Decisions on relaxing the lockdown are the responsibility of each national government, so the new rules are slightly different in England, Scotland, Wales and Northern Ireland.


From Monday in England, you will be able to meet up to six people from different households outside - either in parks or now also in private gardens - as long as you remain 2m (6ft) apart



From today in Scotland, members of two different households will be allowed to meet up outdoors if maintaining social distancing. Groups cannot be bigger than eight, and people are "strongly recommended" not to meet more than one other household per day

In Wales, the BBC understands that people from two different households will be able to meet each other outdoors from Monday

Groups of four to six people who are not in the same household can meet outdoors in Northern Ireland, although outdoor weddings with 10 people present may be allowed from 8 June

Read our explainer to find out more about the new rules.
Croatia reopens its borders to 10 countries
Croatia has reopened its borders to 10 countries including many of its key tourism markets, such as Austria, Germany and the Czech Republic.
But any visitors will need to show a negative test for Covid-19 in order to enter.
Croatia has recorded around 100 deaths from coronavirus, and it responded quickly to the outbreak.
The Institute of Public Health published guidelines even before the arrival of a busload of tourists from Wuhan, China, in late January.
But the pandemic has hit the country's vital tourism industry hard. Salvaging the summer tourism season is likely to be a top priority for the government.
People from the following countries will be permitted to enter without restrictions from Friday: Hungary, Austria, the Czech Republic, Slovakia, Estonia, Latvia, Lithuania, Poland, and Germany.
Australia 'on track' two weeks out of lockdown
It's been a fortnight since Prime Minister Scott Morrison gave the go-ahead to start easing Australia out of lockdown - and so far, things are going according to plan.
Health officials say the nation has only two patients on ventilators, is finding fewer than 20 infections per day from 30,000 tests, and "is in good shape" overall.
"We may see more cases as we relax restrictions but our aim is to make sure that outbreaks are small and controlled," said chief medical officer Dr Brendan Murphy.
With businesses open and public life slowly getting back to normal, there are concerns about public transport. Australia has never advised people to wear a mask in public (initially to protect supplies for health workers) - and says that advice will continue.
While people can wear them, there's no need, Dr Murphy said.
PM Morrison also reiterated interest in opening leisure travel with New Zealand in the near future - and said that travel could even occur sooner than that between Australian states.
Queensland, Western Australia and others have refused to open their borders - despite federal pressure.
Labour: Government breaking test and trace promise
Labour has accused the government of not having a full test and trace system up and running by June as promised.
"We don't have, for example, the local authority plans all around the country. And the app which was said to be so important is now being described as a cherry on top of the cake rather than something that's central," shadow home secretary Nick Thomas-Symonds told BBC Radio 4's Today programme.
England's
test and trace system launched on Thursday
but a planned contact tracing app is not yet ready to be rolled out across the country.
UK sees almost no car manufacturing in April
British car manufacturing nearly came to a halt in April,
down 99.7% on the same month last year.
It was the lowest output since the Second World War, according to industry body the Society of Motor Manufacturers and Traders (SMMT).
Just 197 premium and luxury sports vehicles rolled off factory lines, with 45 of those sent to UK customers.
Instead, some plants rejigged to make 711,495 items of personal protective equipment for health workers.
The loss of 400,000 cars that would normally have been made is expected to cost the British car industry up to £12.5bn in revenues.
New South Korea outbreaks a 'crisis situation'
A cluster of new outbreaks in the South Korean capital, Seoul, has been described as a "crisis situation" by health officials.
Most of the new infections are linked to a distribution centre in Bucheon, just west of the city. Traces of Covid-19 have been found on the shoes and clothes of workers at the centre.
At least 56 new cases of Covid-19 have been recorded in the last 24 hours, down from a two-month high yesterday of 79.
But the concern among health officials is that these infections are close to highly populated areas.
The latest global headlines
if you're just joining our live coverage, good morning. Here are the latest coronavirus headlines from around the world:


Hundreds of schools in South Korea have closed due to a spike in infections, just days after they reopened to millions of children. Most of the new cases are in Seoul. It comes after officials reported the highest daily rise in new infections in more than two months

Brazil, which is at the centre of the Latin American outbreak, has also reported a surge in new cases. It said a record number of infections - more than 26,400 - had been confirmed over the past 24 hours

In Lebanon, the security forces will begin issuing fines to anyone caught in public without a face mask. Passengers on public transport risk a fine of around $16 (£13) if they do not wear one

Croatia, which has been quick to limit the spread of the virus, reopened its borders to 10 European Union countries, including Austria, Germany and the Czech Republic. It is hoping to salvage its vital tourism sector

The number of Americans filing new unemployment benefit claims last week was more than two million for the 10th week in a row, bringing the recent total to a record 40m

Nearly six million people have tested positive for coronavirus worldwide, according to a tally by Johns Hopkins University. The global death toll has risen to more than 359,000.

Steps to ease lockdown in England are 'cautious' - minister
From Monday, groups of up to six people from different households
will be able to meet outside in England
, as the lockdown begins to ease across the UK.
Appearing on BBC Breakfast, Environment Minister George Eustice was asked about concerns that it was too soon to take the step and could lead to more cases.
Eustice said the government's objective was to keep the
R number
- the number of people that one infected person will pass the virus on to - below one. If the R number is higher than one, then the number of cases increases exponentially.
He said the R rate was currently "close to one and that's why we are being very cautious in the steps we are taking".
He said that the risk of transmission outdoors was "much lower" than indoors and you have to be in close contact - at a distance of less than two metres for more than around 15 minutes - for there to be a likelihood of transmission.