Summary for Monday, 25th May


The US has imposed travel restrictions on foreign nationals who have been in Brazil in the last 14 days

Cases have grown exponentially in Brazil and it now has the second highest number of cases globally

Brazil's President Jair Bolsonaro has repeatedly downplayed the risks posed by the virus

Meanwhile the US is nearing the milestone of 100,000 deaths - it already has more than 1.6m cases

In the UK, a political row is intensifying as PM Boris Johnson defends a key aide who travelled during lockdown

Japanese PM Shinzo Abe could lift restrictions on Tokyo and other regions as early as Monday as the virus spread slows

Austria's president has apologised for breaking coronavirus rules by staying at a restaurant for longer than allowed

New Zealanders will be able to gather in groups of up to 100 as of Friday

India is resuming domestic flights on Monday after two months of shutdown

Welcome back to our rolling coverage of the pandemic. With our bureaus and correspondents around the globe we will keep you up to date on all developments worldwide.
Here's what you need to know so far.


The United States has suspended travel from Brazil - which is the world's second largest hotspot for virus cases after the US

Brazil has more than 360,000 confirmed infections and 22,666 deaths - and infections continue to rise steeply

India wants to resume domestic flights on Monday after a two-month lockdown, but three states want to delay after virus cases jumped

The president of South Africa has warned that the country's coronavirus outbreak is going to get much worse , while announcing that lockdown measures are to be eased

Spain says its football league will resume in June, and it will open its borders to tourists in July

In the UK, Prime Minister Boris Johnson has backed his key adviser Dominic Cummings , amid a row over the aide's lockdown travel

Worldwide, there have now been 5.4 million confirmed infections , with 344,997 deaths

US bans entry from Brazil
The United States has suspended travel from Brazil, which has emerged as the world's second largest virus hotspot.
The White House said non-Americans who had been in Brazil in the two weeks prior to requesting entry would be barred. The restrictions will not apply to trade.
The US has already banned foreign nationals arriving from a number of other countries including China, Iran and European countries.
Brazil registered 653 new coronavirus deaths on Sunday, taking the total to 22,666.
The number of confirmed infections jumped by 15,813 to 363,211 - second only to the US tally of more than 1.6 million infections and almost 100,000 deaths.
China-US blame game continues
Tensions between Beijing and Washington continue to rise. Over the weekend,
China's foreign minister accused the US
of spreading "conspiracies and lies" about the pandemic.
The US has been infected by a "political virus" that compels some politicians to repeatedly attack China, Wang Yi told reporters on Sunday.
He urged the US to "stop wasting time and stop wasting precious lives" in its response to the Covid-19 outbreak.
US President Donald Trump has repeatedly accused China of trying to cover up the outbreak, and of failing to warn the world in time.
Chile's healthcare 'very close to the limit'
Covid-19 patients have been moved from the capital to relieve strain on intensive care units there
The coronavirus pandemic has pushed Chile's healthcare system "very close to the limit", according to President Sebastián Piñera.
"We are very conscious of the fact that the health system is under a lot of pressure," he said on Sunday.
Almost 70,000 cases of the virus have been recorded in Chile and more than 700 people have died.
The capital Santiago, which is under a strict lockdown, is at the centre of the country's outbreak.
Fighting coronavirus with the cross
With the cross in one hand, and alcohol spray in the other, a group of Catholic priests in Manila have been risking their health to serve their poverty-stricken community.
The Philippines' capital has been under police and army-enforced lockdown for months - but hundreds of new cases are recorded daily and testing for the virus remains limited.
Zero local transmissions in China
China reported 11 new confirmed virus cases in the mainland by the end of Sunday - that's up from three a day earlier.
The National Health Commission said all of the new infections were imported cases.
There also were 40 new asymptomatic cases - China counts patients who are infected but do not show symptoms separately.
According to the tally kept by the Johns Hopkins University,
China's overall number now stands at 84,095
with 79,342 of those already recovered.
The death toll remains unchanged at 4,638.
Creative solutions to social distancing
With lockdown easing in certain countries - restaurants, parks and places of worship are using creative solutions to ensure social distancing.
We've put together a little picture gallery in a separate story
, but here's a little glimpse.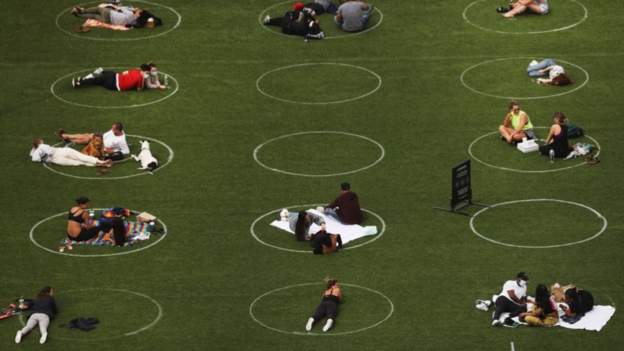 People sit in circles designed to encourage social distancing as they relax in Domino Park along the East River in Brooklyn, New York City, USA
People have lunch at the Penguin Eat Shabu restaurant in Bangkok, Thailand. The plastic barriers ensure social distancing between diners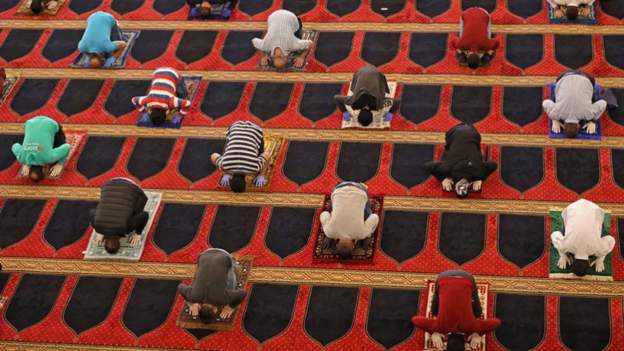 Worshippers take part in Friday prayers, while keeping a safe distance from each other, at the Mohammed Al-Amin Mosque in Beirut, Lebanon
School's back in Australia's biggest state
Much excitement in Sydney school yards this morning, as children walked back in. Finally - a chance to see their friends in real life!
New South Wales, Australia's most populous state, has ordered all children back to school, in one of the biggest signs of normal life resuming. But in other states such as Victoria and Queensland, students are still being phased back in (i.e. attendance on specific days).
In NSW, some parents are apprehensive about risks - while others are relieved to be free of home-schooling duties.
Education officials say they won't be able to maintain social distancing in classrooms - 1.5m (4.9ft) has been the standard in Australia.
But there are new rules in place: no lunch swaps, no use of communal water fountains, no assemblies or excursions, and no extra-curriculars like orchestra or swim team.
Parents have also been urged to drive or walk their children to school if they can. to minimise the use of public transport. Usually around 110,000 students catch a bus or train to school in Sydney every day.
Ugly truths raise their heads in Bolsonaro's Brazil
Katy Watson - BBC South America correspondent
Bolsonaro waving to a crowd of supporters on Sunday
The rising death toll and infections in Brazil are worrying many Brazilians - but President Jair Bolsonaro shows no signs of treating it seriously.
On Sunday, he was out once again, mingling with hundreds of supporters in Brasilia - and once again he was not wearing a mask.
Bolsonaro seems more caught up in fighting political battles - he's facing accusations of political interference to protect his family - than looking at how to rein in the country's spiralling health crisis.
The past few days have revealed some ugly truths. Not only has Brazil become one of the epicentres of the virus crisis, but it's clear the president and his team are unable - or even willing - to lead the country out of it.
And now
President Donald Trump is barring foreign nationals who have been to Brazil
from entering the US, amid fears they could bring more cases of the virus.
This decision, from a man whom Bolsonaro has always openly admired, will sting.
But the question is, will it do anything to change the Brazilian leader's approach?
US deaths approach 100,000 mark
The United States' death toll has risen by 638 over the past 24 hours,
according to data from the Johns Hopkins University
, to a total of almost 98,000.
Earlier this month, US President Donald Trump warned that as many as 100,000 people could die - but suggested it would not be much more.
"We're going to lose anywhere from 75, 80 to 100,000 people. That's a horrible thing," he said on 4 May.
In March, he said keeping deaths below 100,000 would be a "very good job".
In a tweet on Sunday, Trump expressed optimism the numbers would continue to go down.
States across the US have already begun to ease their various levels of lockdown.
Donald J. Trump:

Cases, numbers and deaths are going down all over the Country!

15:31 - 24 May 2020
Say 'agh!': Journalists tested at China's congress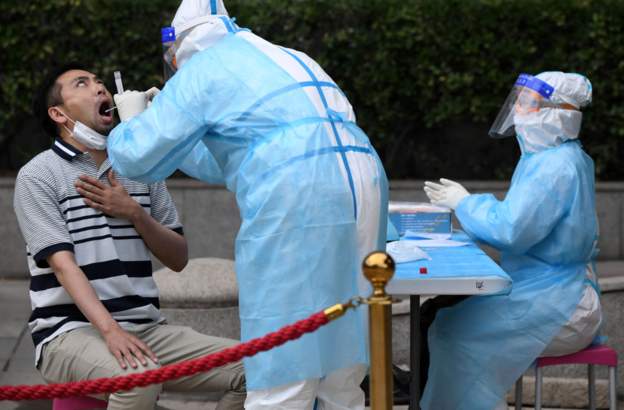 The annual National People's Congress, which began last week in Beijing, is China's biggest political event.
It was delayed this year because of the outbreak, and journalists covering the event - such as this one photographed this morning - must be tested for Covid-19 before getting access.
Read more about
this year's NPC here.
Mexican president warns of 1m job losses
Mexican President Andres Manuel Lopez Obrador has said up to a million jobs could be lost in the country, as many non-essential businesses remain closed.
"My prediction is that with coronavirus, a million jobs will be lost, but we will create two million new jobs," he said.
Mexico has more than 68,000 confirmed coronavirus cases, according to Johns Hopkins University, while 7,394 people have died.
South Korea sends masks to Koreans adopted overseas
This Monday, South Korea will begin sending face masks to Koreans adopted overseas.
The country's foreign ministry on Sunday said that some 370,000 masks would be sent, 60% of which will go to the United States.
Of the 167,000 Koreans adopted overseas, around two-thirds live in the US while other countries include France, Denmark, Sweden and Australia.
South Korea was one of the first virus hotspots after China, but has managed to bring down infections by extensive testing and social distancing.
India resumes domestic flights as cases rise
After two months, India will resume domestic flights on Monday as the lockdown rules ease - even as cases continue to surge ahead.
The "new normal" also means new rules for flyers - passengers will have to download a government contact-tracing app and will also be subject to thermal screening.
Some states like Assam and Uttar Pradesh have said that passengers will need to be quarantined on arrival.
Others, like Punjab and Karnataka, have announced varying degrees of quarantine, such as a mix between institutional and at-home quarantine. Delhi has said it will not quarantine asymptomatic travellers.
Among those to take the first flights on Monday were paramilitary personnel, students and migrant workers, reported PTI news agency.
The move is expected to bring relief to the country's aviation sector, which has been struggling to stay afloat.
But there is concern over rising cases - with more than 6,000 cases reported on Sunday, India has had nearly 130,000 infections, and 3,867 deaths.
Restrictions to ease in Barcelona and Madrid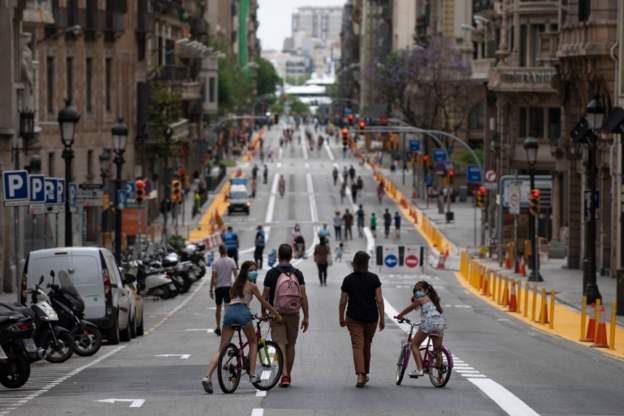 Spain will begin lifting lockdown measures in Madrid and Barcelona from Monday.
Under the new rules, people will be able to meet in groups of up to 10, parks will reopen and some museums will allow limited numbers of visitors. People must continue to wear face masks in public and in buildings where distancing is impossible.
Other parts of the country which were less badly affected by the outbreak have already eased restrictions.
Spain's lockdown was one of the strictest in the world. The country has the fourth highest death toll, with more than 28,700 fatalities.
Australia bushfire inquiry begins under virus shadow
Can you believe that
Australia's devastating bushfires
were only a few months ago?
The nation's royal commission inquiry into the "Black Summer" has kicked off today, with climate and weather experts the first to testify.
As we've reported, fire-hit areas are still struggling to recover
and the commission said the ongoing effects of the fires were "being further compounded" by the virus.
Experts have already predicted the natural disaster will be marked as Australia's most damaging on record.
At least 34 people died, 2,800 homes were destroyed and 18.6 million hectares of land (the size of England and Scotland) were burnt.
Free beer in the Czech Republic
Over the past few weeks, many of us likely missed getting a decent pint in the pub down the road.
But if you're in the Czech Republic, today's the day!
Bars and restaurants will be able to reopen their indoor premises this Monday.
It gets better though: the largest brewery in the country is using the day for a big PR stunt.
Every customer who orders a beer in any pub serving Pilsner Urquell on tap will receive a second one for free, Czech media are reporting.
Yep, the mere thought of it makes us just as thirsty as you right now...
New Zealand to allow gatherings of 100
From noon on Friday, New Zealanders will be able to attend gatherings of up to 100 people, Prime Minister Jacinda Ardern has announced.
The decision means that religious services will be able to resume and limits on attendees at funerals will no longer apply.
Hospitality venues will still be required to follow social distancing measures, however.
In April, the prime minister said coronavirus was "currently" eliminated in New Zealand and the country began lifting its restrictions.
Death and despair as Covid migrants flee cities
India's strict lockdown meant most factories and businesses shut down, rendering millions jobless.
With no prospect of income, many of those people took long journeys back to their villages. Some managed to get transport, but those who couldn't, walked hundreds of miles.
Some of them never made it home. Watch our full report here.
Bollywood actor hailed for helping stranded migrants
Geeta Pandey - BBC News, Delhi
Bollywood actor Sonu Sood, who made his career by playing a villain, is being hailed as a real-life hero in India.
Sood has been helping thousands of migrant workers, stranded by the Covid-19 lockdown in Mumbai, return home.
"It gave me sleepless nights when I saw visuals of people walking hundreds of kilometres to reach their villages," the actor told the BBC.
"Today we are distributing food and groceries every day to 45,000 people in slums, those stranded on the roads and those walking on the highways," he added.
And since 11 May, he has arranged hundreds of buses to take stranded migrants home.
Australia curve nearly flat for five weeks
Australia - one of the world leaders in containing the virus - says its flat virus curve has been successfully sustained.
The growth rate of new cases has now been under 0.5% for five consecutive weeks.
"That's an extraordinary national achievement and I want to say to Australians, thank you," Health Minister Greg Hunt said.
Only six new cases were reported today - adding to the total of around 7,000. Some 101 people have died.
The nation has re-opened restaurants and schools and aims to have most lockdown measures removed by July.
UK lockdown easing overshadowed by aide row
Plans in the UK to ease the lockdown
are being overshadowed by claims that an aide to Prime Minister Boris Johnson broke the lockdown rules
.
In March, Dominic Cummings drove 260 miles from London so his parents could help with childcare - Cummings' wife and later Cummings himself both had to self-isolate with virus symptoms.
He also later drove around 30 miles from his temporary home in County Durham, apparently after his 14-day self-isolation.
Boris Johnson has defended his top aide, insisting he acted "responsibly, legally and with integrity".
The prime minister is this week expected to set out details of plans to lift restrictions. At a news conference on Sunday, he already confirmed the
phased reopening of England's primary schools will begin on 1 June
.
'Johnson failed to close down Cummings story'
Laura Kuenssberg - Political editor
If Boris Johnson's decision to appear at Sunday's press conference was an attempt to close down the story about Dominic Cummings' behaviour during the lockdown by handling it himself, it failed completely.
It certainly was not an attempt to give the public the full information.
Instead the prime minister refused to answer the questions that remain about the specifics of his adviser's visit - or visits - to the north-east of England, while his team was telling the public again and again and again that they had to "stay at home".
Fiji Airways lays off 51% of staff
Fiji Airways laid off more than half its workforce on Monday, some 758 people, as travel restrictions cut the airline's revenue to "virtually zero".
The remaining staff will have their salaries cut by 20% starting in June, and the airline will extend flight cuts to August.
Fiji Airways depends heavily on tourism, particularly from neighbouring Australia and New Zealand, but has seen virtually all flights suspended.
"The sad reality of prolonged flight suspensions means that we simply do not have work for a large segment of our workforce now, and for the foreseeable future," airline boss Andre Viljoen said.
The country has only 18 cases of Covid-19, no deaths and no new cases reported in over a month.
Huddersfield owner: '50 or 60' clubs could go bust
The English football pyramid will be destroyed - unless the game starts to plan for the financial impact of Covid-19 beyond the 2019-20 season, says Phil Hodgkinson, the owner of Championship club Huddersfield.
Hodgkinson thinks as many as "50 or 60" clubs could go out of business. He is also looking at a "worst-case scenario" of no fans allowed in stadiums for the 2020-21 season.
"The problem is not whether we finish [this] season or not, it is what happens after that,"
he told BBC Sport.
"If we don't come to an agreement there will be no football pyramid. There are clubs I know of that are only still trading because they are deferring wages and [tax] and other creditors. They will need paying at some point."
Germany has 289 new cases and 10 new deaths
Germany has reported another 289 new infections and ten deaths. The figures on Monday are usually somewhat lower due to delayed reporting over the weekend.
But since the gradual lifting of Germany's lockdown, there has been no uptick in infections or deaths. Although, parallel to the easing of some restrictions, other measures like mandatory face masks have come in.
Of all of Germany's cases, 52% were female and 48% were male. Only 2% were children under 10. Germany's widespread testing means that many with very mild or no symptoms are included in the data.
If broken down by cases per 100,000 people in each age group (see below), people above 80 are by far the ones most at risk of infection,
data from Germany's Robert Koch Institute shows
The baby left stranded by coronavirus
Soutik Biswas - India Correspondent
The first-time parents were driving through India's winding, empty highways to see their newborn child.
It was the middle of April, and the country was in the throes of the world's harshest lockdown to prevent the spread of coronavirus.
At checkpoints, policemen halted the couple, examined their papers and asked why they were on the road.
"We are going to see our first-born infant," they replied.
What's the latest sports news?


The UK government has published new guidelines for elite athletes returning to contact training - when individual sports deem it safe to do so. Contact training is phase two in a three-stage plan, with the final phase - the resumption of sport behind closed doors - expected to begin in June.

Football's Premier League, whose clubs returned to 'phase one' non-contact training on 19 May, will discuss the guidance at a meeting on Wednesday.

Tiger Woods and Peyton Manning beat Phil Mickelson and Tom Brady in a charity golf match which raised $20m (£16.4m) for relief efforts in the US. The event was played between four of America's biggest sports stars at a rainy Medalist Golf Club in Florida - Woods' home course.

Cummings lockdown row: 'this is a health crisis not a political crisis'
Professor of Health Psychology at University College London, Robert West, says the "principle of equity" is important when responding to allegations that Dominic Cummings, the UK prime minister's most senior adviser, breached lockdown rules.
Speaking to the BBC's Radio 4's Today programme, Prof West said: "This is a political crisis for the government, but for the country it is a health crisis."
He suggested that in defending his top aide, the prime minister seemed to be "blurring the boundaries".
He said: "Another very important principle with this kind of behaviour change is that the rules have to have clear boundaries, and it has to be very clear what's in and what's out because as soon as it starts to get leaky, then people start to say 'well then, okay I'm sure I must be in this exceptional case'".
He acknowledged that in such a "complex" situation like this, obviously some exceptions applies - for example, allowing people in abusive relationships who may need to seek refuge to leave their home.
However, he says that "many many others" found themselves in a similar situation to Dominic Cummings' during lockdown "and felt that they had to do something different, they had to obey the rules".
What's the latest from South Asia?


Pakistan's Prime Minister Imran Khan urged citizens to follow social distancing guidelines as the country marked Eid on Sunday. Eid congregations were held in open places and mosques across major cities and towns - while maintaining guidelines, local media reported. Pakistan has more than 54,000 infections and 1,167 deaths

Bangladesh reported its biggest spike in daily deaths as 28 people with Covid-19 died on Sunday, taking the total toll to 480

In Sri Lanka, restrictions will be eased starting Tuesday, including the curfew being lifted during the day

And Nepal saw a jump in cases on Sunday, as 19 new infections took the total tally to more than 600

Cummings lockdown row: Key dates

On Sunday, UK Prime Minister Boris Johnson offered his full support to his most senior adviser, Dominic Cummings, after he was accused of breaking lockdown rules.Cummings and his wife travelled to County Durham from London to self-isolate with coronavirus symptoms.Johnson said Cummings had "no alternative" but to make the journey, as he and his ill wife needed childcare help.Here is what we know so far about the timeline:.



23 March: Johnson tells the UK public they "must stay at home". People [url=https://www.bbc.co.uk/news/live/world-52000039?ns_mchannel=social&ns_source=twitter&ns_campaign=bbc_live&ns_linkname=5e791d5e30e3eb065b48e2aa%26What was just announced%3f%262020-03-23t20%3a37%3a51.944z&ns_fee=0&pinned_post_locator=urn:asset:8ed89e83-a25c-402a-898c-9826a92b06f5&pinned_post_asset_id=5e791d5e30e3eb065b48e2aa&pinned_post_type=share]are warned[/url] not to meet friends or family members they do not live with

27 March: Cummings is seen leaving No 10 Downing Street




30 March: Downing Street says Cummings is self-isolating with coronavirus symptoms

31 March: Police in Durham are "made aware of reports that an individual had travelled from London to Durham and was present at an address in the city". Officers "made contact with the owners of that address". It is understood Cummings travelled there between 27 and 31 March

12 April: Cummings visited Barnard Castle, 30 miles from his parents' home in Durham, according to The Observer and Mirror newspapers. On Sunday, Johnson said he was assured Cummings behaved responsibly and legally either side of his 14-day self-isolation

14 April: Cummings photographed at Downing Street for the first time since 27 March

Greece reopens islands to visitors
A domestic ban on travelling to Greek islands was lifted on Monday, as the country seeks to reboot its struggling tourist industry after weeks of coronavirus lockdown.
Ferries have resumed to islands that have been off limits since the Greek government imposed restrictions to contain the spread of Covid-19 in March.
Greece has been praised for its handling of the pandemic, recording 171 coronavirus-related deaths and 2,878 confirmed cases.
Last week,
Greek Prime Minister Kyriakos Mitsotakis said the country would open up to international tourism from 15 June
, earlier than originally planned.
He said most flights to Greece would resume by 1 July, when seasonal hotels will reopen and a two-week quarantine for foreigners will no longer be in force.
But tourists from countries with high infection rates won't initially be allowed to visit.
Greece's tourism industry is vital to the country's economy, accounting for about a quarter of the country's GDP.
'Targeted testing a must' - deputy chief of NHS providers
Saffron Cordary, CEO of NHS providers, says it is "imperative" that the NHS gets back up and running again for routine operations, as the health service continues to face a backlog due to Covid-19.
But, speaking on BBC Radio 4's Today programme, she said it will be very different to the service people are used to as securing sufficient levels of Personal Protective Equipment (PPE) is still a challenge.
"We need that sustainable supply in place, and really effective testing of NHS staff and patients," she said.
"We also need all of that support around the NHS, like adequate social care so we can make sure that we can look after people once they have had that treatment."
Ms Cordary went on to stress that it is "not just about the numbers," but about "having targeted testing.
"We need to make sure we have the test and trace in place so that we can contain local outbreaks and that's really important.
"We also need rapid turnaround testing for staff and patients and that could mean anything like 140,000 tests happening each day just to manage the NHS demand for testing," she added.
She said without this, the NHS cannot ensure staff safety.
Cummings controversy: NHS doctor 'wouldn't have dreamed' of travelling with child
NHS doctor Claire Redmond told BBC's Radio 4's Today programme that when her husband - a fellow NHS worker - developed symptoms, they immediately went into self-isolation with their three children.
Dr Redmond said her husband tested positive in April and was eventually hospitalised.
"I suppose the concern is that we went to great lengths to [self-isolate]... and I don't think I would have dreamed of travelling the length of the country in order to try and sort out some child care."
She said when she started to develop symptoms she contacted her sister who lives "a good couple of hours away" and they both decided that should Dr Redmond become incapacitated, her sister would come and collect the children.
However, she said she still didn't feel comfortable with this option.
"I didn't want that to happen at all because I didn't want to risk passing on this virus to anybody else," said Dr Redmond.
"I haven't felt reassured that the MPs and Boris Johnson have really explained that they understand - or that Dominic Cummings actually did consider all possible alternatives before they travelled."
Japan to end state of emergency
The Japanese government is expected to lift its nationwide state of emergency on Monday, ending restrictions on the economy as coronavirus cases taper off.
The government's advisory panel has approved the plan, paving the way for measures to be eased in the capital, Tokyo, and other areas still under the order.
"There is no longer a need for a state of emergency in any part of the country," Japan's economy minister Yasutoshi Nishimura said.
Japan's Prime Minister Shinzo Abe is expected to announce the decision at a news conference on Monday at 18:00 local time (09:00 GMT).
Unlike other major economies, Japan has endured a relatively limited outbreak of Covid-19, recording 820 coronavirus-related deaths and 16,550 infections as of Monday.
Initially, Japan was criticised for its handling of the pandemic, prompting the prime minister to declare a state of emergency in metropolitan areas on 7 April, later expanding it nationwide.
But, given Japan's leaders have no legal power to enforce a lockdown, the country's success in controlling the spread of the virus since then has puzzled disease experts.
It is not yet clear why the nation with the world's oldest population has managed to keep virus cases low in comparison to other countries.