Not One Day More protest: Thousands descend on central London for march against Theresa May
Thousands of protestors have gathered outside BBC Broadcasting House in central London for a rally against the Conservative government.

More than 10,000 people are taking part in the 'Not One Day More' protest, which has seen activists march to Parliament Square this afternoon.

Pictures from the scene showed crowds accumulating in Portland Square, waving placards with slogans including "Austerity kills" and "Kick the Tories out".

Labour

 figures including John McDonnell and Diane Abbott as well as Unite union boss Len McCluskey and writer Owen Jones were among the speakers at the "Tories Out" demonstration.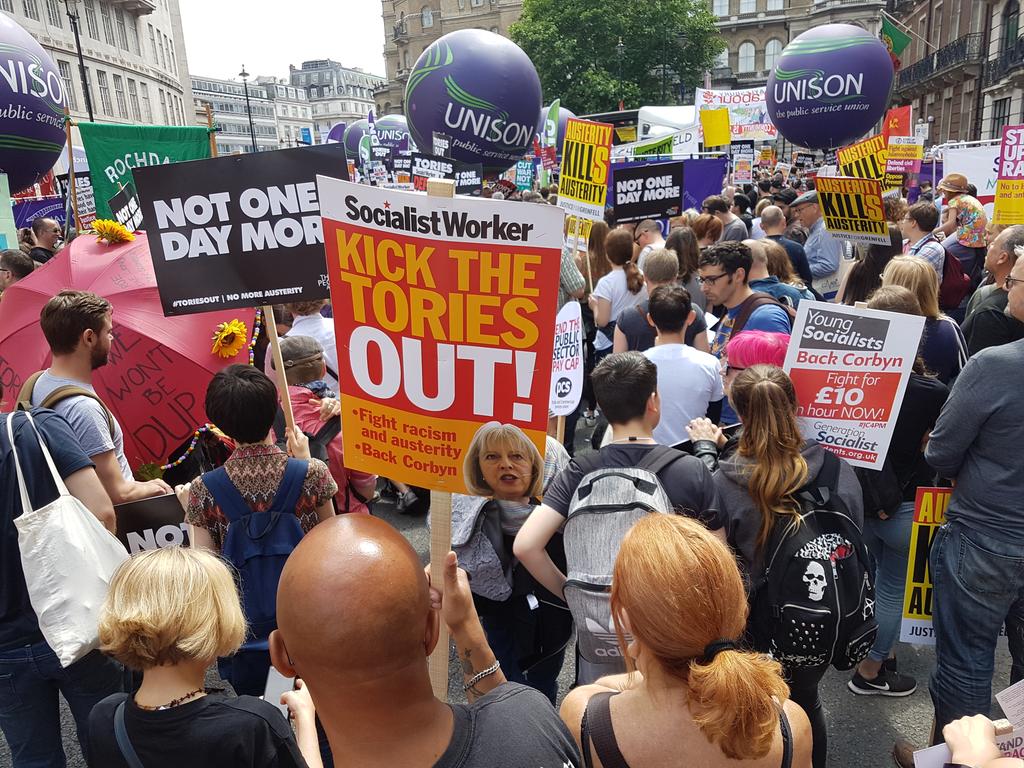 Activists were seen marching in their masses through central London on Saturday afternoon, making their way down Regents Street and through Trafalgar Square.
A number wore t-shirts with Corbyn and a tick printed on them and one banner featured the Labour leader riding on a unicorn under a rainbow.
Many carried banners saying Tories Out, with one reading "No DUP, No sanctions, No more while another said Capitalism Kills. Organise To Fight Back. Justice For Grenfell. Safety For All."
Many attendees took to Twitter to praise the "fantastic carnival atmosphere", with the crowd repeatedly taking up the chant of "oh Jeremy Corbyn" and "Tories out".
The march's organisers, an anti-austerity campaign group The People's Assembly, said they "need to make sure" the opposition to Theresa May's Government is felt.
http://www.standard.co.uk/news/london/not-one-day-more-protest-thousands-gather-in-central-london-for-march-against-theresa-may-a3577596.html