Summary for Sunday, 18th April


There has been a "small amount" of community transmission of the South African variant, Public Health England's Prof Susan Hopkins says

She tells the BBC's Andrew Marr Show two-thirds of the cases of the variant have been linked to travel

"However in pockets around the country we have seen transmission," she says - the largest being in London

Vaccine passports are "unnecessary, expensive and divisive", Liberal Democrat leader Sir Ed Davey says

An outdoor gig with an audience of 5,000 will be held in Liverpool on 2 May

No-one will have to wear face masks or socially distance - but they will have to provide proof of a negative test

It comes as Wembley is set to host the FA Cup semi-final between Leicester City and Southampton later with 4,000 attending

Fans have also been allowed in at the World Snooker Championship in Sheffield, which began on Saturday

The number of people who have died worldwide has surpassed three million, Johns Hopkins University says

Welcome to our coronavirus live coverage this Sunday morning. We will be bringing you the latest from the UK and around the world.
Here are some of the morning's headlines:


An open-air gig is to be held in Liverpool next month with 5,000 fans who do not have to socially distance

It's part of government plans to test how live events can resume safely

The FA Cup semi-final will take place later with a crowd of 4,000 watching

On Saturday, the UK recorded 2,206 new cases and 35 deaths, according to the latest government figures

The first weekend after the easing of restrictions in England saw crowds gather to eat and drink with friends outside

In Scotland, people can now travel between council areas and meet more people outdoors - they have been urged to stay "sensible" and stick to guidelines will doing so

The worldwide coronavirus death toll has passed three million people, Johns Hopkins University says

'One step closer to live events'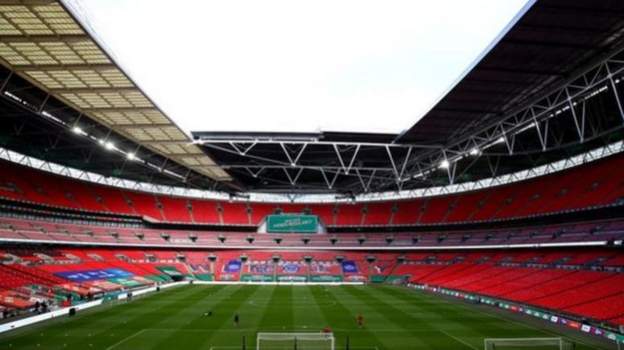 Wembley will see the return of fans for today's match
Music fans are to get the chance to enjoy a near-normal gig as
part of a government pilot event next month
.
The 5,000-strong crowd at Sefton Park, Liverpool, on 2 May will not need to be socially distanced or wear face coverings - but will have to provide evidence of a negative Covid test to get in.
They will also be asked to take a lateral flow test after the event and give contact details to NHS Test and Trace to make sure they can be reached if someone does later test positive. It's not yet known who will be performing at the outdoor event.
Meanwhile, the FA Cup semi-final between Leicester City and Southampton at London's Wembley Stadium will host a crowd of 4,000 this evening as part of a series of government trial events.
Culture Secretary Oliver Dowden says: "We're one step closer to a summer of live events now our science-led programme is under way."
Pandemic death toll passes three million
The number of people who have died worldwide in the Covid-19 pandemic
has surpassed three million
, according to Johns Hopkins University.
The US, India and Brazil - the countries with the most recorded infections - have accounted for more than a million deaths between them, the university says.
The milestone has come the day after the head of the World Health Organization (WHO) warned the world was "approaching the highest rate of infection" so far.
India - experiencing a second wave - recorded more than 230,000 new cases on Saturday alone.
Almost 140 million cases have been recorded since the pandemic began.
WHO chief Dr Tedros Adhanom Ghebreyesus warned on Friday that "cases and deaths are continuing to increase at worrying rates".
He added "globally, the number of new cases per week has nearly doubled over the past two months".
Information on Indian variant needed 'as soon as possible'
BBC Breakfast
A leading epidemiologist says it is crucial scientists learn as much as they can, as soon as possible, about the Indian Covid-19 variant to assess what action needs to be taken to restrict its transmission.
Dr Mike Tildesley, a member of the Scientific Pandemic Influenza Group on Modelling, which feeds into the government's Sage committee, says the variant is a "concern".
"I would always say when these new variants do emerge it is a concern and it's really important that we get as much information as we can as quickly as possible," Dr Tildesley tells BBC Breakfast.
"What's concerning about the Indian variant is there appear to be two mutations which... may make the vaccines less effective, and may make the virus more transmissible.
"The key thing here is 'may'. We are still trying to gather evidence about this."
While variants arise all the time, action needs to be taken - for example with surge testing - if they are found to be of specific concern.