Summary for Sunday, 4th April


Pilot events will start to try out measures like testing and ventilation to see if they can be safe in the pandemic

It's hoped the moves will allow the safe return of sports matches, conferences and club nights in England

The Carabao Cup final between Tottenham and Manchester City will have 8,000 fans in attendance as one test event

The UK PM and Labour leader have both talked about the pandemic in their Easter messages

The Archbishop of Canterbury's Easter sermon will be on BBC One at 10:00 GMT, on radio, and on digital platforms

The pandemic is disrupting Easter in eastern Europe, where cases are surging

France has entered its third national lockdown in a bid to bring down infections

Welcome to our live coverage of the coronavirus pandemic.
We will be bringing you the latest updates throughout the day.
What's happening today?
Here's a quick look at some of the main headlines from the UK and around the world:
Sunday's papers: 'Passport to freedom', and trips abroad 'on track'


"Passport to Freedom" is the headline on the front of the Sunday Mirror , which claims a phone app to prove whether someone has received their coronavirus vaccine, or has recently tested negative for the disease, could start being rolled out nationally in June.

But the Sunday Telegraph says the technology may not be ready until the autumn as senior government sources believe it will take "months, not weeks" to develop.

Writing in the paper , Cabinet Office Minister Michael Gove admits that a "host of practical and ethical questions" still need to be answered - including how to treat fairly people who cannot be vaccinated for medical reasons.

In an article for the Sunday Express, the healthcare law professor, Sir Jonathan Montgomery, hopes that trials at major events will "shed light" on whether the certificates can easily be forged.

He also questions whether they could increase the risk of infection by giving their holders a "false sense of security", making them less inclined to practice social distancing and thorough hand washing.

Read the full newspaper review here.
England Covid passport trials to begin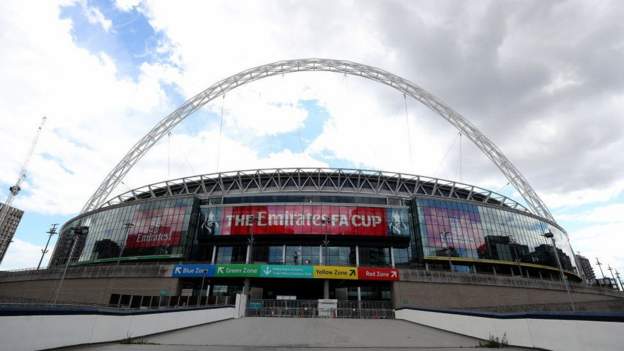 The FA Cup semi final and final at Wembley Stadium in London will form part of the pilots
Government plans for a
Covid passport scheme will start being trialled in England
this month at a series of pilot events.
Ministers are hoping passes will allow the safe return of sports matches, conferences and night clubs.
They would show whether a person is vaccinated, had a recent negative test, or natural immunity determined by a positive test in the last six months.
Officials are looking to find a way to allow venues to reopen without the need for social distancing and the government said trials will also explore how ventilation and testing on entry could help audiences return to mass events.
The pilots will last until mid-May and include the FA Cup semi final and final, the World Snooker Championship in Sheffield, a mass participation run at Hatfield House in Hertfordshire, and several events in Liverpool including an evening at a nightclub, a business conference and a cinema screening in the city.
The first pilot event will be a comedy night in Liverpool on 16 April where audience members will be tested for Covid before and after the show.