Summary for Saturday, 3rd April 2021


The rules around indoor visits to care homes in England will be relaxed from 12 April

Two people, rather than one, will be able to visit and parents will be allowed to bring their babies and toddlers

Seven people in the UK have died with rare blood clots after being given the Oxford-AstraZeneca jab, the UK's medicines regulator has said

And there have been 30 cases of clotting out of more than 18 million vaccine doses administered

But the Medicines and Healthcare Products Regulatory Agency has urged the public to continue accepting coronavirus vaccination appointments

Clean up work is under way after huge crowds gathered to socialise in Cardiff Bay on Friday night

Italy has entered a strict three-day lockdown to try to prevent a surge in Covid-19 cases over Easter

The country is battling a third wave, with about 20,000 new cases a day

Welcome to our live coverage of the coronavirus pandemic.
We will be bringing you the latest updates throughout the day.
Latest developments in the UK and around the world
Hundreds of people were seen gathered on the steps of the Senedd in Cardiff, Wales, on Friday evening
Here's a quick look at some of the main headlines from the UK and around the world to get you started:
Today's front pages: Staycation 'stampede' and NHS's future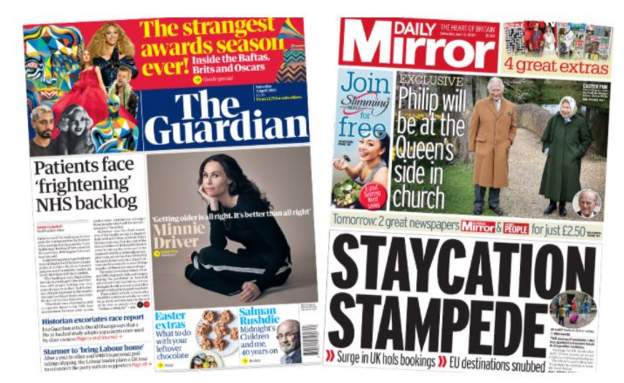 "Foreign holidays for vaccinated" is the headline in the Daily Telegraph , which looks ahead to Boris Johnson's travel announcement on Monday.

The paper understands that people who have been fully vaccinated against coronavirus could require fewer tests if they want to holiday in countries deemed to be low-risk and may not have to quarantine when they return from countries classed as medium risk, including popular Mediterranean resorts.

The Daily Mail thinks families could end up paying thousands for Covid tests if they travel abroad, even if their destination is on an approved list.

The Daily Mirror predicts a "staycation stampede", saying there has been a surge in bookings for UK breaks.

Read the full newspaper review here.
Seven UK blood clot deaths after AstraZeneca vaccine
Seven people have
died from unusual blood clots after getting the Oxford-AstraZeneca vaccine in the UK
, the medicines regulator has confirmed to the BBC.
In total, 30 people out of 18 million vaccinated by 24 March had these clots.
It is still not clear if they are just a coincidence or a genuine side effect of the vaccine.
The Medicines and Healthcare Products Regulatory Agency says the benefits continue to outweigh any risk.
However, concern has led to other countries including Germany, France, the Netherlands and Canada to restrict the vaccine's use only to older people.
The
data released by the MHRA on Friday
showed 22 cases of cerebral venous sinus thrombosis (CVST) which is a type of blood clot in the brain.