Summary for Friday, 2nd April (Good Friday)


Kenya, Pakistan, Bangladesh and the Philippines are being added to England's travel ban "red list"

It means travellers from those countries will be banned from entering England from 9 April

The Philippines has recorded its highest daily number of cases yet, with 15,310 new infections

More than 70 MPs have launched a campaign opposing Covid passports in England, amid reports of pilots to test how they would work

The stay at home rule which has been in place in Scotland for more than three months has been lifted

Indian cricket legend Sachin Tendulkar, who tested positive for Covid-19 last week, has been admitted to hospital

Campaigners have started legal action over guidance banning care home residents in England aged 65+ from taking trips outside the home

A lack of "adequate" funding for schools in England during the pandemic is placing staff and pupils at risk, a teachers' union warns

West End theatres and Glastonbury Festival are among those getting a share of £400m emergency government culture funding

Hello and welcome to our coronavirus live coverage on this Good Friday morning.
We will be bringing you updates on the pandemic from around the globe throughout the day.
What's happening around the world
Here is what is happening around the world today.
What do the UK papers say?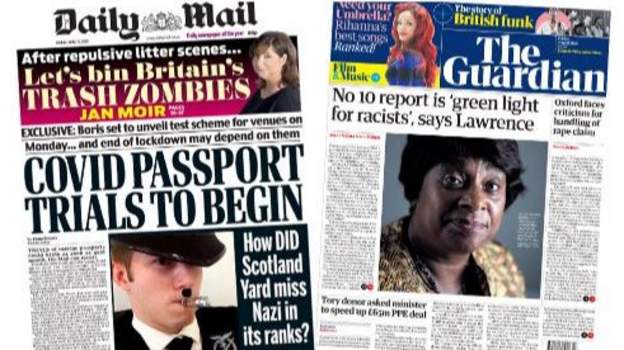 Speculation about coronavirus passports - and plans for foreign travel this summer - dominates this morning's front pages.


The Daily Telegraph expects Covid certificates will be trialled at major events including the FA Cup final and the BRIT Awards in May, while the Daily Mail says the passport scheme will begin once the NHS test and trace app has been updated to show if someone has had their vaccine or recently tested negative for the virus - so those unable or unwilling to have a jab are not discriminated against.

But the Daily Express says Boris Johnson still faces a backbench revolt over the plan.

"The planes to Spain now mainly to Bahrain" is how the Sun describes the likely conclusion of the prime minister's international travel review on Monday.

Read more here
.
Latest across Europe


Ukraine's Covid crisis has deepened with record numbers of infections and deaths reported this morning. Health Minister Maksym Stepanov says 433 people died in the past 24 hours and 19,893 new cases were reported. The capital Kyiv has imposed a strict lockdown.

French schools close later today for at least three weeks as stricter anti-Covid measures start kicking in across the country. Secondary schools will shut for four weeks, although two of those include France's spring holiday. A new opinion poll suggests seven out of 10 people back the decision to go into a new national lockdown tomorrow night which is looser than last year.

Most EU countries have agreed a complicated formula to give 2.85 million extra BioNTech-Pfizer vaccines to five struggling countries, including Bulgaria, Croatia and Slovakia. Austria, Slovenia and the Czech Republic objected to the deal. Austria's Sebastian Kurz has criticised what he sees as uneven distribution of vaccines.

A Serbian anti-vaccination campaigner was questioned by police yesterday on suspicion of spreading panic through social media posts and media appearances. Jovana Stojkovic has been in trouble before for posting misleading information.

A baby has been born on Spain's Balearic island of Ibiza with Covid antibodies after his mother was vaccinated in the final three months of her pregnancy. Baby Bruno's umbilical cord was tested for antibodies after he was born. Meanwhile, a million Oxford-AstraZeneca doses will be distributed across Spain this morning to enable vaccinations to continue throughout Easter week.

Greece starts easing restrictions on movement from tomorrow with retail opening up from Monday. Schools will start opening up again on 12 April.