Summary for Saturday, 27th March


Wales becomes the first UK nation to lift its rule to stay local, although non-essential travel to other parts of the UK is still banned

Six people from two households can now meet outdoors and self-contained tourist accommodation may reopen

Prime Minister Boris Johnson says he sees 'absolutely nothing in the data' to dissuade him from continuing to lift lockdown restrictions

Meanwhile, the first Covid booster jabs to stop new variants could be given to over-70s from September, the vaccines minister says

Nadhim Zahawi said those in the top four priority groups of the vaccine rollout will get any booster jabs first

One-fifth of the Philippines' population is going into lockdown as hospitals in Manila struggle to cope with a surge in infections

In England, shops will be allowed to stay open until 22:00 BST six days a week when customers return from 12 April

Police in Bristol have made 10 arrests during a demonstration that they warned broke coronavirus restrictions

Both Boris Johnson and Home Secretary Priti Patel have condemned the demonstrators

France has accused the UK of 'blackmail' over its handling of coronavirus vaccine exports

Good morning
Welcome to our live coverage.
We'll be bringing you updates on the coronavirus pandemic from the UK and around the world throughout the day.
What's been happening around the world?


France's foreign minister has accused the UK of "blackmail" over its handling of vaccine exports, amid a continuing row over the Oxford/AstraZeneca jab. Jean-Yves Le Drian did not specify what he considered to be blackmail, but also suggested the UK may struggle to source second doses.

Germany has tightened its borders and classed neighbouring France as a "high risk" area as Europe continues to tackle a rise in cases. The head of the country's RKI public health institute warned that Germany could see 100,000 infections a day if the third wave spreads unchecked.

The prime minister of Poland has warned that the country's hospitals may not be able to cope with soaring Covid cases. The Kent variant of the virus is now responsible for 80% of all infections there. Its government has brought in tighter restrictions including a cut in the number of worshippers allowed to attend mass for Easter

The drug Ivermectin is at the centre of a legal battle in South Africa as some medics want it licensed for human use. The drug - used to treat parasitic worms - been touted by some as an effective coronavirus treatment even though it is clinically unproven. Some doctors have been prescribing it to patients with coronavirus, saying that they have seen anecdotal evidence that it can alleviate some of the worst effects of Covid-19.

Allowing international air travel without testing at UK airports risks reversing "all the good our vaccination programme has done", an infectious diseases expert has warned. He called for efficient testing and tracing at airport and supporting people to self-isolate.

The Philippines will reimpose tougher coronavirus measures in the capital of Manila and nearby provinces, a senior official said on Saturday in order to fight a surge in infections.

Spain will require people arriving from France by land to present a negative Covid-19 test following a rise in Spain's infection rate. The requirement will not apply to truck drivers, people who cross the border for work, and people who live within 30km of Spain.

Brazil's coronavirus situation is likely to deteriorate even further, experts have warned, forecasting that the nation's death toll will pass the United States' by the end of the year.

The World Health Organization says it has not ruled out any theory on the origins of the coronavirus pandemic, despite one top official earlier this week appearing to dismiss the idea it had escaped from a laboratory.

Indonesia's vaccination drive will slow down next month due to India's delay in exporting AstraZeneca vaccines, its health minister has said. India has temporarily suspended large vaccines exports as it seeks to step up its own inoculation efforts amid surging infections.

Ireland's health minister has suspended vaccination provision at a private hospital in Dublin after it emerged that it administered spare jabs to staff at a private school.

NHS England has passed the milestone of 25m first vaccine doses administered across the country, after a further 344,008 people received a shot.

Newspaper headlines: 'Over-70s autumn booster' and 'freedom' on Monday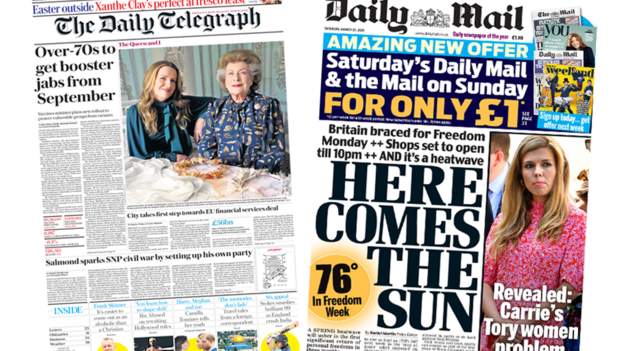 Several of today's newspaper front pages in the UK strike an upbeat tone, with many papers looking forward to the next stage of lockdown easing in England on Monday.
From 29 March - which the Daily Mail dubs "Freedom Monday" - more people will be allowed to meet outside, and the stay-at-home rule ends.
Meanwhile,
in an interview with the Daily Telegraph,
vaccines minister Nadhim Zahawi says the government's booster jabs programme will aim to "future proof" the UK against new Covid variants
He tells the paper the boosters should be ready to go for the top priority groups by September, saying "however the virus behaves, we're going to be ready".
Against such a backdrop, the paper asks in its editorial why the lifting of restrictions has been so slow. "Now that we have vaccinated so many, we should not be talking of more rules and regulations" but of "liberating our economy and society."
Read more on the papers in our full review.
What's changing in Wales today?
It's a big day for millions of people in Wales today as lockdown begins to ease.
From today, people can travel anywhere else in Wales - rather than being told to "stay local".
Six people from two households are now allowed to meet up outside, an increase from the current four-person limit.
Also, organised outdoor activities and sports for under-18s can resume.
People can now go on holiday - as long as they stay within Wales. Self-contained tourist accommodation - including many hotels and cottages - will be able to reopen from 27 March, providing a potential boost to the tourism industry ahead of Easter.
But non-essential travel to and from other UK nations will be banned for at least two weeks.
Our guide on how the rules have changed is here.
What are Wales' lockdown rules?
Wales' "stay local" rule has been relaxed to allow residents to travel anywhere in the nation.
Self-contained tourist accommodation can reopen from today, but only for people living in Wales.
That's because non-essential travel to and from other UK nations is banned for at least two weeks under the
remaining restrictions
.
Six people from two households are able to meet up in Wales, an increase from the four-person limit that was in place prior to Welsh government review of its Covid restrictions.
Organised outdoor activities and sports for under-18s can also resume, and libraries and archives can reopen their doors.
Rules also allow a limited opening of outdoor areas of some historical places and gardens.