Summary for Friday, 26th March


The number testing positive for coronavirus is levelling off in England, Wales and Northern Ireland, and has risen in Scotland, official figures suggest

Infection levels in secondary school-age children rose slightly in England although they fell in older teenagers, according to the Office for National Statistics

The UK's R number has narrowed slightly to 0.7-0.9 from 0.6-0.9 last week - it shows the epidemic is still shrinking because it remains below 1

The EU called on vaccine producer AstraZeneca to "catch up" with promised deliveries before exporting doses elsewhere

European Commission President Ursula von der Leyen said the company must honour its contracts

Germany's disease control agency says there are very clear signs the third Covid-19 wave could be much worse than the previous two

Wales will be the first UK nation to scrap travel restrictions since lockdowns were re-imposed

Hello and welcome to our live coverage of coronavirus developments this Friday morning.
We'll bring you all the latest as it happens throughout the day.
Latest developments in the UK and around the world
Here are some of this morning's key developments:


European Union leaders have stopped short of banning vaccine exports after a row with Anglo-Swedish manufacturer AstraZeneca

Germany's third wave of coronavirus will be worse than the first two, the government's health adviser has warned

The US government has said it will give the Palestinians $15m (£11m) in aid to assist with the Covid-19 response in the West Bank and Gaza Strip

Mexico has officially surpassed the figure of 200,000 Covid-19 related deaths, becoming the third country to do so after the United States and Brazil

"Stay-local" rules will lift in Wales from tomorrow and unrestricted travel within its borders will be allowed

UK Chancellor Rishi Sunak has warned bosses that staff may quit if they are not allowed to work from the office after lockdown

People who have had Covid-19 before being vaccinated have roughly a six-fold stronger immune response to one dose of the Pfizer jab than those who had never been infected, according to a new study

EU leaders have given a lukewarm response to plans by the European commission to potentially block vaccine exports to highly vaccinated countries. In a statement issued after the EU virtual summit late on Thursday , the leaders failed to offer their support for the commission approach, instead saying they backed "global value chains" and reaffirmed that "companies must ensure predictability of their vaccine production and respect contractual delivery deadlines".

The EU commission president, Ursula von der Leyen, advocated support for the plan to block vaccine exports if necessary: "While remaining open, the EU needs to ensure Europeans get a fair share of vaccines," she tweeted.

Germany's chancellor, Angela Merkel, said while the EU had to "provide [for] our own population" the bloc would not damage the supply chains necessary for the production and distribution of vaccines.

France's president, Emmanuel Macron, used a press conference after the meeting to criticise the British media: "Every day, when I read the press across the Channel, they make a case against us saying that it is the EU that is being selfish. This is false!" he said.

Germany is expected to declare France a high-risk zone for coronavirus on Friday. It comes as the number of confirmed coronavirus cases in Germany increased by 21,573 to 2,734,753, data from the Robert Koch Institute (RKI) for infectious diseases showed on Friday.

In England, more than 40,600 people have been likely infected with coronavirus while being treated in hospital for another reason, raising concerns about the NHS's inability to protect them.

Joe Biden announced he had doubled his administration's vaccination goal to 200m shots during his first 100 days as president (up until 29 April).

Australia on Friday reported its first locally acquired coronavirus case in more than a week, prompting authorities in Queensland to place restrictions on hospitals, retirement homes and disability centres.

Moderna has delayed the shipment of 590,400 doses of its vaccine that were due to arrive in Canada this weekend, the federal procurement minister said on Thursday.

Colombia has approved emergency use of Johnson & Johnson's one-shot Covid-19 vaccine, the director of food and drug regulator Invima said as part of a government address on Thursday.

Friday's papers: UK 'plans October booster jab' and pub passport 'fury'
Coronavirus continues to dominate the newspaper front pages, and Friday's are no different.
The UK is planning to offer a booster jab in October to protect against newer strains of Covid,
reports the i newspaper
. It also says drive-through centres will be created for under-50s next month to improve uptake among younger people.
The Guardian
says some government insiders believe making Covid certificates compulsory for entry into pubs
could help tackle vaccine hesitancy among young people
. The paper says one senior source predicted a "stark" fall in uptake when the jab is offered to lower age groups.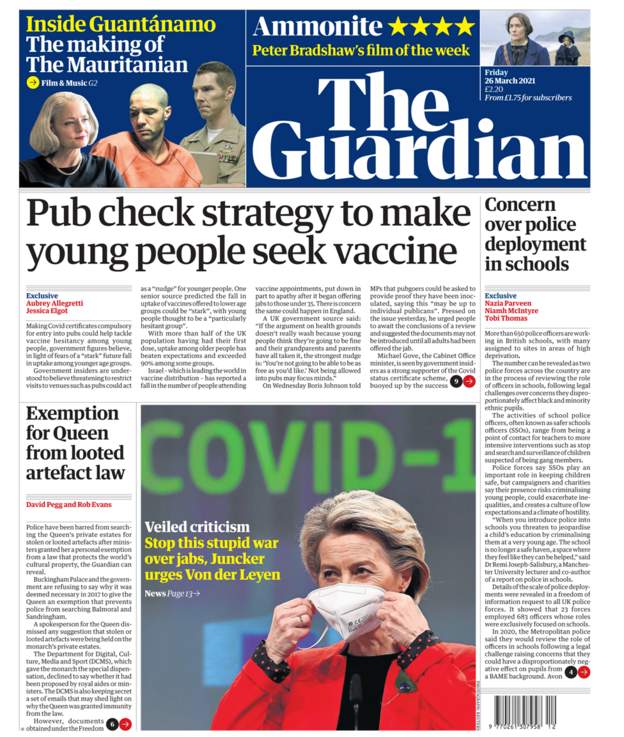 Read more in our paper review
here .
Latest around Europe


European Union leaders were promised last night by European Commission President Ursula von der Leyen that vaccines would be distributed much faster in the coming months and that 70% of adults would be inoculated by the end of June. The row over AstraZeneca dominated the summit. In theory the EU can now impose controversial plans for tougher export restrictions to countries such as the UK and US, but the Dutch, Belgian and German leaders have made it clear they want to avoid them. France's Emmanuel Macron backs the controls, calling for "an end to naivety".

Another important issue for the summit was a complaint by Austria and five other smaller states including Latvia and Bulgaria that they had suffered from the EU's vaccine distribution system. Austrian Chancellor Sebastian Kurz said he was happy that an additional 10 million doses would be used to ensure fairer delivery in the next three months.

Meanwhile, a number of European states are seeing very high infection rates. Romania has imposed weekend curfews for towns where cases are high, and Ukraine has recorded a daily record in the past 24 hours with 18,132 cases.

Germany has been recording daily infection rates over 20,000 this week and is imposing new rules for anyone flying in from abroad to require a negative test before departure from Sunday.

France reported over 45,000 daily infections late on Thursday and the rising number of patients in intensive care, now 4,709, is almost as high as the last peak in November.