Summary for Monday, 22nd March


Boris Johnson prepares to speak to European leaders to try to resolve a row over vaccine exports

The long-awaited US trial of the Oxford-AstraZeneca jab confirms the shot is both safe and highly effective

Supermarkets can sell non-essential items and garden centres can open in Wales

Primary school pupils and those in years 12 to 14 return to school in Northern Ireland

Brazil's president rails against state governors and mayors who have imposed lockdowns

State of emergency in Miami Beach over concerns crowds gathering for spring break pose a Covid risk

The number of daily vaccine doses administered in the UK has hit a record high for a third consecutive day

Good morning and welcome
Hello and thanks for joining our live coverage of coronavirus pandemic developments today. We'll keep you updated with the main stories of the day.
Latest headlines
Here are the latest headlines from the UK and around the world.


Boris Johnson is expected to speak to his EU counterparts this week as a row over Covid vaccine supplies continues

Results from the US trial of the Oxford-AstraZeneca vaccine confirm that the vaccine is both safe and highly effective

Supermarkets can sell non-essential items and garden centres can open in Wales in a further slight easing of lockdown rules

Seven year groups of school children in Northern Ireland return to classes

Brazilian President Jair Bolsonaro rails against state governors and mayors who have imposed lockdowns

A state of emergency and curfew was declared in Miami Beach after large crowds gathered for spring break

Europe can achieve herd immunity by July: EU commissioner. Europe could have herd immunity against Covid-19 by July, a European Union commissioner has said. The note of optimism comes even as several European countries have started reimposing restrictions as they contend with surging coronavirus infections, and after mixed messaging on the safety of a key jab.

Germany is considering extending restrictions into April, with a memo suggested it should be lengthened because of rising infection rates driven by virus variants.

Chile reported its highest daily count of new coronavirus infections since the start of the pandemic despite widespread restrictions and widely praised progress on vaccinations.

South Africa has sold 1m AstraZeneca vaccine doses to the African Union, the health ministry announced on Sunday in a statement reported by AFP, after it suspended its rollout of the jab.

The EU rebuffed UK calls to ship AstraZeneca vaccines from Europe. The European Union is rebuffing British government calls to ship AstraZeneca Covid vaccines produced in a factory in the Netherlands, an EU official said on Sunday. Former EU member Britain has so far administered many more vaccines than EU countries in proportion to the population.

Covid cases in Papua New Guinea have tripled in a month as doctors warn of 'danger days' ahead. Papua New Guinea has reported a record number of Covid-19 cases over the weekend as doctors warn that the hospital system is in the brink of being overwhelmed and more people could die outside emergency rooms.

New Zealand to announce start date for quarantine-free travel bubble with Australia on 6 April. The New Zealand government has held off on announcing a start date for quarantine-free travel between Australia and New Zealand. Prime minister Jacinda Ardern says the government intends to announce a start date on 6 April.

Taiwan began the rollout of AstraZeneca vaccines. Taiwan began administering the AstraZeneca vaccine today after it received nearly 120,000 does doses earlier this month through the World Health Organisation's Covax problem.

India reported its highest daily Covid death toll since early January. India reported 212 new Covid deaths on Monday, the most since early January, while infections jumped by 46,951, the highest since early November. Total deaths have now swelled to 159,967 and infections to 11.65 million, the highest in the world after the United States and Brazil.

Wales to lift ban on supermarkets selling non-essential items. The ban on supermarkets in Wales selling non-essential items is being lifted from Monday as the country slowly moves out of lockdown. All non-essential retail was ordered to close on Christmas Eve last year as Wales entered alert level 4, but shops selling essential items such as food could remain open.

Vaccine tussle dominates newspaper headlines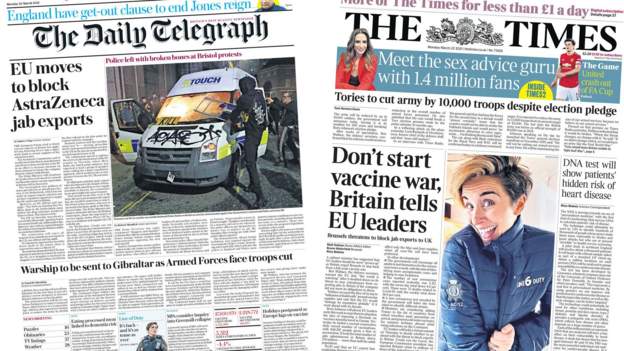 The row between the UK and EU over exports of Covid vaccines is the main focus for many of Monday's papers.

The Sun says any ban would be just "another pathetic attempt" to demonise Britain and distract attention away from the EU's calamitous vaccination rollout.

And the Daily Express urges the bloc to stop playing politics over the jab - insisting countries should work together to defeat Covid-19.

For the Guardian a two-month delay to the vaccination scheme caused by the potential export ban would derail plans to reopen the economy this summer and likely force an extension of lockdown restrictions.

Read more in our review of the papers.
US trial confirms AstraZeneca jab safety
The news broke about an hour ago that AstraZeneca has released the result of trials in the US of its Covid vaccine.
They showed that it was 79% effective against stopping symptomatic Covid disease and 100% effective at preventing people from falling seriously ill.
More than 32,000 volunteers took part in the trials, mostly in the US, but also Chile and Peru.
Dozens of countries have already approved the jab developed with Oxford University and tens of millions of doses have been given.
But the US had always said it would wait for results from trials held there before deciding whether to use the vaccine.
You can read more about the trial here
.
The countries that nailed it, and what we can learn from them
Covid-19 has shaken the world, with more than 2.5 million deaths and 115 million cases confirmed.
BBC Panorama's Jane Corbin has scoured the globe to find the best examples of strategies for combating the virus.
What emerged strongly are four key areas which have been most effective in containing the spread of the virus and preventing deaths:


Early and effective action to control borders and monitoring of arrivals

Testing, tracking and tracing everyone suspected of being infected

Welfare support for those in quarantine to contain the virus

Effective leadership and consistent and timely public messaging

Read more here