Summary for Saturday, 20th March 2021


France and Poland have reintroduced partial lockdowns as both countries battle a sharp rise in Covid infections in recent weeks

Some 21 million people in 16 areas of France, including the capital Paris, are affected as the country fears a third wave

Non-essential shops, hotels, cultural and sporting facilities in Poland are closed for three weeks

A member of the UK government's vaccine taskforce has described France's approach to the AstraZeneca jab as "crackers"

Sir John Bell says the changing advice from French officials was undermining confidence in the whole vaccination programme

A UK government adviser says it is "extremely unlikely" that Britons will be taking foreign holidays this summer

The UK reported 4,802 new Covid cases on Friday, and 101 deaths. More than 26 million Britons have received their first vaccine dose

Wealthy countries, including the UK, are blocking plans to help developing countries create vaccine manufacturing capabilities, the BBC has learned

Hello and thanks for joining our live coverage of coronavirus pandemic developments this Saturday. We'll keep you updated with the main stories of the day.
Latest headlines
Here are the latest headlines from the UK and around the world.
France and Poland increase lockdown measures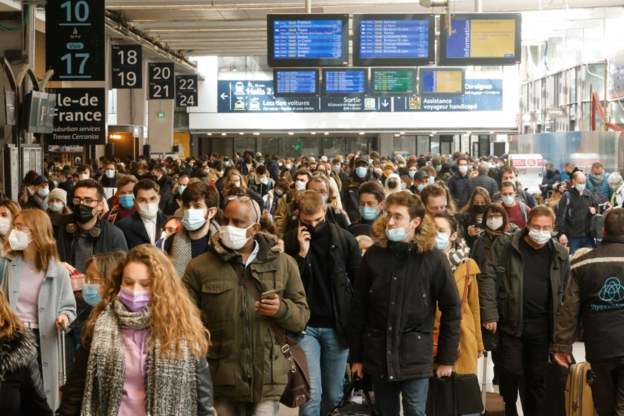 There were busy scenes at railway stations in Paris on Friday evening ahead of a partial lockdown taking effect in France from midnight.
Trains leaving Paris for parts of the country where restrictions do not apply, such as Brittany and Lyon, were reportedly fully booked hours before the measures were due to come into effect.
Traffic jams were also reported on several roads leaving the capital.
France and Poland have reintroduced partial lockdowns
as both countries battle a sharp rise in Covid infections in recent weeks.
Some 21 million people in 16 areas of France, including the capital Paris, are affected as the country fears a third wave.
The new restrictions are not be as strict as the previous lockdown, with people allowed to exercise outdoors. Non-essential businesses are shut, but schools remain open, along with hairdressers if they follow a "particular sanitary protocol".
In Poland, non-essential shops, hotels, cultural and sporting facilities are closed for three weeks.
Coronavirus cases are also rising exponentially in Germany, with Chancellor Angela Merkel warning it is likely that the country will now need to re-impose lockdown measures.
Can the UK avoid a third wave of infections?
The UK is in a good position to avoid the third wave of Covid infections affecting millions of people in Europe, a leading professor of infectious disease modelling has said.
Dr Mike Tildesley, from the University of Warwick and a member of a group which provides evidence to government advisers Sage, said many European countries relaxed restrictions when case levels were still quite high "particularly compared with where ours are now".
He told BBC Radio 4's Today programme the UK already had "pretty high levels of vaccination, adding: "As we start to open up... it's not necessarily the case that we will see a big rise...
"We may see a rise in cases, but actually my hope is that hospital admissions and deaths stay low because of high levels of protection in the older age groups."
Dr Tidesley said the threat of new variants was more of a concern.
He also acknowledged there were potential issues with vaccine supplies, saying the UK was on a "knife edge... in terms of making sure that we open up at a rate the vaccination can keep pace with".