Summary for Wednesday, 10th March


MPs say NHS Test and Trace appears to have failed to achieve its stated aim of preventing lockdowns in England

The Public Accounts Committee said its £37bn budget was "unimaginable" and warned the taxpayer could not be treated like an "ATM machine"

But the government says the system is helping to reduce Covid-19 infection rates

A fresh row has broken out between the UK and the EU over exporting vaccines made in Great Britain

European Council President Charles Michel wrongly claimed the UK had an "outright ban" on exports of jabs

Health systems in most of Brazil's largest cities are close to collapse due to Covid-19 cases, a report warns

Globally, there have now been more than 117 million recorded cases of Covid-19, and 2.6 million deaths, according to Johns Hopkins University

A further 231 people have died with coronavirus in the UK, and there were 5,766 new infections recorded in the last 24 hours

Hello and welcome to our live coronavirus coverage today. We'll be bringing you all the latest updates as they happen.
What's happening in the UK and around the world?
Thank you for joining us. Here's a look at what's happening around the world today:


A committee of MPs has criticised England's coronavirus test-and-trace system for having "no clear impact" despite a £37bn budget

A fresh row has broken out between the UK and the EU after the bloc's most senior official wrongly claimed the UK had banned all Covid-19 vaccine exports

Health systems in most of Brazil's largest cities are close to collapse due to Covid-19 cases, a report by the country's Fiocruz institute warns

Global cases rose above 117 million with 2.6 million deaths, according to Johns Hopkins University

UK ministers asked to justify 'staggering' £20bn test and trace system cost . There is no evidence to show that the government's £22bn test-and-trace programme to combat Covid-19 in England contributed to a reduction in coronavirus infection levels, parliament's spending watchdog has concluded.

Overseas fans face ban from Tokyo Olympics, reports news agency . Japan's government has decided to stage the Tokyo Olympics and Paralympics without overseas spectators because of fears among the population over the potential spread of Covid-19, the Kyodo news agency has reported, citing officials with knowledge of the matter.

Nancy Pelosi hailed a 'historic' Covid relief bill as House prepares to vote . The House speaker, Nancy Pelosi , has hailed the massive $1.9tn Covid relief bill as "historic" and "transformative" as the House stood poised to give the legislation final approval with a vote on Wednesday morning.

Big Indian state scaled down vaccinations, citing shortage. The Indian state of Rajasthan said on Tuesday it had started limiting Covid vaccinations to its major hospitals due to a shortage of doses, despite an assurance from the federal government that supplies were adequate.

Brazil suffered record deaths. Brazil registered 1,972 new Covid deaths in a single day on Tuesday, a national record, according to the health ministry. The country had 70,764 new cases of coronavirus, reaching a total of 11.12 million infections. Brazil had 168,370 coronavirus deaths.

Palestinian intensive care units at 100% capacity. Palestinian hospitals are overfull and intensive-care units operating at 100% capacity with coronavirus patients in some areas of the Israeli-occupied West Bank, prime minister Mohammad Shtayyeh has said.

San Francisco Uber driver assaulted after passenger allegedly refuses to wear mask . An attack on a San Francisco Uber driver over the weekend by a passenger who allegedly refused to wear a face mask has drawn outrage after video of the incident emerged on Tuesday.

J&J 'under stress' to meet EU 2nd-quarter vaccine supply goal – Reuters source. Johnson & Johnson has told the European Union it is facing supply issues that may complicate plans to deliver 55m doses of its Covid vaccine to the bloc in the second quarter of the year, an EU official told Reuters.

Europe latest: Czech MP dies and hospitals under pressure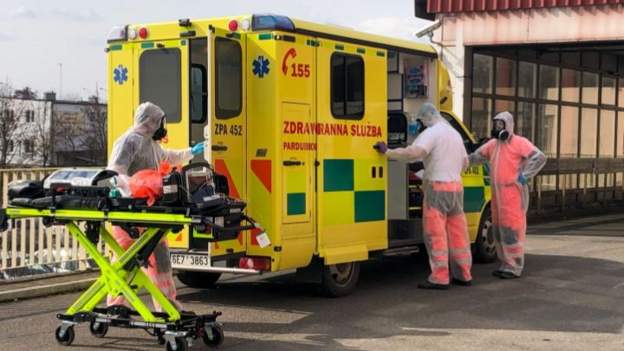 Some Czech patients are now being treated in neighbouring countries such as Poland


A paediatric neurosurgeon has become the first Czech MP to succumb to coronavirus in the Czech Republic. Jiri Ventruba, 71, set up a specialist centre at Brno children's hospital after working in the US. The surge in cases has prompted the Czech Republic to ask hospitals in neighbouring countries to take in some of its patients.

The situation in Hungary is "very serious" according to surgeon general Cecilia Muller, who says hospitals there are coming under increasing strain because of coronavirus.

Greece has seen a big rise in cases and that's affecting hospitals in the Attica area around Athens. Two private hospitals in the region will start taking patients from tomorrow.

Hospitals in parts of Italy have come under pressure too, with infection numbers almost reaching 20,000 in the past 24 hours. The mayor of Naples, Luigi de Magistris, says the situation in the area's hospitals is "very complicated".

Germany's infection rate is down slightly over the past week to 65.4 cases per 100,000 people. Vaccine take-up is still slow so now the head of Germany's health insurance scheme Andreas Gassen wants the network of 100,000 family doctors' practices to spearhead a national campaign. He believes five million doses a week could be given and everyone could have a first dose by mid-June.

The Bosnian capital Sarajevo will be locked down this weekend for the first time since last May. Almost all businesses will be closed and travel in and out of the region will be restricted. Sarajevo Canton will be restricted. Bosnia reported a record 48 Covid-related deaths yesterday.