Summary for Wednesday, 17th February


The easing of England's lockdown will be based on a "cautious and prudent approach", Prime Minister Boris Johnson says

England is still "some way away" from being able to start relaxing lockdown restrictions, the chief executive of NHS Providers says

Chris Hopson says a "logical point" to start lifting restrictions would be once the top nine priority groups have had a coronavirus vaccine

A further 738 people deaths have been reported in the UK within 28 days of a positive coronavirus test

The UK will expose a group of volunteers to Covid-19 in a bid to establish which vaccines and treatments work best

Up to 90 healthy volunteers aged 18-30 will be involved in the study, aiming to find out the smallest amount of virus needed to cause infection

Vulnerable young people should be prioritised when the UK rebuilds after coronavirus, England's outgoing children's commissioner says

Anne Longfield calls on Boris Johnson to put children at the "centre stage" of plans to "level up" the nation

Research by the think tank Reform suggests hospital waiting lists in England could more than double and hit 10 million by April

The Australian state of Victoria and the New Zealand city of Auckland will both exit snap lockdowns on Thursday

England is still "some way away" from being able to start relaxing lockdown restrictions, the chief executive of NHS Providers says

Work has begun to assess the effectiveness of the coronavirus jab developed by Oxford University and AstraZeneca on children

Captain Sir Tom Moore, who died this month after raising almost £33m for NHS charities, left "a legacy he could never have imagined", his daughter says

Hello and welcome to our live coverage of the coronavirus pandemic. Here's a quick summary of the main stories in the UK this morning:
Headlines from around the globe
Here are some of the main stories from around the world today:


The Australian state of Victoria and the New Zealand city of Auckland will both exit snap lockdowns on Thursday

Former Peruvian President Martin Vizcarra requested and received an early vaccination against Covid-19 out of turn, a doctor has told lawmakers

A court in The Hague has told the Dutch government an overnight curfew to reduce the spread of coronavirus should be lifted, ruling that it breaches the right to free movement

Japan has begun the rollout of its coronavirus vaccination programme, with 40,000 healthcare workers first in line to receive the jab

US President Joe Biden has said all Americans will have access to a vaccine before August. During a CNN town hall meeting with members of the public, he also said teachers should be moved up "in the hierarchy" for vaccines

Covid cases in South Korea hit their highest level in nearly 40 days on Wednesday, prompting Prime Minister Chung Sye-kyn to warn against the loosening of social distancing rules.

The papers: 'Ready, test, go' and 'roadmap revealed'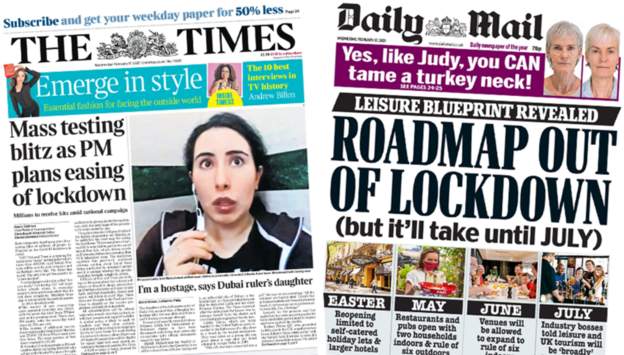 Many of Wednesday's papers consider the next phase of pandemic restrictions in England.


The Daily Mail says ministers and industry leaders are discussing a "roadmap out of lockdown" that would see restrictions in England gradually eased at four-week intervals, with leisure businesses "broadly" back to normal by July.

According to the paper, there would be a limited reopening of self-catered holiday lets by Easter; and restaurants and pubs would reopen in May, with two households allowed to mix indoors, and the reintroduction of the "rule of six" outdoors. Venues would be allowed to serve six people indoors by June.

The Daily Telegraph reports that lockdown will continue until cases drop below 1,000 a day . It projects this could happen by early April, with a senior Whitehall source telling the paper there's a "real reluctance about committing to specific dates, without knowing what the case numbers are doing".

The Times says nationwide "surge testing" will play a big role in any easing, with 400,000 rapid testing kits to be posted each day to homes and workplaces.

Read more from the papers here
.
Latest around Europe


European Commission President Ursula von der Leyen will try to head off criticism of EU vaccine delays and shortages, with a plan to adapt vaccines to new mutations quickly. The aim is to set up a European testing network and approve "second generation" vaccines against future strains.

Dutch appeal judges last night temporarily allowed a nationwide Covid curfew to stay in place 15 minutes before it was due to be lifted. A court had earlier ruled the government was wrong to use emergency laws to impose it. A new curfew law is being rushed before MPs today so it can come into force before the case returns to the appeal court on Friday.

Italy's new prime minister Mario Draghi presents his Covid recovery plan to the Senate this morning. He's then set to survive a vote of confidence.

Slovakia's pandemic is getting worse and it's introducing a 14-day quarantine this morning on new arrivals. A negative test can also be given within eight days of arrival from most European countries.

There are no plans to tighten health measures in France when the current winter holidays come to an end, according to media reports. President Emmanuel Macron chairs France's defence council today with infections gradually in decline, and just under 20,000 new cases reported last night. Local elections planned for next month have been postponed until June.

The EU's statistics agency Eurostat says 450,000 more people than average died between March and November last year as the pandemic took its toll. The first peak was in April when 25% more people died than in the previous three years and then in November there was a 40% increase in excess mortality.