Summary for Thursday, 11th February


The number of people waiting more than 12 months to start hospital treatment in England was 224,205 in December

It's the highest for any calendar month since April 2008, and compares with 1,467 in December 2019

The coronavirus variant first detected in Kent will be the world's dominant strain, the head of the UK's genetic sequencing programme predicts

Prof Sharon Peacock also says her programme will still be doing research into strains '10 years down the line'

Meanwhile, the UK's pandemic preparations focused too much on flu, ex-health secretary Jeremy Hunt tells the British Medical Journal

The government has set out more details of when people with asthma will get the vaccine

A further 1,001 people have died in the UK within 28 days of a positive coronavirus test, new government figures show

In Italy, winter ski resorts in Lombardy will reopen next Monday - but at 30% capacity

Germany's lockdown is to continue until 7 March, but hairdressers will be allowed to reopen from 1 March


Good morning and welcome to our coronavirus live page.
Here is a round-up of the main stories this morning:
Latest around Europe


Germany's lockdown is to continue until 7 March but hairdressers will be allowed to reopen from 1 March. There's no national agreement on reopening schools so the 16 German states will make their own plans. Several states want to reopen on 22 February and Saxony in the east plans to start opening primary schools and daycare next Monday.

Belgian hairdressers reopen on Saturday and the Belgian Beauty Federation, which represents 700 hairdressers, has appealed to Dutch people living north of the border not to come looking for a hair-cut. The group's leader Mario Blokken says: "We want to stop population groups who don't usually come into contact mingling together."

A big French project to build a fourth terminal at Charles de Gaulle airport in Paris has been scrapped, partly for environmental reasons but also because the pandemic has dramatically reduced air traffic. Environmental transition minister Barbara Pompili says the plan, which would have cost at least €7bn (£6bn), was obsolete.

For the first time this winter ski resorts in Italy's northern province of Lombardy will reopen next Monday, but at 30% capacity. Lombardy was at the centre of the start of the pandemic in Europe and Italy's infection rate is still high - with 12,956 new cases reported yesterday.

The Portuguese parliament is set to approve a decree from President Marcelo Rebelo de Sousa to renew the country's state of emergency for another 15 days from Monday. The president cites continuing pressure on hospitals despite a lockdown in place since mid-January.

We have to be 'patient' over summer holidays - Hancock
The question over whether people will be able to go on holiday this summer is continuing to rumble on.
Matt Hancock says
he hopes that people can have a summer holiday
but there is "uncertainty" over the pandemic and "we do have to be patient".
Speaking on Radio 4's Today programme, the health secretary says the government is working hard so that people can have a holiday but "even before then" people can see their loved ones.
"This uncertainty does mean that we can't any of us know exactly what the situation will be like because it depends how effectively we can deal with this pandemic."
He says the government is doing everything it can to get things back to normal but cannot make any "categorical assurances".
It comes after Transport Secretary Grant Shapps yesterday
warned people not to book holidays
at home or abroad just yet.
Partygoers hide in cupboards to avoid police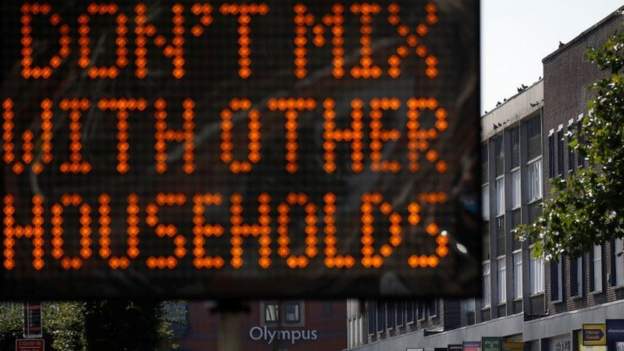 Partygoers were
found hiding in cupboards
to avoid police when officers raided an organised event which had been booked online.
Fifteen people were issued with fines at the address in Alderley Edge, Cheshire, where police also found balloons and alcohol.
Cheshire Police revealed Saturday night's raid alongside details of 685 fines issued since the latest lockdown began.