Violence engulfs US Capitol as Trump supporters run riot
from the BBC's Tom Geoghegan, Max Matza, Mal Siret and Sam Cabral
What's happened today?
If you're just joining our live coverage, here's a quick recap of the main stories so far today:
18:53
What's going on in Congress right now?
Quite a lot.
Inside the US Capitol, lawmakers have convened for a special session to affirm the 2020 election results - counting and confirming electoral college votes.
The electoral college, the system used to select the US president, has already certified Biden's victory.
Today's proceedings to formally select the president are usually brief and ceremonial. But it is unusually controversial this year, with some Republicans loyal to Trump promising to overturn the result by formally objecting at the session.
Already, Republican Senator Ted Cruz and Representative Paul Gosar have contested electoral votes cast by Arizona for Joe Biden. Several more objections are expected to follow.
Still, this bid is almost certain to fail and Biden will be one step closer to assuming the presidency and being sworn in on 20 January.
Read more about how this process works
Armed Trump supporters march in Atlanta
The BBC's Hadi Nili is in Atlanta, Georgia, where armed protesters are marching to the state's capitol building in protest against the election results there, and in support of Donald Trump.
In Washington DC, where Trump is speaking, protesters are banned from carrying firearms. Despite the city's laws, several people at Trump's "Save America" rally have already been arrested on gun charges.
But in Georgia, supporters are permitted to openly carry weapons.
Mitch McConnell rebukes efforts to overturn the election
As Republicans in Congress push forward with an attempt to block the certification of election results, Republican Senate leader Mitch McConnell condemned his colleagues and warned they could "damage our Republic forever".
Speaking directly to his party members on the Senate floor, McConnell urged them to reconsider their actions: "If this election were overturned by mere allegations from the losing side, our democracy would enter a death spiral."
"The voters, the courts and the states have all spoken," he said, pointing out none of the allegations posed by lawmakers could change the result - Joe Biden's victory.
"We cannot simply declare ourselves a national board of elections on steroids."
The challenge to the election results is not likely to succeed, but it will prolong matters in the chamber.
19:23

Capitol Hill on lockdown as tensions escalate
Capitol Police have put the US Capitol Building on lockdown amid violent clashes between police and Trump supporters, gathered to protest the 2020 election results.
Footage shows demonstrators swarming the Capitol building, breaking the temporary barrier that had been put in place ahead of today's events. US media describe some protesters climbing on parts of the Capitol building, attempting to get inside.
Protesters break into US Capitol
Chaos has broken out within the US Capitol as pro-Trump supporters break into the building.
The ongoing special House and Senate sessions have been recessed amid the escalating clashes between protesters and police.
Lawmakers had gathered to confirm the election of Democratic President-elect Joe Biden - an outcome rejected by protesters.
Photos show demonstrators gathered just outside the Senate chamber. Other images show demonstrators carrying firearms.
19:47
President Trump asks protesters to 'stay peaceful'
As his supporters storm into the US Capitol in quickly-escalating protests, Donald Trump has broken his silence and tweeted for demonstrators to "support Capitol Police and Law Enforcement".
"They are truly on the side of our country," he wrote. "Stay peaceful!"
US media report that tear gas has now been used inside the Capitol building as a growing number of demonstrators enter the building.
DC Mayor Muriel Bowser has ordered a citywide curfew beginning at 1800 EST.
Senate debate halted
Both chambers of US Congress abruptly stopped proceedings as they were debating November's election results.
In pictures - Protesters descend upon US Capitol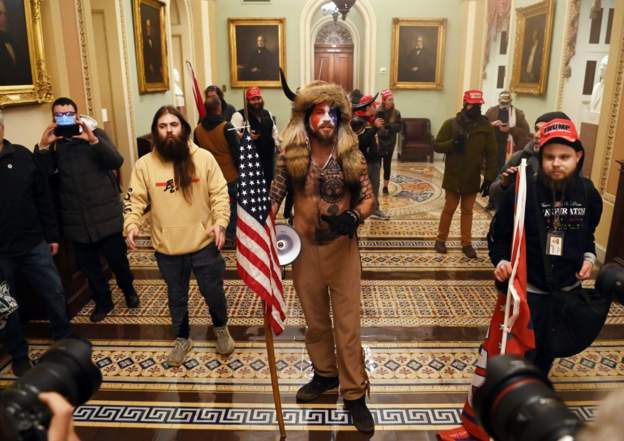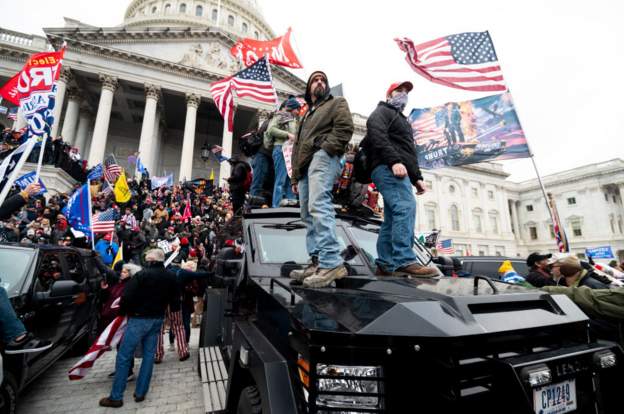 Accounts from inside the US Capitol
Lawmakers and reporters inside the building say they have been asked to evacuate, shelter in place and put on gas masks.
  Rep. Elaine Luria:

I just had to evacuate my office because of a pipe bomb reported outside. Supporters of the President are trying to force their way into the Capitol and I can hear what sounds like multiple gunshots. (1/2)

[
Matt Fuller:

They're slamming on the doors. Everyone has gas masks. I can see some flashes outside the chambers.
Rep.

Dean Phillips:

They've asked us to take cover on the House floor and get our gas masks ready. This is insane.
 Olivia Beavers:

We have now received these
'This is tragic to watch'
Our senior reporters in the US have given some instant analysis of the incredible scenes unfolding in Washington right now.
Nick Bryant:
This is inside the US Capitol. Started covering Washington in the Nineties. I have never seen anything even close to this. This is tragic to watch.
Were this a different country on a different continent, we would be talking of a failed state.
Jon Sopel:

Today was being billed as a theatrical side show. It seems a little more worrying than that, given the scenes unfolding outside Congress
Rep. Elaine Luria:

I just had to evacuate my office because of a pipe bomb reported outside. Supporters of the President are trying to force their way into the Capitol and I can hear what sounds like multiple gunshots.
Katty Kay:
Just spoke to one member of Congress who is sheltering in his office with staffers and has been told to stay locked in. In 20 years covering US politics I have never seen scenes like this.
These scenes are playing out around the world. America's allies and adversaries are watching.
Why are protesters storming the US Capitol?
Trump addressed the crowd about an hour before the chaos began
After a summer of protests against coronavirus lockdown measures, including in Michigan where armed militia members stormed the state capitol, we're now seeing similar scenes playing out in Washington DC.
While both chambers of the US Congress were meeting on Wednesday to certify Democrat Joe Biden's win over Donald Trump, the proceedings were interrupted by police clashes with rioters in adjoining corridors.
Trump has for weeks claimed to have been the true winner, saying without evidence that the votes cast for Biden in crucial swing states were fraudulent.
He and his supporters have been pressing Vice-President Mike Pence to overturn the election result by refusing to certify Biden's win, something that experts agree he does not have the legal power to do.
In the days leading up to the certification, Trump said that he would attend the "Save America" rally happening in Washington on Wednesday, promising on Twitter that it would be "very big" and "wild".
About an hour after Trump addressed thousands on the National Mall, promising to "never concede" that he had lost, chaos was unleashed.