Summary for Tuesday, 29th December


India becomes the latest country to detect the new, more transmissible coronavirus variant

The variant - first indentified in the UK - has also been detected in South Korea, Canada, and across Europe

Russia says its Covid death toll is three times higher than reported

Spain says it will set up a register of people who refuse to have the Covid vaccination

The head of England's health service says workers are "back in the eye of the storm" as cases rise

The military is to support mass testing in England's secondary schools next month

But school leaders warn the return of pupils may have to be delayed

South Africa announces new curfew as cases, linked to a new variant, rise sharply

Globally there have been 81m confirmed cases since the outbreak began, and almost 1.8m deaths

Good morning and thank you for joining us. Here are the coronavirus headlines:
Six cases of new variant found in India
Six cases of the more transmissible variant of Covid-19, first identified in the UK, have been confirmed in India.
The
six individuals who returned from the UK are being kept in isolation
, officials said on Tuesday.
India joined a list of other countries last week in suspending flights to and from the UK.
Officials have begun contact-tracing close contacts and family members of the six who tested positive for the new variant.
The new variant is considerably more transmissible than previous strains but not necessarily any more dangerous, experts say.
With more than 10 million confirmed cases so far, India has the second-highest caseload in the world after the US.
Australia deportation warning after backpacker party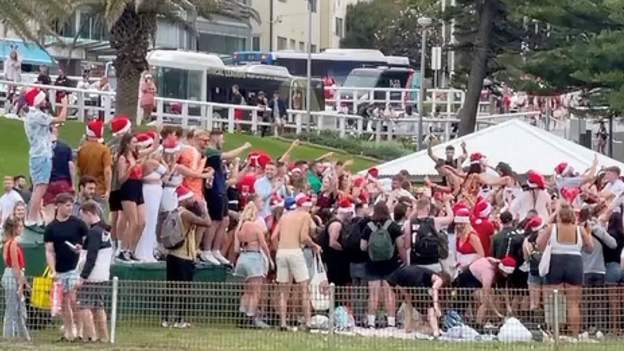 Australia has warned UK backpackers they could be deported for breaching Covid rules
after hundreds were seen partying on a Sydney beach on Christmas Day
.
Videos of the gathering, widely shared on social media, showed hordes of young revellers singing and dancing at Bronte Beach in breach of regulations - sparking anger from locals.
Sydney has seen a resurgence of the virus after months of no local cases.
Australia's Immigration Minister Alex Hawke said: "If somebody is threatening public safety or health, their visa can be cancelled and revoked."
Where else has confirmed cases of the new variant?
As we've already reported,
India
has become the latest country to confirm cases of the new coronavirus variant that was first identified in the UK.
At least 20 other countries and territories have also reported infections involving the new strain, including:


Europe: Netherlands, Denmark, France, Italy, Spain, Switzerland, Sweden, Finland, Ireland, Germany, Iceland, Belgium

North America: Canada

Asia and Australia: Japan, Singapore, Hong Kong, South Korea, Australia

Middle East: Israel, Lebanon

Spain to set up register of people who refuse jab
Spain will set up a register of people who refuse to be vaccinated against coronavirus and share it with other European Union nations, its health minister has said.
Salvador Illa said
the list would not be made accessible to the public or to employers
.
He said the way to defeat the virus was "to vaccinate all of us - the more the better".
Spain has been one of the countries in Europe worst affected by the virus and is currently rolling out the Pfizer-BioNTech vaccine.
Mr Illa emphasised that vaccination would not be mandatory and that the register would be created with the "utmost respect for data protection".
The virus situation in the UK
On Monday evening, the UK announced more than 40,000 daily virus cases for the first time - although it is thought infection rates were higher earlier in the year, before mass testing.
The
new figures showed
:


41,385 people testing positive

357 people dying within 28 days of a positive test

Those figures are likely to be an underestimate, as
not all UK nations reported full data
across the Christmas period.
Russia admits its death toll is three times higher
More than 80% of the excess deaths in Russia this year are linked to the coronavirus pandemic, Deputy Prime Minister Tatiana Golikova has said.
According to the Rosstat statistics agency, there were almost 230,000 additional deaths between January and November this year compared to 2019 - which would give Russia a total coronavirus death toll of more than 186,000.
The revised total is more than three times higher than the estimated 55,000 fatalities previously acknowledged by Russian authorities.
Only two other countries - the US and Brazil - have reported a higher number of deaths in the pandemic.
Russia has developed its own vaccine, the Sputnik V, which it has already begun rolling out.
Iran begins testing own vaccine
Iran has begun testing its own locally-made vaccine for the first time, local media report.
Tayebeh Mokhber, the daughter of senior official Mohammad Mokhber, was the first person to receive a dose of the Cov-IranBlessing on Tuesday.
"This was a message to the Iranian people that we already believe in what we will be injecting into our people, and if there are any complications all of us and our families will accept them willingly," Health Minister Saeed Namaki said in comments broadcast on state TV.
Mr Mokhber, meanwhile, said the country would be able to produce around 1.5 million monthly doses within weeks.
Almost 55,000 Iranians have died with coronavirus since the pandemic began - the highest figure in the Middle East - while more than 1.2 million people have been infected.
Iran's leaders have repeatedly said that US sanctions prevent the country from accessing coronavirus vaccines, although the sanctions make exceptions for medicine and humanitarian aid.
Tehran has signed up to the World Health Organization's Covax scheme, which is designed to distribute vaccines globally.
Which countries have seen the highest death tolls?
As we reported earlier, new statistics from Russia show a dramatically higher number of deaths from Covid-19 than previously thought. Here's how its death toll compares to other countries:


USA - 334,963 deaths

Brazil - 191,570

Russia - 186,057

India - 148,153

Mexico - 122,855

Italy - 72,370

UK - 71,217

France - 63,235

Iran - 54,813

Spain - 50,122

Note: Totals for all countries except Russia based on data from Johns Hopkins University. Russia's numbers are based on excess death figures from statistics agency Rosstat and statements by Russia's deputy minister. Different countries use different measurements for what counts as a "Covid death".