Summary for Wednesday, 23rd December


France eases its travel ban on the UK, with French citizens, British nationals living in France and hauliers allowed to travel as long as they test negative for Covid-19

Soldiers are joining NHS Test and Trace staff in Dover, Kent, to carry out rapid tests on stranded lorry drivers

Communities Secretary Robert Jenrick warns it could take "a few days" to clear a backlog of lorries stuck at Dover port

They have been stranded since the France-UK border shut on Sunday amid fears over a new variant of coronavirus

The Netherlands lifts a ban on entry from the UK as long as travellers present a negative rest

Singapore stops entry or transit from the UK, joining more than 50 countries to impose such travel restrictions

UK ministers are considering extending tier four curbs to more parts of England, with changes coming as early as Boxing Day

Scotland's First Minister Nicola Sturgeon apologises for not wearing a face mask while talking to people at a wake

Good morning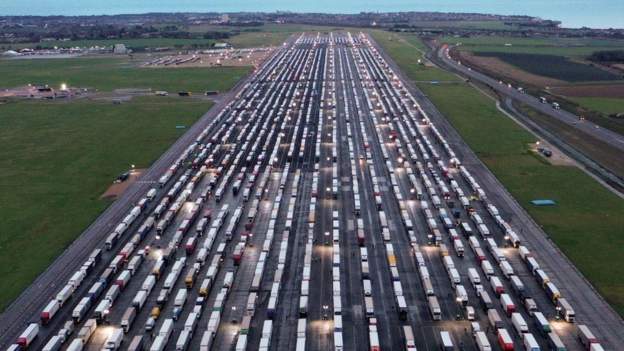 Nearly 3,000 lorries have been stuck in Kent since the border shut on Sunday
Hello and welcome to our live coverage of the coronavirus pandemic.
Here are the latest stories from the UK:
UK-France services return as travel ban eased
Rail, air and sea services between the UK and France are resuming this morning after the French government agreed to ease its travel ban.
Under the agreement between the UK and France, those travelling for urgent reasons, including hauliers, French citizens, and British citizens with French residency will be allowed into France.
But in order to travel, they will need to have received a negative test result less than 72 hours before departure.
Soldiers have joined NHS Test and Trace staff in Kent to carry out rapid tests on the thousands of lorry drivers who have been stranded since the border shut on Sunday.
More than 50 other countries, including Italy, India and Pakistan, are continuing to block travellers from the UK amid concerns over a new variant of coronavirus.
Read more
.
France worked 'as quickly as possible' to reopen border
French politician Alexandre Holyroyd, who is a member of President Emmanuel Macron's En Marche party, has defended his country's handling of a travel ban with the UK.
The MP, who represents French expats living in northern Europe, said he had an "enormous amount of sympathy" for those who were stuck in the UK but said the French and UK governments had worked "as quickly as possible" to reopen the border.
He also denied any political motivations for imposing a travel ban with the UK.
"This is about protecting against the spread of the virus and against the spread of a dangerous new strain of the virus. It is the only reason which is behind those measures," he told BBC Radio 4's Today programme.