Summary for Thursday, 17th December


Towns and cities in England will find out later whether they will be moved to a different tier of Covid restrictions

In Wales, 11,000 positive coronavirus test results are missing from official figures due to an IT issue

It comes after PM Boris Johnson told the UK a "shorter Christmas is a safer Christmas"

A study of vitamin D suggests there is not enough evidence to say it protects people against Covid-19

The US Federal Reserve says it hopes the Covid vaccine will enable the US economy to rebound in late 2021

Worldwide, there have been 74 million Covid-19 cases and 1.6 million deaths, according to Johns Hopkins University

Good morning and welcome to our coronavirus live page. Here are your main UK coronavirus headlines this morning.
What are the coronavirus rules in England?
All areas have been placed in one of three tiers: medium, high and very high.
About 99% of England is currently in tiers two and three, with more than 34 million people are now living under tier three rules.
In tier three you can't mix indoors, in private gardens or in most outdoor venues, except with your household or bubble. Groups of up to six can meet in outdoor spaces such as parks.
We will hear from the health secretary later on whether towns and cities will move down - or up - a tier.
The placing of areas in each tier is reviewed every 14 days.
Read more on the rules around the UK here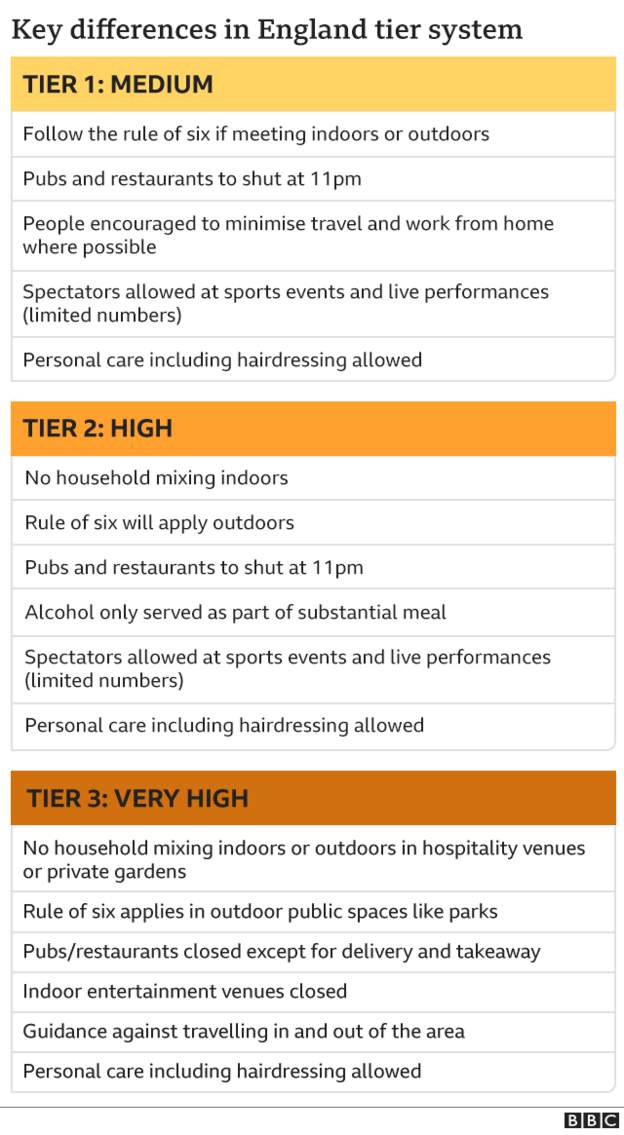 England's towns and cities to find out if virus rules will change
Health Secretary Matt Hancock is due to announce the outcomes of the latest review of the three-tier system of Covid restrictions in England later.
He is due to make a statement in the Commons at about 11:30 GMT.
Leaders in several areas of northern England say they have met the criteria to move from tier three to tier two, after a drop in infection rates.
But NHS bosses have warned against easing restrictions "prematurely".
More than 34 million people - or 61% of England's population - are living under tier three rules, the highest level of restrictions, including large parts of the Midlands, Yorkshire, the North East and the North West.
On Wednesday, London and parts of Essex and Hertfordshire
moved to tier three
amid a rise in infection rates.
Read more here
US sets new grim record - today's world headlines
Here's a roundup of Covid headlines from around the world:


In the US, coronavirus figures have set new grim records, with more than 3,700 deaths and 250,000 new cases recorded in a single day. The US has seen a sustained spike in infections for more than a month.

More than a dozen US states are being battered by a powerful snowstorm but officials have said it should not disrupt vaccine distribution

Also in the US, President-elect Joe Biden's transition team have said he will receive the vaccine as early as next week. Mr Biden said he did not want to jump the queue but he wanted to demonstrate that the vaccine was safe. Mr Biden is in a high-risk category for the virus because of his age - he is 78

Sweden's King Carl XVI Gustaf has issued a blunt nationwide message that the country has failed to save lives during the pandemic. Sweden did not initially go into lockdown and has seen 7,802 deaths in a population of about 10 million

New Zealand says it will buy enough vaccines to cover its Pacific Island neighbours. Foreign Minister Nanaia Mahuta said there would be enough doses to cover New Zealand Realm countries Niue, Tokelau, and the Cook Islands as well as neighbours Tonga, Samoa, and Tuvalu if those countries accepted the offer.

Brazil's government says it will begin a mass vaccination programme in February, as the country reports a record number of daily cases. The health ministry said about 70,000 people had tested positive for the virus in the past day. Brazil has the second highest number of deaths caused by the coronavirus in the world, after the US

Latest around Europe


King Carl XVI Gustaf of Sweden has given a blunt TV message telling Swedes the country has failed to save lives during the pandemic. "We have a large number who have died and that is terrible". Sweden did not initially go into lockdown and has seen 7,802 deaths in a population of 10 million.

Spain says infections have climbed above 200 per 100,000 people because of recent public holidays and health officials are worried that Christmas will make things worse.

German health officials are planning for a vaccination campaign to start on 27 December, beginning in nursing homes. Europe's EMA medicines agency will meet on Monday to decide whether to approve the Pfizer-Biontech vaccine. The EU aims to have vaccinations starting on the same day across all 27 member states but has not yet named the day.

A French opinion poll for news channel BFMTV suggests strong opposition to being vaccinated against Covid-19 – 49% of those surveyed saying they would not have it. Prime Minister Jean Castex has promised to explain and reassure French people in the face of "fear, doubt and suspicion".

Danish Prime Minister Mette Frederiksen has called on Danes to have a very different New Year's Eve than usual. She's worried big parties will increase the spread of coronavirus. As of today all department stores will have to close and from Christmas Day to 3 January Denmark will effectively be under lockdown.

New Covid rules have come into force in Austria with overnight curfews from 20:00 to 06:00 apart from over the holiday period. During the day up to two households can meet up and masks are required in enclosed public spaces including most workplaces.

Santa Claus has resigned in the French town of Blois because of repeated insults from passers-by. Locals apparently got angry that for hygiene reasons he couldn't take the children in his arms or give them treats.