Summary for Sunday, 13th December
The Guardian:


Germany to close schools, shops ask workers to work from home from 16 December. Reuters reports that in a draft proposal, the German government is planning to close shops and schools for nearly a month, from 16 December to 10 January, and ask workers to work from home for the same period.

Turkey added more than 800,000 cases to its national total, after the government decided to include all positive cases rather than those just requiring hospitalisation.

Pfizer says first Covid-19 vaccine supplies being prepared to ship from Michigan site. They will be distributed by the US Department of Defense in partnership with agencies within the Department of Health and Human Services to government-designated facilities across the country, Pfizer said on Saturday night US time.

Brazil's government has presented a Supreme Court justice with a coronavirus immunisation plan that provides initially for only enough shots for about a quarter of the population and does not indicate a start date.

US deaths nearing 300,000 after another record day. The United States hit a record 16 million Covid-19 cases on Saturday afternoon, with deaths closing in on the 300,000 mark, after reporting another record daily toll of 3,309 deaths. It reported 231,000 cases in 24 hours.

South Korea reports record daily case rise of 1,030 infections in 24 hours. South Korea reported a record daily increase in novel coronavirus cases for a second straight day with 1,030 new infections, the Korea Disease Control and Prevention Agency said on Sunday. Of the new cases, 1,002 were locally transmitted, which bring the total tally to 42,766 infections, with 580 deaths.

Italy on Saturday became the European country with the highest official number of Covid fatalities, as its new total of 64,036 deaths overtook the UK toll of currently 64,026 reported deaths.

Fears of new Covid restrictions as councils struggle to fund self-isolation
In the UK, more than 17 million people are living in areas under tier 2 restrictions that have seen infection rates rise over the last three weeks, new research has revealed amid growing concerns that councils are struggling to help people with the costs of self-isolation.
With the government due to review the
Covid-19 measures
across England this week, an assessment of official data found that more than half of councils in which tier 2 restrictions are in place – or "high alert" areas - have seen infection rates rise since the last week of November. The areas cover some 17.5 million people.
The research, carried out by Labour, found that 100 local authorities have seen an increase in cases since 24 November, compared with 87 that have seen a decrease. It has raised concerns that more areas could face the most restrictive tier 3 measures from this week.
London is in danger of entering tier 3
, with some boroughs suffering from the highest rates of the disease in England.
Read more
'The time has arrived': trucks and planes ready to ship vaccine to Covid frontline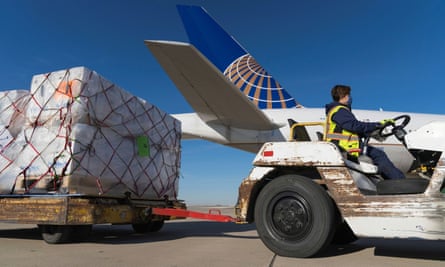 Officials hope the Pfizer-BioNTech Covid-19 vaccine will reach hospitals by Monday morning. Photograph: United Airlines/Reuters
The most complex vaccine distribution project ever in the United States begins on Sunday morning.
Tractor trailers loaded with suitcase–sized containers of Covid-19 vaccine will leave Pfizer's manufacturing facility in Kalamazoo, Michigan, on Sunday morning – launching the largest and most complex vaccine distribution project in the United States.
Read more