Summary for Wednesday, 9th December


Infections in the US pass 15 million, as President-elect Joe Biden vows to provide 100 million vaccinations in his first 100 days in office

Campaigners accuse rich countries of hoarding doses of Covid vaccines, leaving poorer countries able to vaccine only one in 10 people

The UK continues its second day of its mass vaccination programme, following approval of the Pfizer/BioNTech vaccine

A cruise has returned to Singapore on day three of a four-day trip after a passenger tested positive for Covid-19

In the UK, more than 50% of students say their mental health has declined since the Covid pandemic began

Schools in England will be allowed to close a day early for Christmas to give teachers "a proper break" from identifying potential Covid-19 cases

Hello and welcome to our daily coverage of the coronavirus pandemic.
Our teams from London and around the world will be bringing you the latest updates - it's Josh, Alex, Helier and Sarah with you this morning.
To start with, here is an overview of the global stories that have been making headlines in recent hours:
UK headlines round-up
And here is a round-up of the main Covid-related UK stories this morning.
Biden lays out Covid plan for his first 100 days
The US has the highest number of coronavirus infections (over 15 million) and deaths (more than 286,000) of any country in the world,
data shows
.
So bringing the country's epidemic under control will be a top priority for President-elect Biden when he takes office in January - and he has highlighted vaccinations and mask-wearing as two key ways to do so.
On Tuesday,
Biden pledged to vaccinate 100 million Americans against Covid-19
during his first 100 days in the White House.
Introducing his new leadership team for healthcare, Biden unveiled an aggressive plan to tackle coronavirus that he said would change the course of the country's epidemic, but not end it.
"Out of our collective pain, we are going to find a collective purpose," Biden said, urging Americans to "mask up for 100 days".
"To control the pandemic, to save lives and to heal as a nation."
Millions to be vaccinated before end of year, Gove says
It's the second day of the UK's mass Covid vaccination rollout, and we're continuing to hear positive sounds from the government about it.
Cabinet Office Minister Michael Gove has said this morning that millions of people in the UK are likely to be vaccinated before the end of the year.
Asked on BBC Breakfast whether Health Secretary Matt Hancock was being "too ambitious" for making this pledge, as well as saying that vaccines would be administered in care homes before Christmas, Gove said: "No, I don't think so. I think millions of people will be vaccinated, and I think it's also the case that when it comes to getting vaccines into care homes that we do need appropriate preparations because, as we know, the vaccine needs to be stored until shortly before it's administered at temperatures below -70C.
"It is the case that we're working with logistics experts in order to make sure that the numbers of vaccines can be parcelled up in such a way as to allow visits to care homes and all of the residents in care homes to be appropriately vaccinated, but it is a careful and staged process."
Covid case ends Singapore 'cruise to nowhere'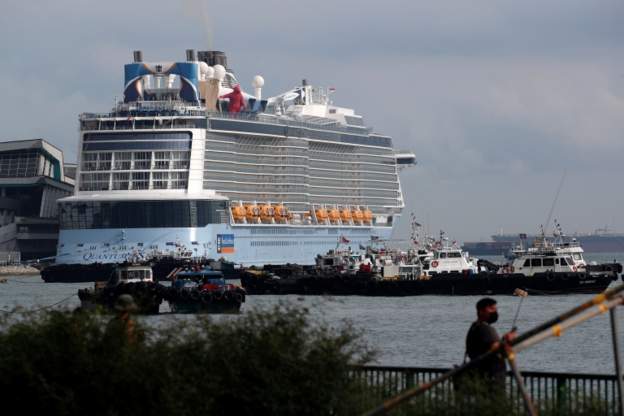 The coronavirus pandemic has largely shut down the cruise industry
The pandemic has been a tough time for cruise-ship operators.
In an attempt to revive the hard-hit industry, Singapore launched "cruises to nowhere" - which start and end at the same port without stops - last month.
But on Wednesday the "safe cruising" scheme suffered a setback.
A cruise ship operated by Royal Caribbean had to return to Singapore
on day three of its voyage after a passenger tested positive for Covid-19.
"We identified and isolated all guests and crew who had close contact with this guest, and each of those individuals have subsequently tested negative for the virus," the cruise firm said in a statement.
The firm added that passengers would be allowed to disembark "after a review of contact tracing is completed".
According to The Straits Times, a Singaporean daily newspaper, there were 1,680 guests and 1,448 crew members on board.
Read more:
Are cruise ships really 'floating Petri dishes'?
Oxford team has 'no idea on timings' for jab approval
The Oxford coronavirus vaccine team has "no idea on timings" for when the British regulator could draw its conclusions about the jab, the lead researcher of the vaccine development programme at the university has said.
The UK government has pre-ordered 100 million doses of the Oxford vaccine, but the Medicines and Healthcare products Regulatory Agency has not yet decided whether to approve it.
Asked about when a decision could happen,
Prof Sarah Gilbert
told BBC Radio 4's Today programme: "It's actually AstraZeneca, the manufacturers of the vaccine, who are working directly with the regulators and in parallel we have been working on the publication of the full data, which came out yesterday."
That data, published in
The Lancet journal
, showed the vaccine is safe and effective and gives good protection.
The UK's coronavirus vaccine rollout
started on Tuesday
after it became the first country in the world to approve the Pfizer/BioNTech jab.