Summary for Thursday, 3rd December


England's deputy chief medical officer Jonathan Van-Tam is answering audience questions on BBC News channel and Radio 5 Live

He hails the vaccine approval but says "we have to take it really carefully"

US has record number of new daily cases - almost 200,000 - as hospitalisations double since early November

Los Angeles mayor issues emergency stay-at-home order after "terrifying increase" in cases in the US city

Pupils sitting GCSE and A-level exams in England next year will be awarded more generous grades

Students returning to universities in England after Christmas will have staggered start dates

Fans have returned to English Football League grounds for the first time in nine months

Good morning
Welcome to our live coverage of the coronavirus outbreak. We'll be bringing you all the latest news from the UK and around the world.
We'll have more reaction following yesterday's news that the Pfizer vaccine will begin being rolled out in the UK next week.
Latest UK headlines
Here is a round-up of the latest developments around the UK:
Paper review: 'Shot in the arm for Britain'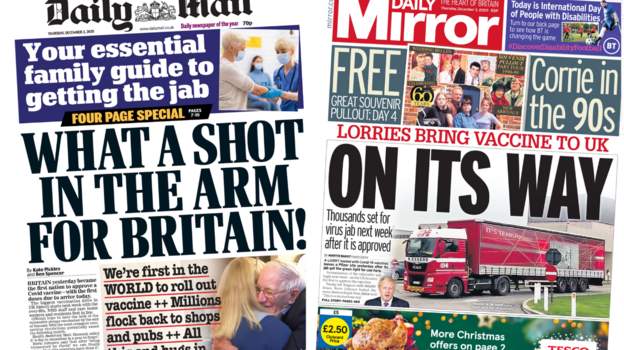 The UK front pages celebrate the news that the country has approved a Covid vaccine.
"What a shot in the arm for Britain," is
the Daily Mail's reaction.
The paper says officials hope to have the bulk of the most vulnerable groups immunised by the end of next month.
Metro's headline suggests Wednesday should be known as "V-Day", calling
the approval of a vaccine an "historic moment"
.
The Sun also
evokes the spirit of the Second World War on its front page
, with the V in its "Covid" headline replaced by the two-fingered V for Victory salute made famous by Sir Winston Churchill.
Read our full paper review
here.
Latest world news
Here are the latest developments from around the world.


The mayor of Los Angeles has issued an emergency order for the city's residents to remain at home with immediate effect, following an unprecedented surge in coronavirus cases

A US mayor who went on a family getaway to Mexico as he told people to stay at home amid spiralling virus caseloads has been accused of Covid-19 hypocrisy after flying off by private jet on holiday

The director of the US Centers for Disease Control and Prevention (CDC) has warned the next three months could be the most difficult in America's public health history. Dr Robert Redfield warned the country is facing a devastating winter unless public health advice is heeded

France's President Emmanuel Macron has paid tribute to Valéry Giscard d'Estaing, who has died at the age of 94 after contracting coronavirus .

What's happening around Europe?


Spain is banning travel between regions over Christmas and New Year with visits to relatives excepted. But it will allow gatherings of up to 10 people on specific festive days.

Italy is banning movement between regions from 21 December and 6 January, other than for work, health or "situations of necessity".

Officials in France will give details of the country's vaccine strategy today – with enough supplies to vaccinate 100 million people.

Shops, restaurants and museums are reopening in the Czech Republic today after a six-week closure for non-essential business. Infection rates are at 4,563 a day, down a little on a week ago.

Germany has reported another 479 Covid deaths over the past 24 hours. Last night the 16 federal states agreed to extend the closure of hotels and restaurants until 10 January.

Portugal will also give details of its universal, free vaccine programme – the government is planning to buy 22 million doses but has warned vaccinations could take some time.

Greek Prime Minister Kyriakos Mitsotakis says bars and clubs can't reopen until vaccines become available. Restaurants and shops will open gradually, he says.

Vaccine rollout 'at pivotal moment'
Earlier we heard from Professor Anthony Harnden, the deputy chairman of the Joint Committee on Vaccination and Immunisation (JCVI), which advises UK health departments.
Currently, care homes are at the top of the JCVI's priority list but logistical issues mean there could be a delay in getting it to residents.
On the matter of prioritising who gets the vaccine, Prof Harnden said their remit was to decide on prioritisation groups knowing there would be "vaccine product, storage, transport and administration constraints, and individual local circumstances".
He told BBC Radio 4's Today programme he understood there may be disappointment for care home residents and their relatives but "one ought not to lose sight of the fact that this is a pivotal moment in our collective fight against coronavirus".
He added that "a very small degree of patience" was required to deal with the "very, very short-term practical difficulties of getting this out",
There was a possibility that care home staff could be immunised at hospital hubs, he added.