Summary for Friday, 27th November


A revolt is brewing among the UK government's own MPs over areas of England being put into the higher tiers of Covid restrictions

Some 55 million people will face the strictest two tiers of rules when lockdown ends on 2 December

The government says it will publish an impact assessment before MPs get a chance to vote on the new rules on Tuesday

If 40 Tory backbenchers rebel, the PM may need Labour's help in winning the vote

Labour is expected to decide next week whether to back the plans, after consulting Covid experts

Communities Secretary Robert Jenrick has defended the tier allocations and says they are "not going to change" before next week

Fans in Italy have defied lockdown rules by gathering at Napoli stadium for a second day, to mark the death of football legend Diego Maradona

There have been more than 60 million coronavirus cases and 1.4 million deaths across the globe, according to Johns Hopkins University

Good morning and welcome to today's live coverage of the coronavirus pandemic. Here's a quick look at the main headlines to bring you up to date with the latest developments in the UK:
Paper review: Tiers of 'rage' and 'north sees red'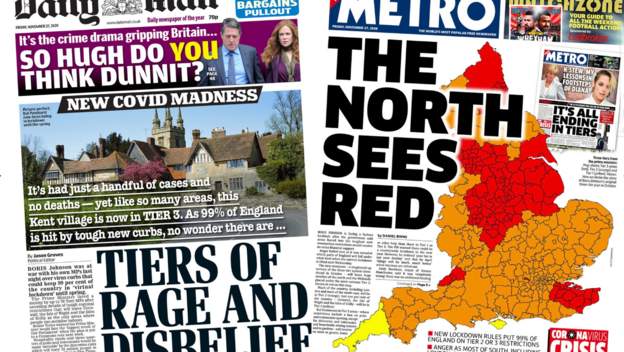 The UK's morning papers are dominated by reaction to most of England facing strict new coronavirus restrictions when the national lockdown ends next week.
"New Covid Madness" is how it is described by the Daily Mail, with its front page shows the pretty village of Penshurst in Kent - which will enter the top tier of measures despite having
"just a handful" of coronavirus cases and no deaths
.
The Daily Mirror accuses
the prime minister of pursuing a "muddled" strategy
that will cause "fury", "desperation" and "confusion".
The Daily Express
backs Boris Johnson - suggesting he "gave hope to the nation" that every region of England could escape the new restrictions if people followed them for the time being.
Read our full paper review.
What's happening around Europe?
The number of infections in
Germany
during the pandemic has passed one million - with 22,806 new cases in 24 hours and a record 426 deaths.
Russia
has also reported record figures this morning with 27,543 daily cases and 496 deaths.
Belgium's
prime minister will meet experts at 12:00 GMT to decide whether to reopen non-essential businesses, which have been shut since 2 November.
France
is making that move tomorrow, and fewer than 5,000 people are being treated in hospital in Belgium. But PM Alexander De Croo says Belgians will pay the consequences if the wrong decisions are made.
Latest figures from
Sweden's
health and welfare board reportedly show 73% of all Covid deaths involved people in nursing homes. Of the 3,002 deaths from 1 March to 23 November, 1,696 were in nursing homes, public broadcaster SVT reports.
Italy
has seen another 822 deaths in 24 hours but the number of patients in hospitals is falling. Virologist Andrea Crisanti says infection rates in Italy have passed the peak and that fatalities reflect the level of infection two to three weeks ago.
France
will allow people to go cross-country skiing individually from tomorrow, as long as it doesn't prompt big gatherings of people. Ski lifts have been shut for downhill skiing but cross-country skiing will be permitted, for example for people who live in mountainous areas.
Northern Ireland under tough new lockdown measures
Tougher new Covid-19 restrictions came into force across Northern Ireland this morning
as part of a two-week circuit breaker.
It means Northern Ireland will revert to similar measures introduced in March, with the exception of schools remaining open.
Non-essential retailers have been told to close - except for click-and-collect services, while cafes and restaurants can only provide a takeaway service.
Close-contact services such as hairdressers and beauty salons have also had to shut their doors. The restrictions will be in place until 00:01 GMT on 11 December.
England's tier rules 'unacceptable', say some Tory MPs
The UK government is facing
a possible revolt among its own MPs in the House of Commons over the tiers of coronavirus restrictions
it plans to introduce when England's national lockdown ends.
Tory MPs have called for the government to publish more evidence ahead of a vote after most areas were placed in the tiers with the toughest measures.
Sir Graham Brady, chairman of the influential 1922 committee of backbenchers, said the restrictions "interfered in people's private and personal lives in a way which is unacceptable".
And the Conservative backbench Covid Recovery Group said the fact that most people in England will be in the highest tiers was "authoritarianism at work".
If 40 of his own MPs oppose the move, Prime Minister Boris Johnson will have to rely on votes from Labour - which is expected to decide next week if it will support the plans, after consulting with government scientific experts.
Tier allocations won't change before lockdown ends - minister
Communities Secretary Robert Jenrick has defended England's tiers of Covid restrictions, in the face of a possible revolt by Tory MPs.
He told BBC Breakfast the tier allocations are "not going to change" before the system comes into effect on 2 December, despite complaints from some areas that they are being placed under measures too strict for their infection rate.
The tiers were set by a "rigorous process" looking at five criteria, including the infection rate, the number of cases among older people and the healthcare capacity, Jenrick said.
But he said the tiers would be reviewed on 16 December and "with a collective effort in those communities there's every chance they could come down a tier".
Jenrick initially claimed tier three measures would cause case numbers to fall.
But challenged that the scientific evidence was that infections would only flatten rather than fall, he said: "We should start to see a flattening out in all tiers, but particularly tiers two and three."