Summary for Thursday, 26th November


People in England are set to find out what tier of a revised three-tier system of coronavirus rules their area will be in

The tiers determine what set of restrictions areas will face after a national lockdown ends on 2 December

Most areas are expected to be put into the higher tiers two and three - both of which ban households from mixing indoors

Health Secretary Matt Hancock will set out the plans in the House of Commons later, with a review of the rules by 16 December

Tier three areas, where many business must close, will get extra funding - as well as more virus testing to help control infections

US President-elect Joe Biden has called on Americans to unite against Covid-19

In a speech for the Thanksgiving holiday, he said: "We're at war with a virus, not with one another"

The pandemic could wipe out 25 years of increasing gender equality, new global data suggests

There have been more than 60 million coronavirus cases and 1.4 million deaths across the globe, according to Johns Hopkins University

Welcome to today's rolling coverage of the coronavirus pandemic, from the UK and around the world. Here are some of the main Covid stories in the UK this morning:


People in England will later find out which of the three coronavirus tiers their area will be placed in , when the national lockdown ends next Wednesday. Health Secretary Matt Hancock will set out the plans in the Commons later - it's expected that most areas will be placed in the two toughest tiers of rules

The Covid-19 crisis is on track to cut average pay packets by £1,200 a year by 2025, according to new analysis, which comes a day after Chancellor Rishi Sunak warned unemployment could surge to 2.6 million by mid-2021

And Britain's major pub groups and brewers have pleaded with Prime Minister Boris Johnson to save an industry facing the "darkest of moments". Executives at Fuller's, Carlsberg UK, Greene King, and Heineken UK are among more than 50 signatories of a letter warning of huge job losses , which calls on the PM to publish the evidence justifying Covid curbs on the industry

Hancock to set out England's regional tiers
The main news in the UK today is likely to be Health Secretary Matt Hancock's announcement in the House of Commons later - where
he will set out which tier of Covid restrictions people in England will face when a national lockdown ends on 2 December.
The three-tier system has been revised to have stricter rules than the system in place before the current lockdown - and more local authorities will be in higher tiers.
BBC political editor Laura Kuenssberg says she understands only a "handful" of areas would be in the lowest tier - with most areas, including London, to be in tier two and "significant numbers" in the strictest level, tier three.
The government has promised to review the allocations by 16 December.
Ahead of his announcement, Hancock urged people to follow the rules so "together we can get out of these tough measures".
"I know for those of you faced with tier three restrictions this will be a particularly difficult time but I want to reassure you that we'll be supporting your areas with mass community testing and extra funding," he said.
World headlines
And here's a look at some of the top stories making the news around the world:


US President-elect Joe Biden has called for an end to the "grim season of division", as the country faces a long, hard winter with Covid-19. He has said that Americans were at war with coronavirus, not each other

The Democratic mayor of the US city of Denver has apologised after breaking his own Thanksgiving travel advice. In a message posted to Twitter, Michael Hancock urged residents to "host virtual gatherings" and "avoid travel". But it later emerged that he had travelled to Mississippi to join his wife and daughter for the holiday

Germany is seeking an agreement with EU countries to keep ski resorts closed until early January in an attempt to curb the spread of coronavirus.The news came as the country extended its partial lockdown until 20 December

The coronavirus pandemic could wipe out 25 years of increasing gender equality, new global data from UN Women suggests. Women are doing significantly more domestic chores and family care, because of the impact of the pandemic

Latest in Europe
Croatia
has been hard hit by the Covid outbreak in recent weeks and hospitals are struggling to cope. The northern city of Varazdin has begun erecting military tents to cope with the influx of patients. Ten people died in the space of 24 hours and hospital head Nenad Kudelic has spoken of a collapse of the health care system and "wartime conditions".
 Grabancijaš:And so it happened, Varaždin's general hospital is out of capacity, first #COVID19 patients were moved into military tents on this macabre evening. County is most contagious region in Europe for more than a week now.
Germany
's leaders have agreed Christmas restrictions, with a "lockdown light" covering restaurants and bars continuing until 20 December and beyond, but with a slight relaxation over the festive period. Afterwards, states that have low rates of infection can start loosening restrictions.
Turkey
has seen a big jump of 28,351 daily infections after it changed its system of reporting to include all positive cases. Doctors' leaders and the opposition have accused officials of hiding the true numbers. Previously the average number was around 6,000 infections a day.
Moscow
Mayor Sergei Sobyanin has extended Covid restrictions in the
Russian
capital that require over-65s and at risk groups to stay at home and at least 30% of workers to work from home. The requirements will go on until at least 15 January. Nationally, Russia has reported a record 524 deaths over 24 hours and another record 25,487 infections.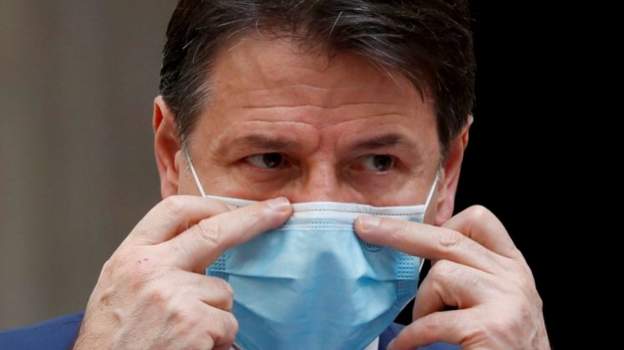 Italian Prime Minister Giuseppe Conte holds a summit in Rome on Thursday to decide Covid rules for Christmas and the new year
The World Health Organization says
Italy
has seen the biggest number of cases in Europe in the past week with 235,979 new infections. Last night Italy reported 722 deaths in 24 hours, a fall on the previous day, and a drop in the number of people treated in hospital.