Summary for Saturday, 21st November
from The Guardian:
Welcome to our ongoing live coronavirus coverage. Here is what you need to know about events around the world so far today:


The number of coronavirus cases in Brazil has surpassed 6 million, becoming the third country in the world to pass that milestone after the United States and India. Brazil recorded 38,397 additional confirmed cases in the past 24 hours and 552 deaths from Covid-19, the health ministry said. The official death toll has risen to 168,613, according to ministry data.

Donald Trump Jr tested positive for Covid-19 this week. A spokesman says he is quarantining but has had no symptoms.

The city of Toronto has returned to lockdown amid a surge of coronavirus cases in Canada.

France has recorded a further 1,138 deaths over the past 24 hours from the virus, taking the total to 48,265. France has also reported 22,882 cases in the past 24 hours, compared with 21,150 on Thursday.

Iran will impose tougher restrictions nationwide as the Middle East country hardest hit by the coronavirus battles a third wave of infections. The toughest measures, under which non-essential businesses and services are to close, will be imposed in the capital Tehran and about 160 other high risk "red" cities and towns, state media said.

In South Australia, police continue to investigate a Covid-19 case linked to a pizza bar in Adelaide after a worker lied to contact tracers about his job at there. South Australia recorded one new Covid-19 case on Saturday, a close contact of another case. The state's lockdown lifts at midnight, Australian time.

The Australian state of Victoria has recorded its 22nd day of no new coronavirus cases but authorities are asking anyone in the Altona catchment to get tested if they have symptoms after coronavirus was detected in sewage. NSW recorded no new locally acquired Covid-19 cases. Two new cases were reported in Queensland today, both in hotel quarantine.

Portugal's parliament approved a 15-day extension of a state of emergency from next week to allow continuation of coronavirus measures as the government considers fresh steps.

Drugmaker Pfizer Inc is hoping to rapidly roll out its experimental Covid-19 vaccine around Latin America soon after it gets emergency authorisation in the US, a senior executive said, which could be as early as next month.

Mexico records more than 6,000 new Covid cases
In
Mexico
, the Covid-19 death toll has passed 100,000, with more than 1 million cases.
Mexico's health ministry on Friday reported 6,426 new confirmed coronavirus infections in the country and 719 deaths, bringing the official totals to 1,025,969 cases and 100,823 dead, Reuters reports.
Health officials have said the real number of cases is likely significantly higher than the official tally.
Donald Trump Jr tests positive for coronavirus
Calla Wahlquist - The Guardian
In case you missed this news earlier,
Donald Trump Jr
has tested positive for Covid-19
. That takes the number of Trumps to have tested positive to the virus to four.
The outgoing president,
Donald Trump
, the first lady, and their son Barron tested positive to the virus last month and have since recovered. Trump Jr's girlfriend also tested positive back in July.
It comes as the United States
recorded 2,015 deaths from Covid-19 on Thursday, the highest single day death toll since May
. The US also set a new daily record for the number of new infections recorded in one day, with 187,000 cases on Thursday.
A quarter of a million people have now died of Covid-19 in the US.
Read more
Victorian premier 'very confident' Australian Open will go ahead in early 2021
The Victorian premier,
Daniel Andrews
, says he is "very confident" the Australian Open tennis tournament will go ahead in early 2021.
Key to this going ahead is the return of international flights to Melbourne, which will happen from 7 December with the resumption of the hotel quarantine system.
386 new Covid cases reported in South Korea
South Korea
has reported 386 new Covid cases. Authorities are warning tougher measures will be needed if the country's third wave of the virus is not quickly contained, Reuters reports:
South Korea's third wave of Covid-19 continued on Saturday after medical groups called for stricter social-distancing curbs and the government warned of tougher measures if infections are not quickly contained.
The Korea Disease Control and Prevention Agency reported 386 new daily coronavirus cases as of Friday midnight, bringing total infections to 30,403, with 503 deaths.
New cases topped 300 for the fourth day in a row, after Tuesday saw the highest since August.
Without effective measures such as stricter distancing, the daily tally could reach 1,000 in the next two weeks, the Korean Society of Infectious Diseases and eight other medical societies warned.
"This winter is expected to be the biggest challenge in the Covid-19 response," the groups said in a statement on Friday, calling on the public to take steps voluntarily.
"There has been good news on successful development of Covid-19 vaccines, but this winter we have to stop it without a vaccine."
Although South Korea tightened prevention guidelines on Thursday and the prime minister, Chung Sye-kyun, called on Friday for all social gatherings to be cancelled, bars, nightclubs, religious services and sports events are still allowed with attendance restrictions.
White House aide Andrew Giuliani tests positive for Coronavirus
Reuters reports Andrew Giuliani, a White House aide and son of Donald Trump's personal lawyer Rudy Giuliani, said on Friday he had tested positive for Covid-19.
"I am experiencing mild symptoms, and am following all appropriate protocols, including being in quarantine and conducting contact tracing," he said on Twitter.
Andrew attended his father's press conference on Thursday at the Republican National Committee headquarters in Washington, according to multiple reports.
Jenna Ellis, another Trump lawyer who spoke at the press conference, said on Twitter on Friday that she and the elder Giuliani "have both tested negative for Covid-19".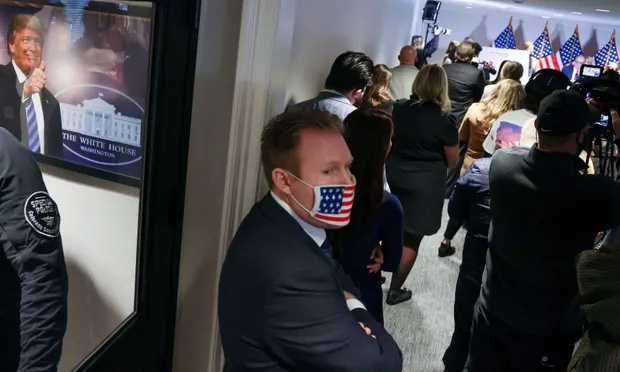 Andrew Giuliani at his father's press conference at the Republican National Committee headquarters in Washington on Thursday. Photograph: Jonathan Ernst/Reuters
This weekend's G20 summit to be held virtually because of the pandemic
Leaders of the 20 biggest world economies (G20) will debate this weekend how to deal with the unprecedented Covid-19 pandemic that has caused a global recession and how to manage the recovery once the coronavirus is under control.
High on the agenda are purchases and global distribution of vaccines, drugs and tests for low income countries that cannot afford such expenses themselves. The European Union will urge the G20 on Saturday to invest $4.5bn to help.
"The main theme will be to step up global cooperation to address the pandemic," said a senior G20 official taking part in the preparations for the two-day summit, chaired by Saudi Arabia and held virtually because of the pandemic.
To prepare for the future, the EU will propose a treaty on pandemics.
Ban on deploying healthcare workers in the Philippines to be lifted
In
the Philippines
, the president, Rodrigo Duterte, has approved ending a ban on deploying the nation's healthcare workers, clearing the way for thousands of nurses to take up jobs overseas.
"The president already approved the lifting of the temporary suspension of deployment of nurses and other medical workers," the labour secretary, Silvestre Bello, told Reuters on Saturday.
But to ensure the Philippines, which has the second-highest number of Covid-19 cases and deaths in south-east Asia, will have enough medical professionals to fight the pandemic, only 5,000 healthcare workers will be allowed to leave every year, Bello said.